Rope Craft Ideas: 100+ Amazing DIY Images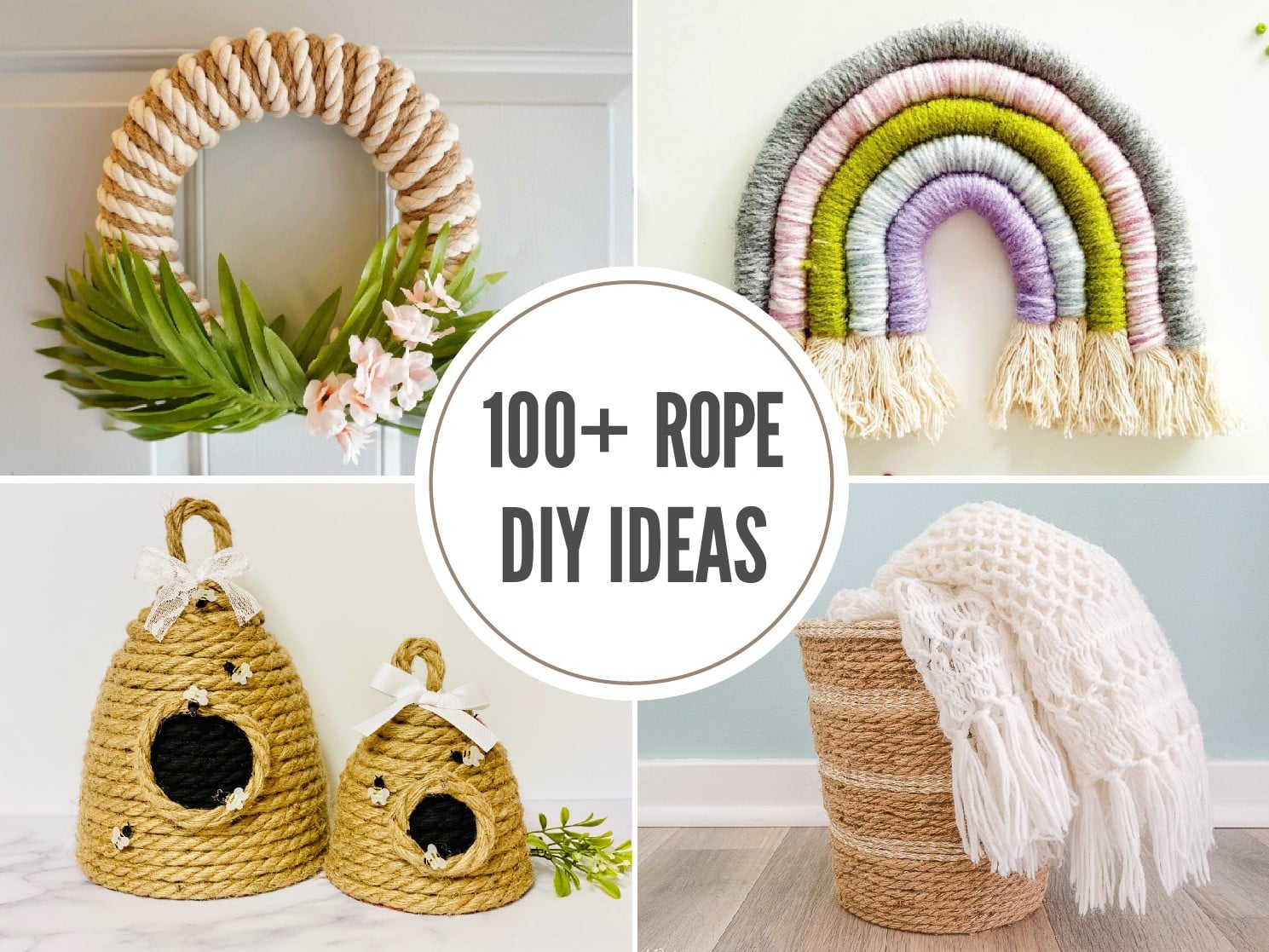 There are just about an endless amount of possibilities when it comes to finding inspiration for DIY rope crafts. As there are so many different types of rope, they each offer a wide range of uses as well. Whether it's a stylish new wreath, a stunning basket, or a designer-style piece of furniture you're looking to create, we have got you covered. In this article, you will find some lovely creations crafted by talented bloggers and some of our customers. You will surely find something to your liking among these gorgeous projects!
FURNITURE AND DESIGN
---
Rope Vase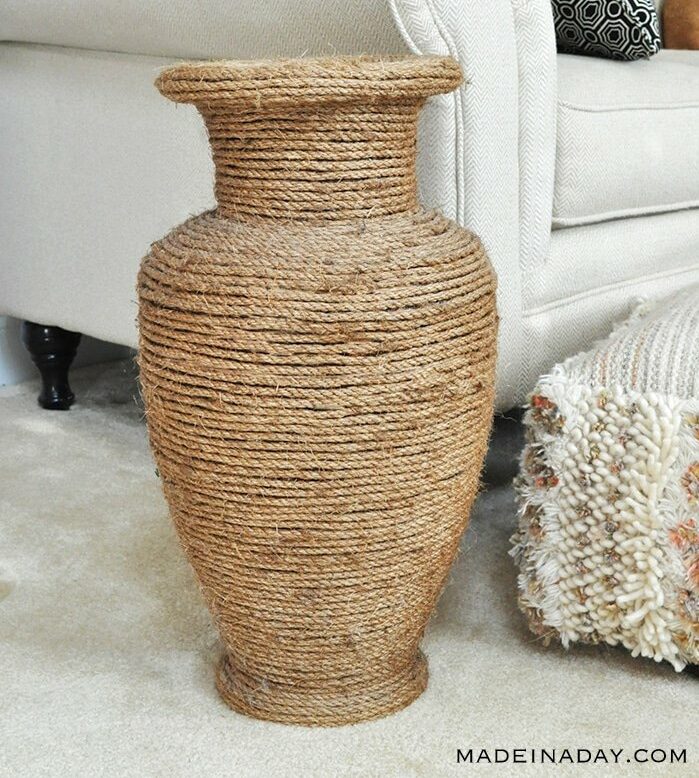 This lovely makeover project was created by Kim from Made In a Day, giving an old vase a stylish decor. She used sisal rope, staining it with a wooden finish in order to create this beautiful natural colour.
Rope Garden Shelf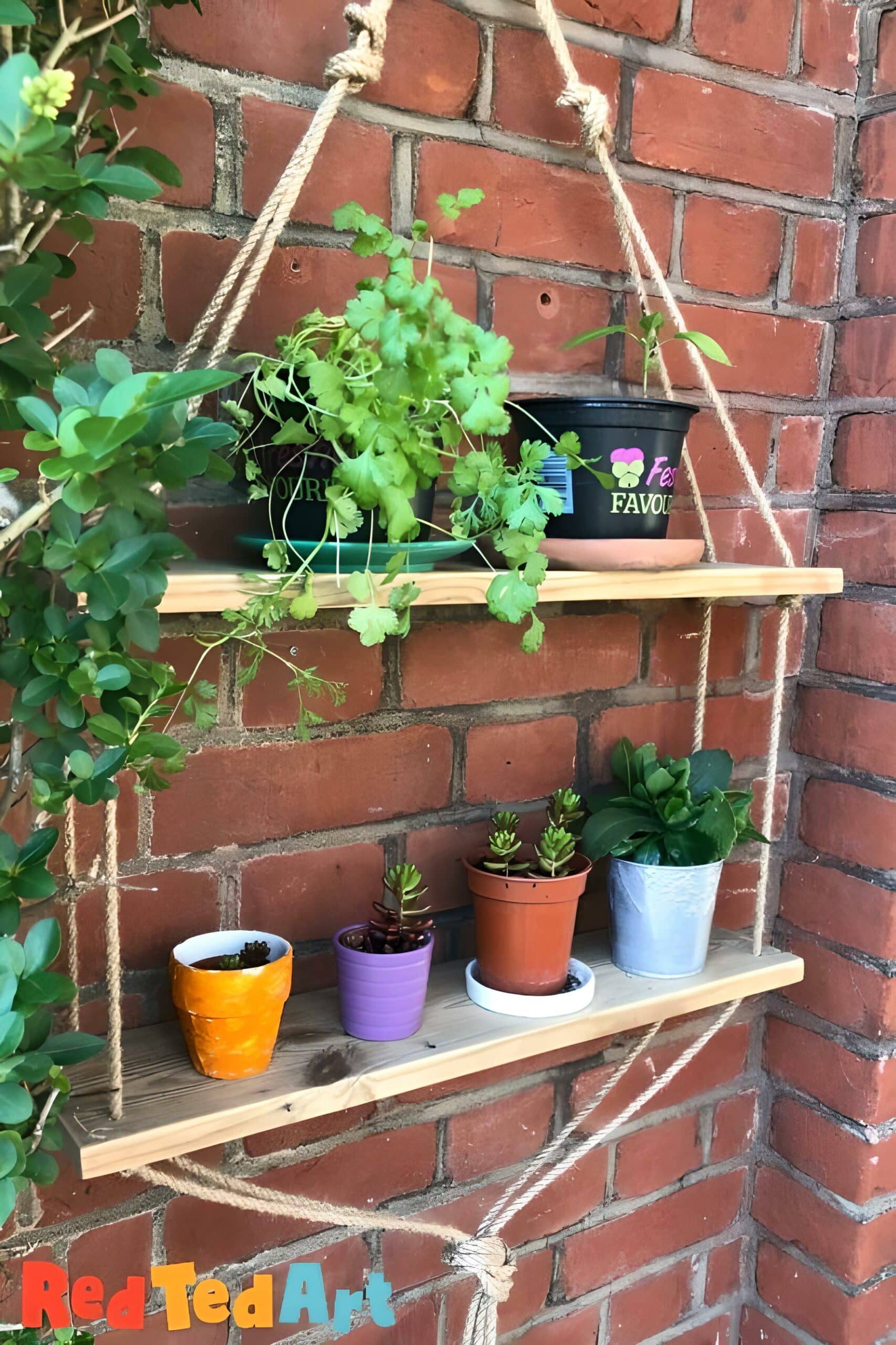 What's a better way to show off your colourful plant pots than this beautiful DIY rope shelf? Created by Maggy from RedTedArt, this is a lovely project, needing only two materials to create!
Curtain Tie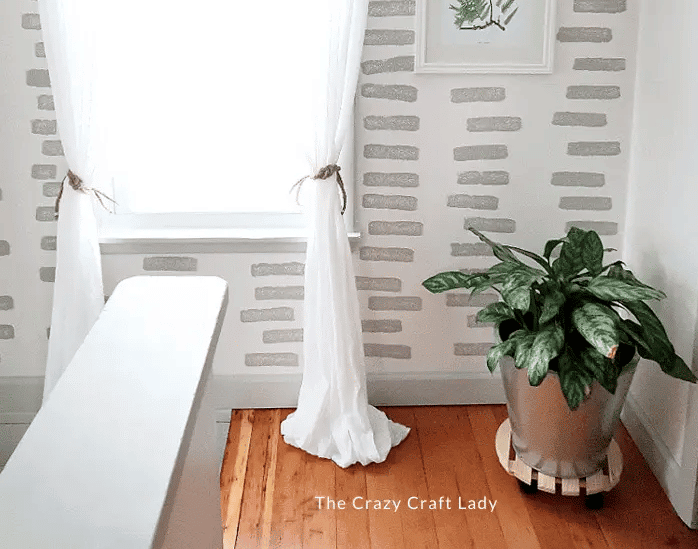 Aimee from The Crazy Craft Lady shows an easy technique to turn your nautical rope into a curtain tie back with the help of a little floral wire. Her craft takes a total of 5 minutes and gives a natural aesthetic to the room!
Rope Lamp Shade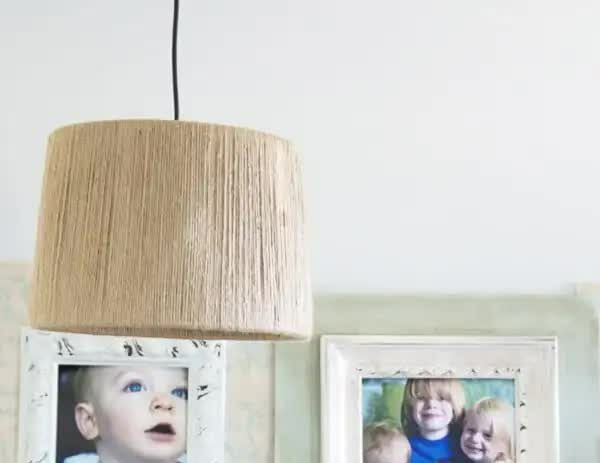 This jute wrapped light has an artistic feel, giving your home a custom look. This is the creation of Ashley from The Handmade Home, who managed to create a unique look for their entryway. 
Bright Kitchen Shelf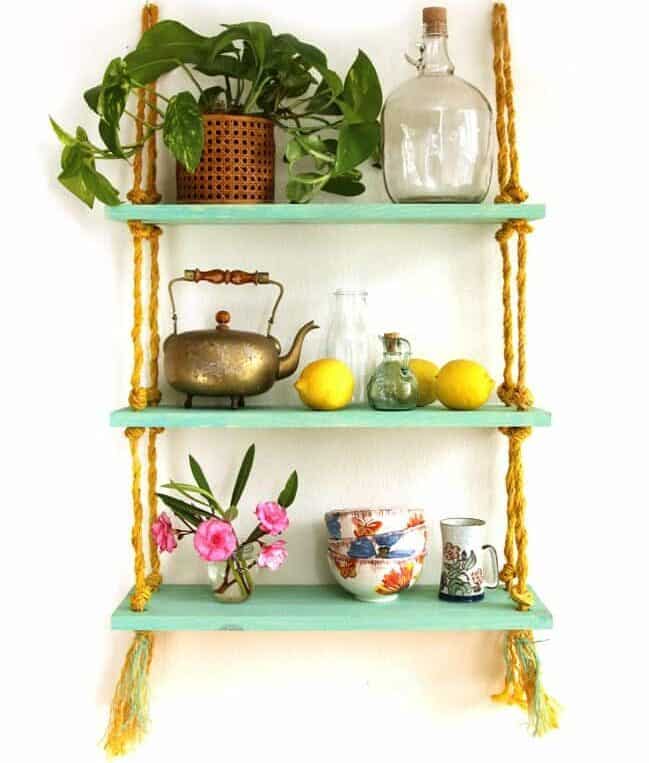 If you are in search of rope crafts ideas to expand your kitchen storage space, this stunning turquoise project might be just the perfect one for you! The credits go to Ananda from A Piece of Rainbow and the instructions can be found on her blog page. 
Repurposed Ottoman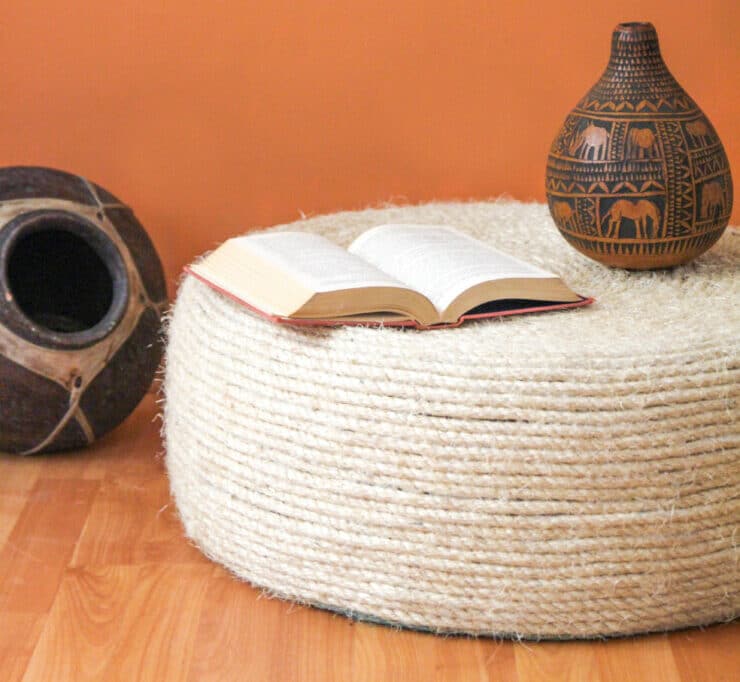 Repurposing old things has an oddly satisfying feel – creating a brand new item from something that would otherwise end up in the trash. This is especially true in this case – Elizabeth from Frugal Mom Eh! decided to create this lovely ottoman from an old tire, using some twisted nylon rope. An inexpensive way to create designer-like furniture! 
Pastel Shelf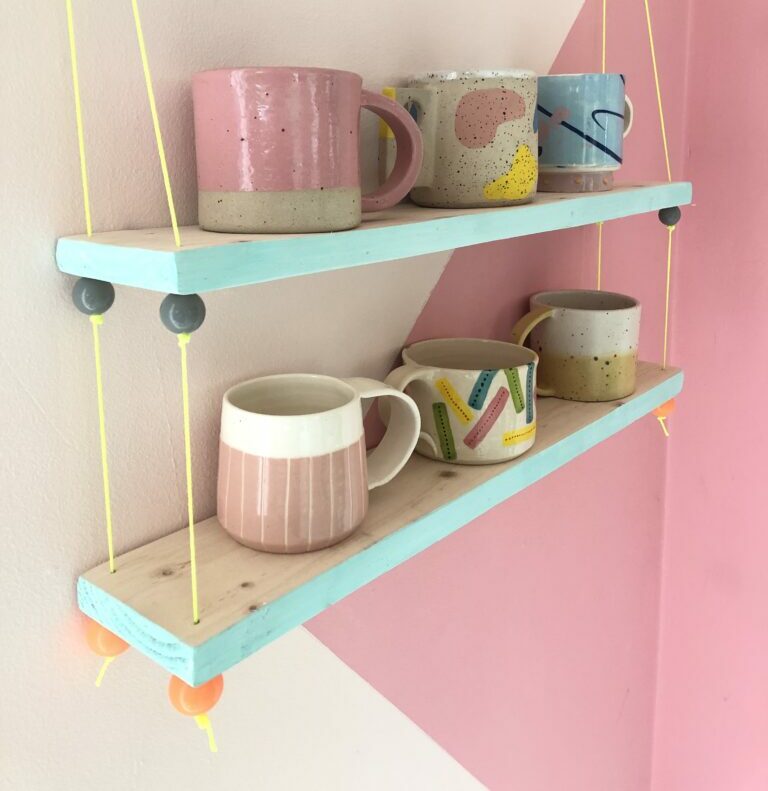 Are you one of those people who just can't resist buying the hundredth cute mug to add to your collection? No judgement here – in fact, Joanne Condon's rope shelf craft can help you store those gems in a stylish way! The pastel colours can give your project a chic vibe to suit your home. 
Rope Garbage Bin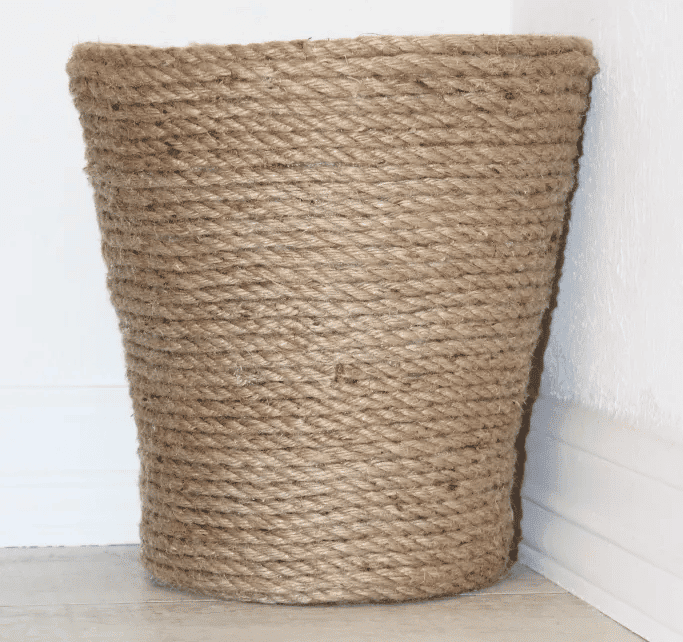 Garbage bins are usually not the most aesthetically pleasing thing in the room – in fact, they often stick out like a sore thumb, not fitting into the rest of the design. Sarah from She's Crafty and She Knows It shows that this doesn't have to be the case by creating this pretty rope-wrapped bin. 
Rope Door Stopper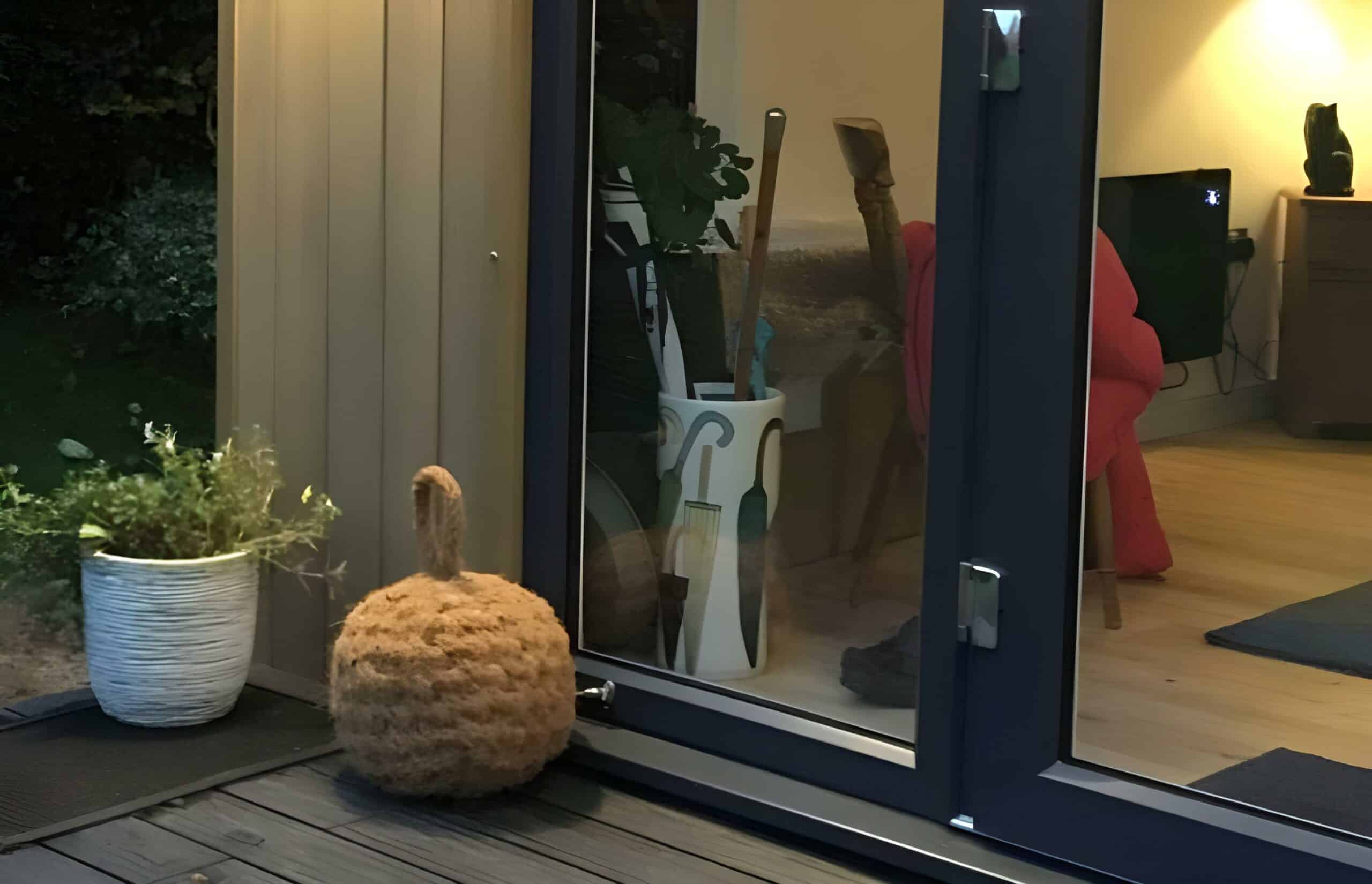 This customer found a creative use for our rope fender protector, utilising it as a stylish door stopper. Surely a unique project!
Rope Ottoman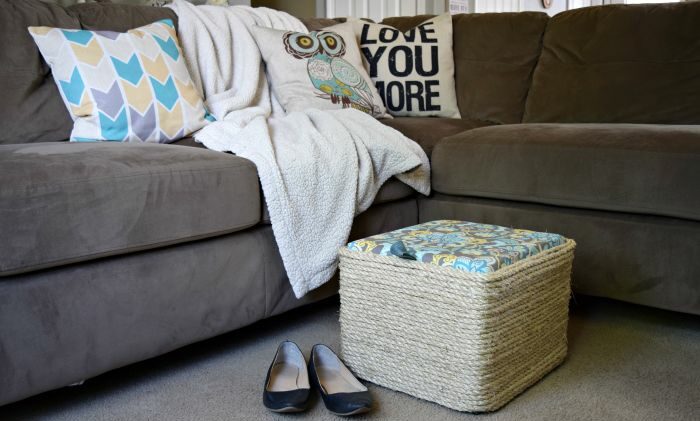 Amanda from Dwelling in Happiness made this project as part of The Home Depot Gift Challenge, with the objective of repurposing a simple item from Home Depot. She wrapped some sisal rope around a milk crate in order to create this beautiful ottoman – and the results are indeed stunning!
DIY Woven Bench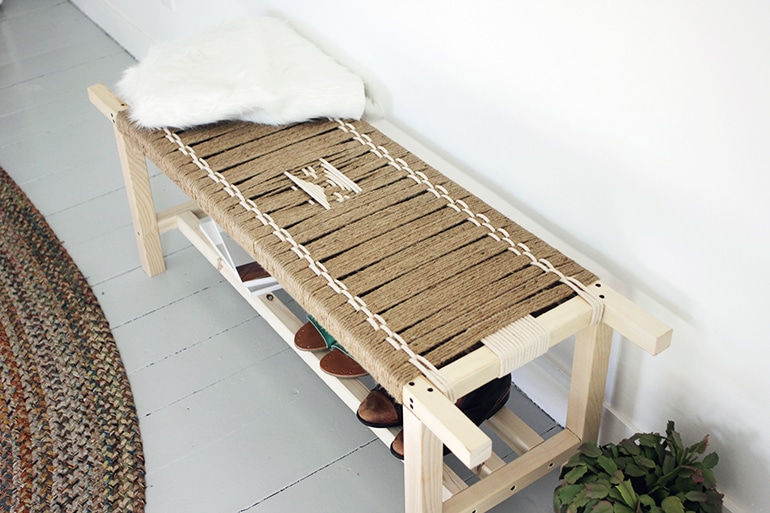 This woven bench looks like a luxury home decor item, but it was in fact a DIY project created by Caitlin from The Merry Thought. She did a wonderful job and this craft looks super sophisticated! 
Indoor Rope Light Ideas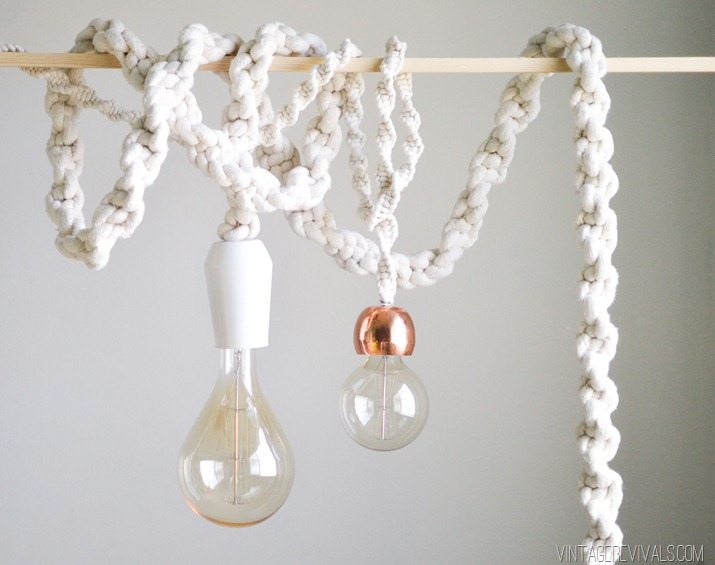 This lovely project shows you how to hide your basic boring light cords and make them look like high-end designer lights. It was created by Mandi from Vintage Revivals and the project itself is bigger than you might think from the photo. It's worth checking out!
Rope Candle Holder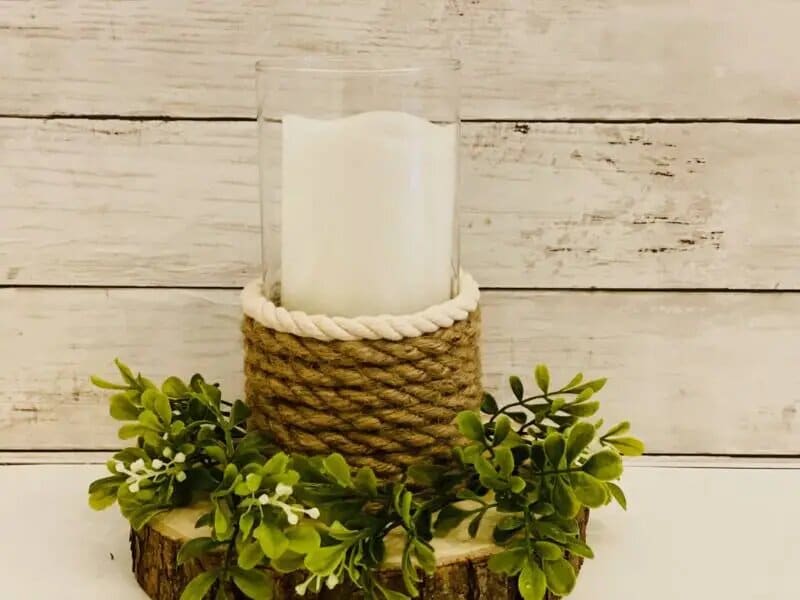 What makes this rope candle holder unique is the farmhouse-style decor the composition is arranged with. The natural wood slice and artificial leaves create a lovely finish, and the credit for this project goes to Annie from Country Living in a Cariboo Valley. 
Colourful Rope Rug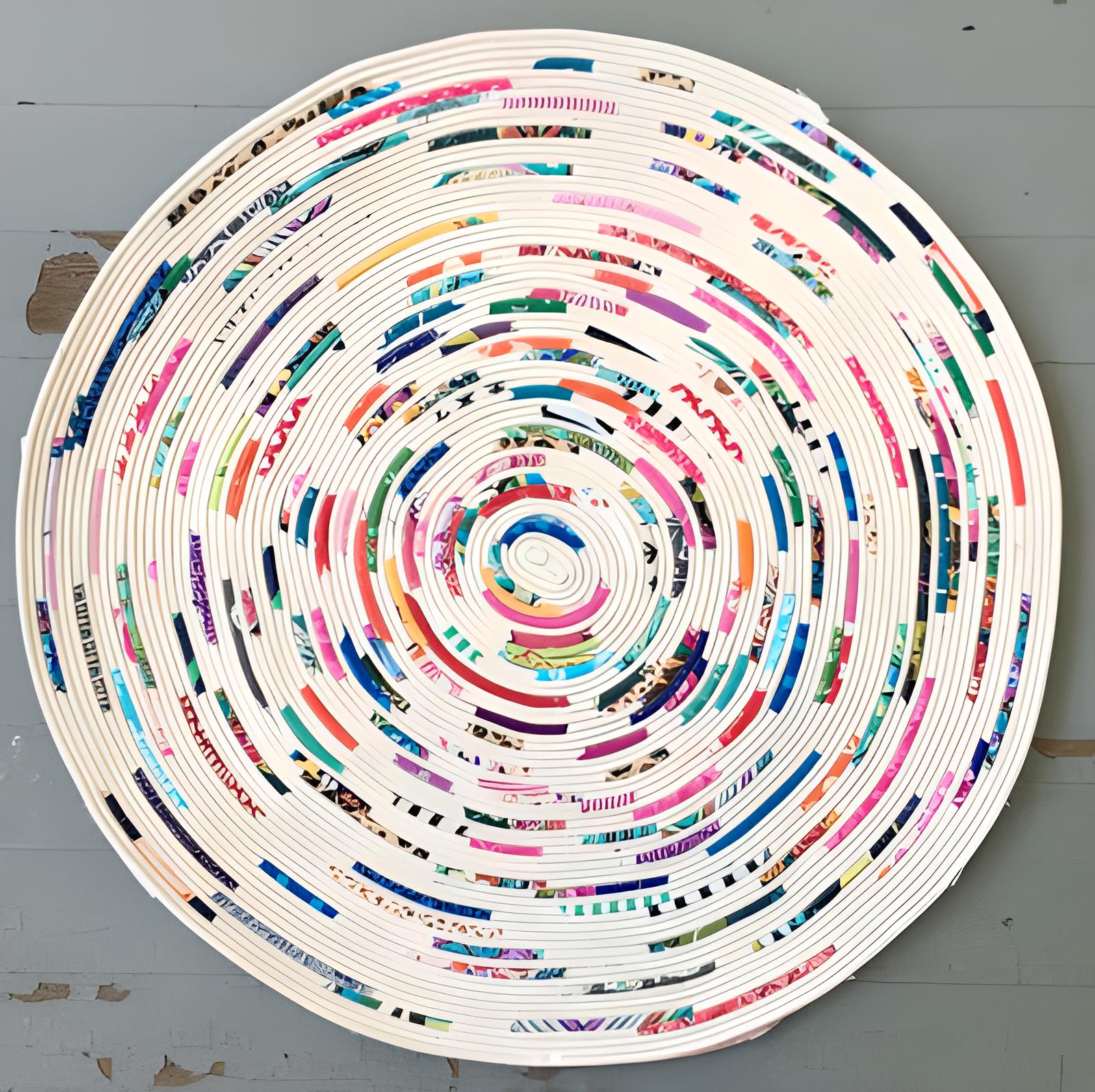 Natalie from Sew Hungry Hippie created this beautiful colourful rope rug, using clothesline rope and some scraps – the results look quirky and beautiful!
Rope Rug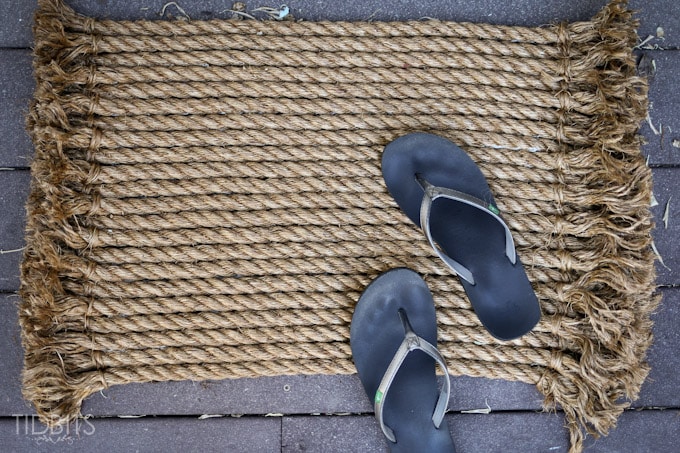 Cami from Tidbits had the greatest idea in her sleep that she decided she must make into reality – a stunning, expensive-looking DIY rope rug, made by repurposing some rope. She used a  natural fibre rope with a beautiful  colour and the results are truly spectacular!
DIY Rope Mirror Frame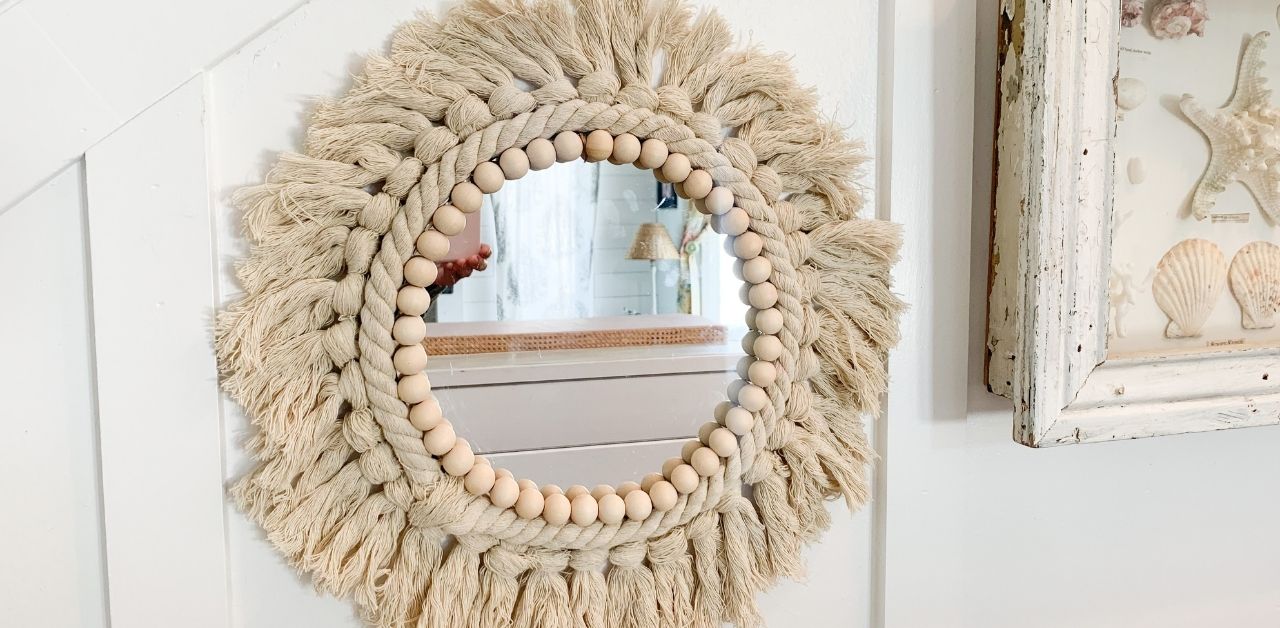 For the first peek, you would think that this elaborate BoHo mirror frame was purchased from a luxury store – but in fact, it is the stunning creation of Michele from Bella Branch DIY. She used a wreath frame to attach the rope and tassels to and it resulted in this stunning finish!
DIY Spool Side Table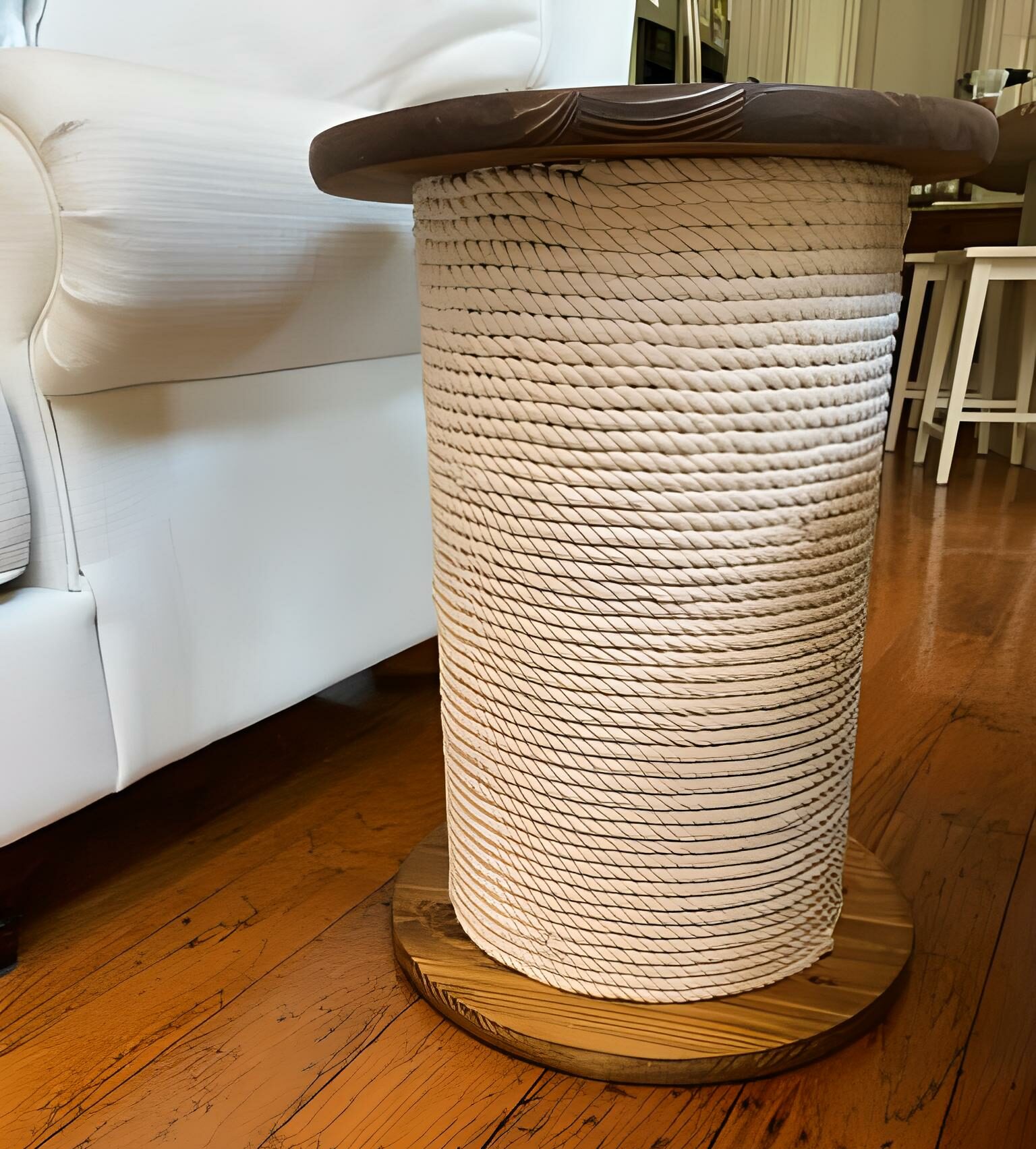 Sherry from The Crafty Decorator fell in love with a spool side table seen in Lowe's, but the price tag was rather hefty. However, this just gave her the idea to create her very own DIY Table, using a wooden tube, some wooden circles, and, of course, rope. It sure looks like a designer piece! 
VALENTINE'S CRAFTS
---
Valentine's Wreath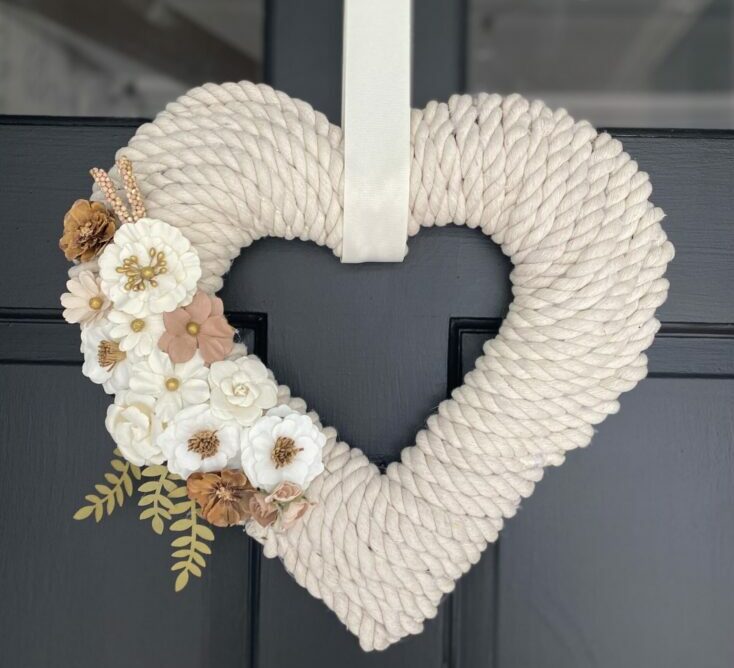 How would you tell the world that you are excited about Valentine's Day? Well, of course with the help of a beautiful wreath! This lovely project was created by Kate from A Hundred Affections, using soft cotton rope to wrap around the wire wreath form. The floral decorations make the composition even prettier! 
Heart Shaped Wreath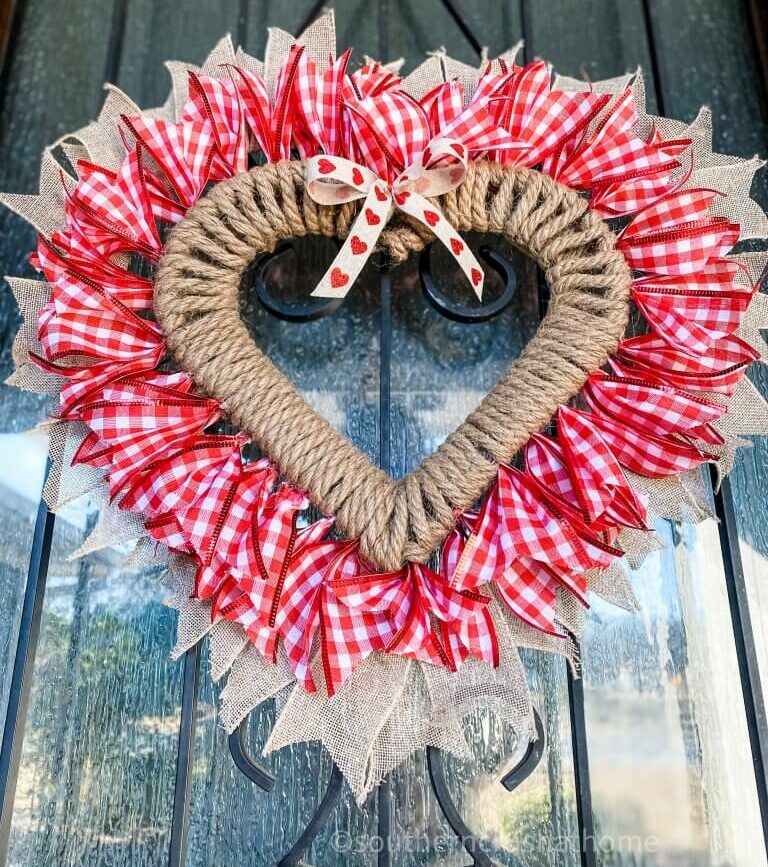 Another Valentine's Day, another wreath – this one is surely elaborate and beautifully made.  Melanie from Southern Crush At Home decided that Valentine's day is the perfect time to test out some nautical rope crafts – so she created this wonderful heart-shaped wreath, with the help of some colourful ribbons.
Rope Heart Garlands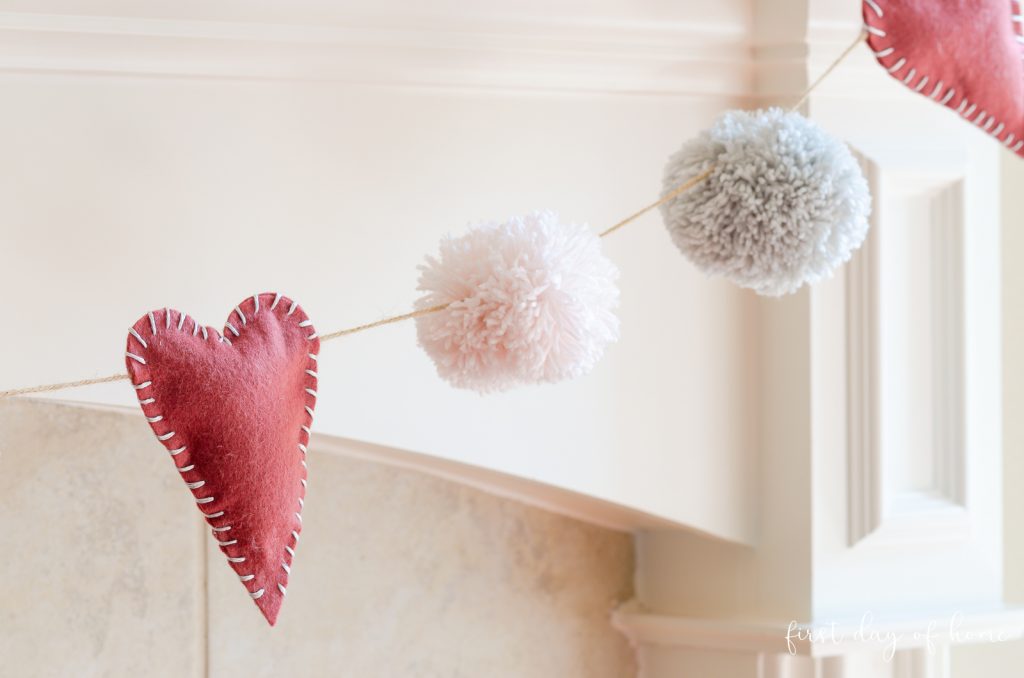 If you are looking for rope decor ideas for any occasion, these garlands are a lovely idea to brighten up any party. Crissy from First Day of Home decided to make some DIY pom-poms and felt hearts and hang them on a jute rope to celebrate Valentine's day – the results are adorable! 
Valentine's Curtain Tie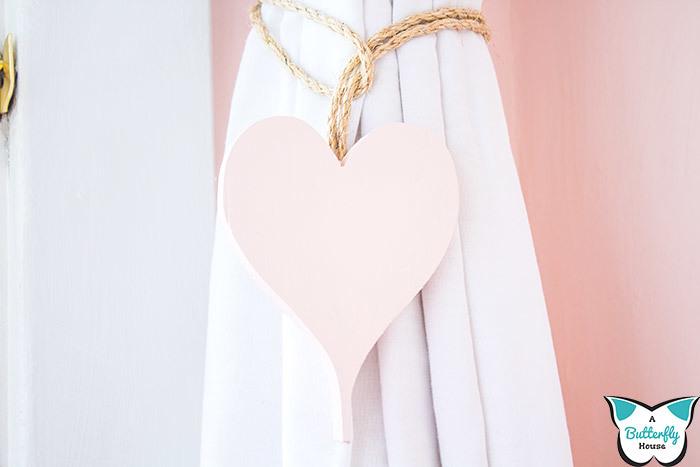 Lindsay from A Butterfly House admits to not being a huge fan of Valentine's Day – however, these tasteful DIY curtain ties can subtly bring love-themed vibes into your home. 
Matching Rope Bracelet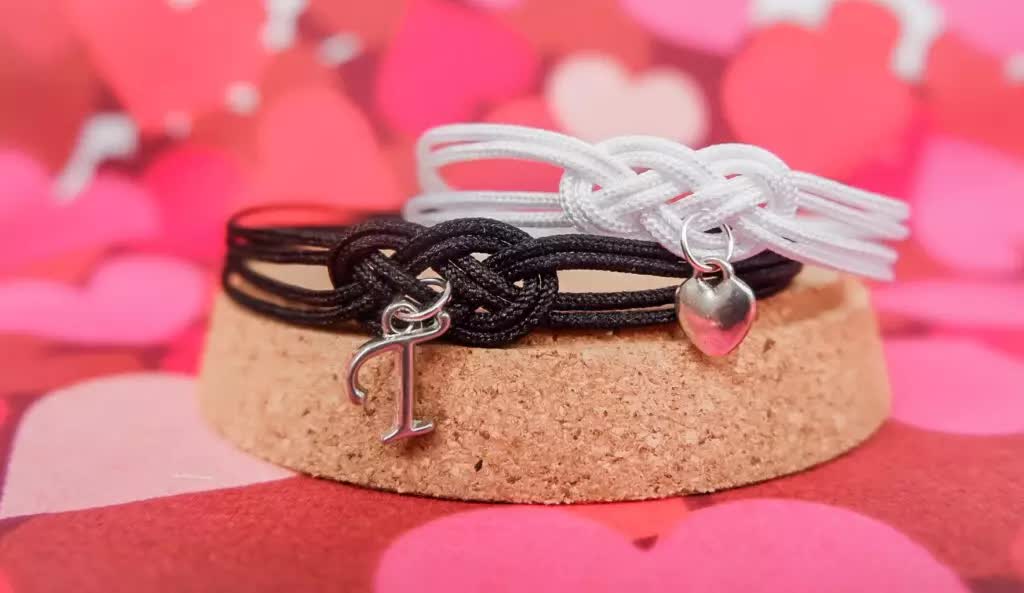 If you are looking to express your creativity and show your love to someone special, this handmade gift can be a great way to do so. This matching rope bracelet DIY project can be personalised in many different ways and will surely melt the heart of its recipient. 
EASTER DECOR
---
Easter Carrots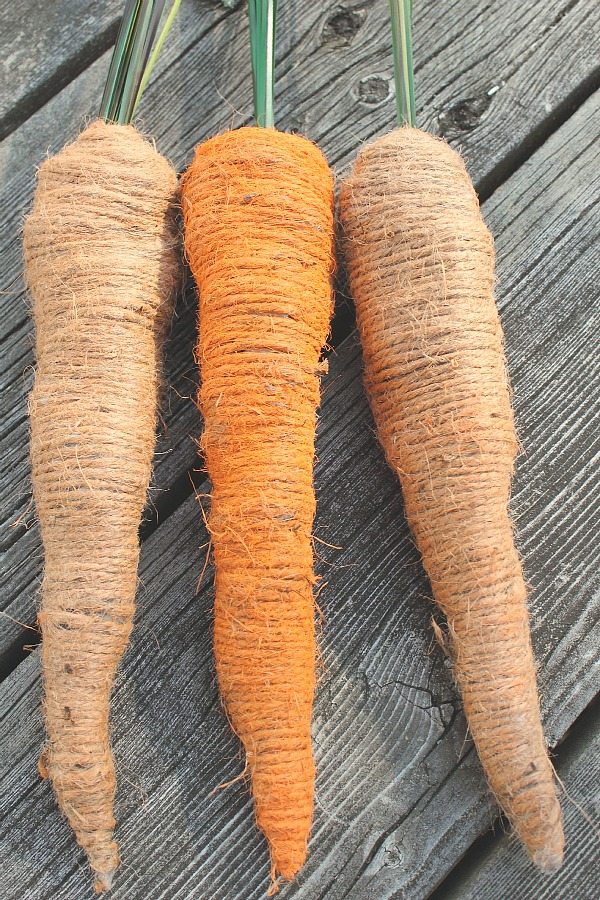 This clever and fun craft was created by Courtenay from The Creek Line House, as an Easter decoration. It's a kid-friendly project, and looks quite realistic thanks to the dyed rope and good shaping. 
Rope Mini Easter Baskets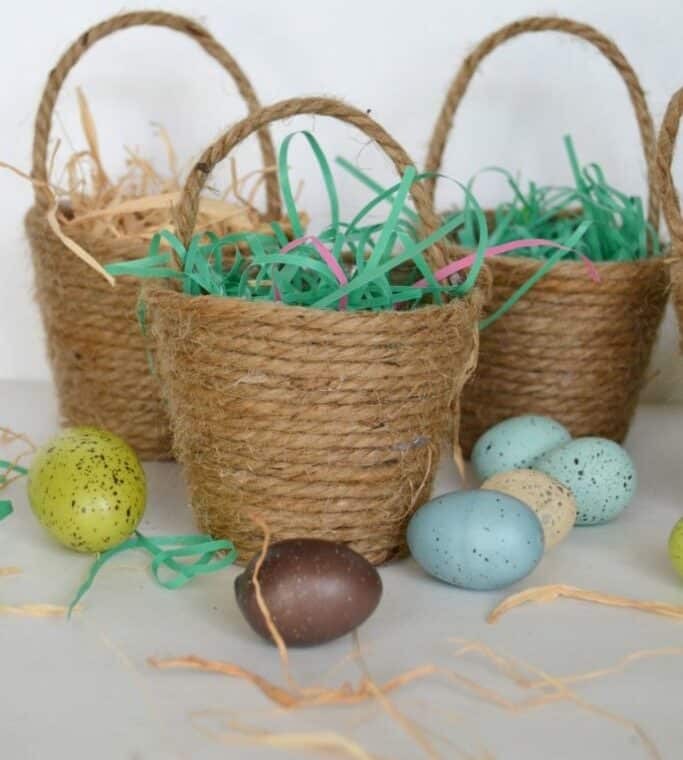 These cute DIY rope baskets look super cute and do a wonderful job creating a festive mood for the holiday. Lindsay from My Creative Days made this jute rope craft project by wrapping the rope around little plastic cups – perfect for little gift baskets to friends and family! 
Easter Tree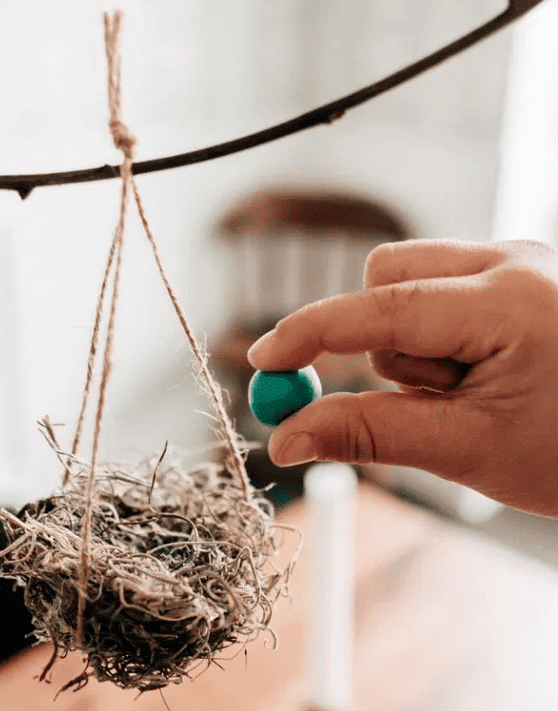 Karen from Decorhint decided to take Easter decoration one step further and make an Easter tree featuring tiny bird nests. She used Spanish moss to create this authentic look, and hung the M&M's filled nests on the tree using jute twine. 
Rope Easter Bunny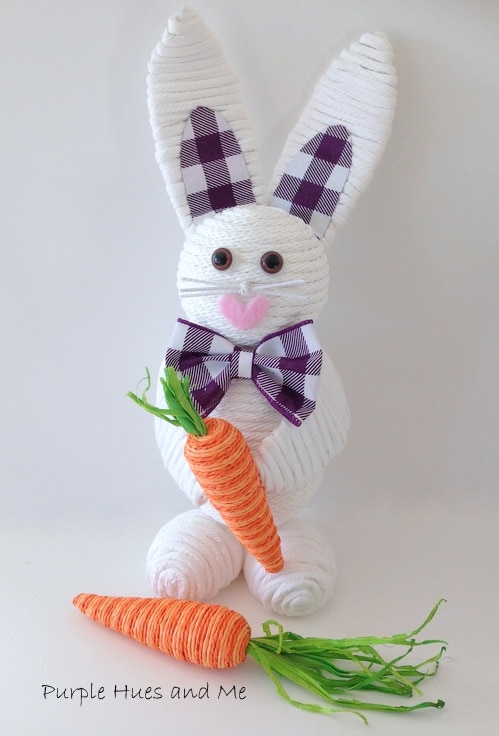 This adorable bunny was created by Gail from Purple Hues and Me, using clothesline rope. She wrapped the clothesline around the base, which consisted of smoothfoam balls/eggs. Perfect decor for the Easter holidays! 
Rope Eggs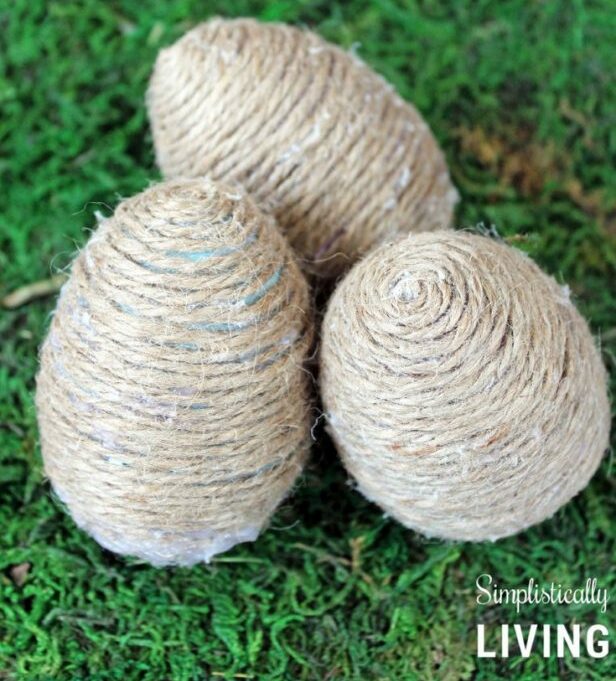 These are Brittanie's version of DIY Twine Wrapped Eggs, found on her blog Simplistically Living. Never too early to decorate for Easter! 
Rope Burlap Carrots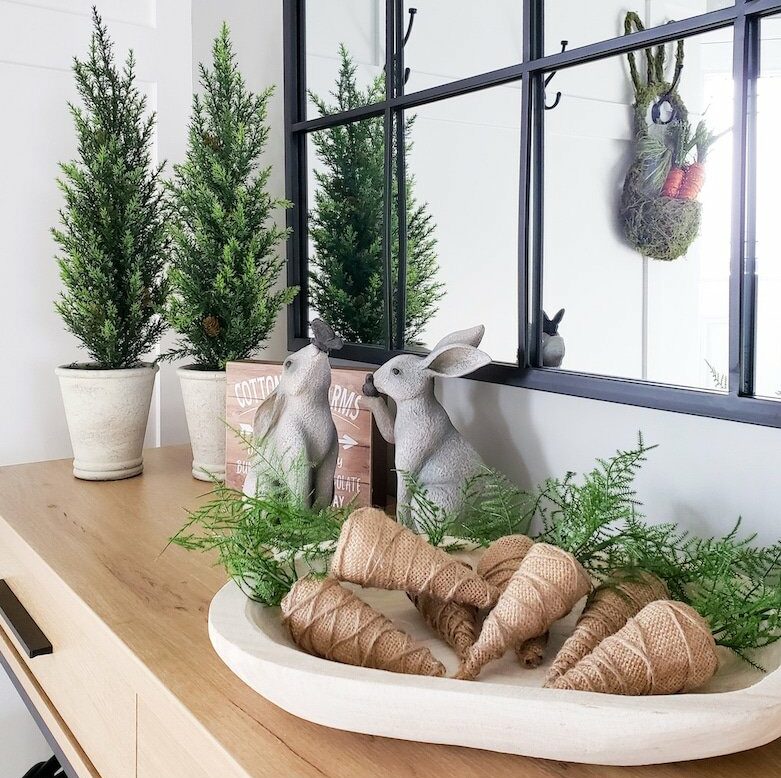 These lovely carrots are created with the help of some burlap and rope, giving them texture and style. They are the creation of Marieza from Home With Marieza, resulting in a beautiful Easter composition! 
Easter Tree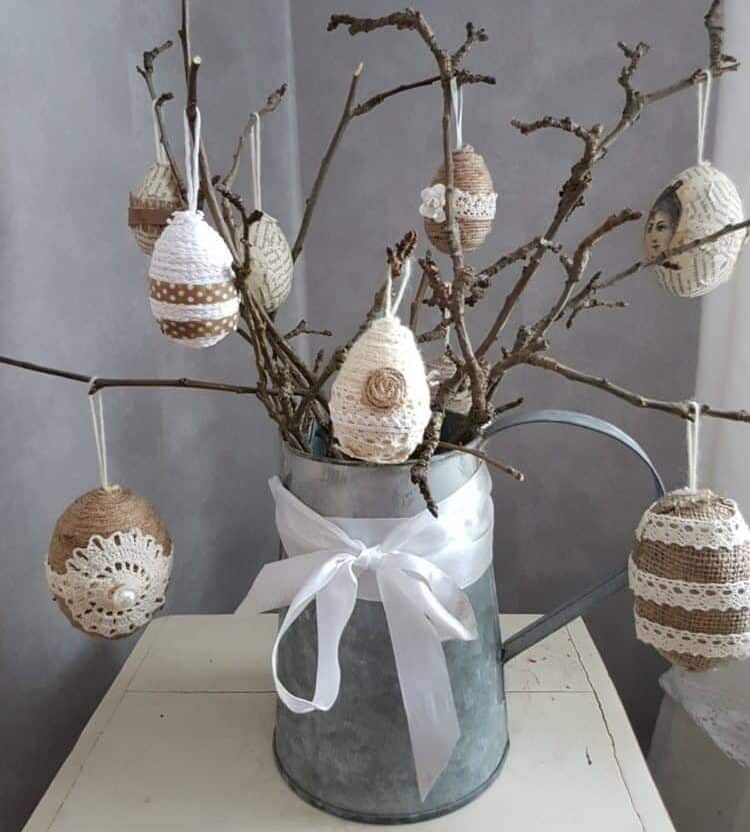 This unique Easter tree was made using upcycled plastic eggs – some jute twine and some carefully selected scraps can do wonders! The credit for this wonderful craft belongs to DIY Treasured.
Easter Rope Basket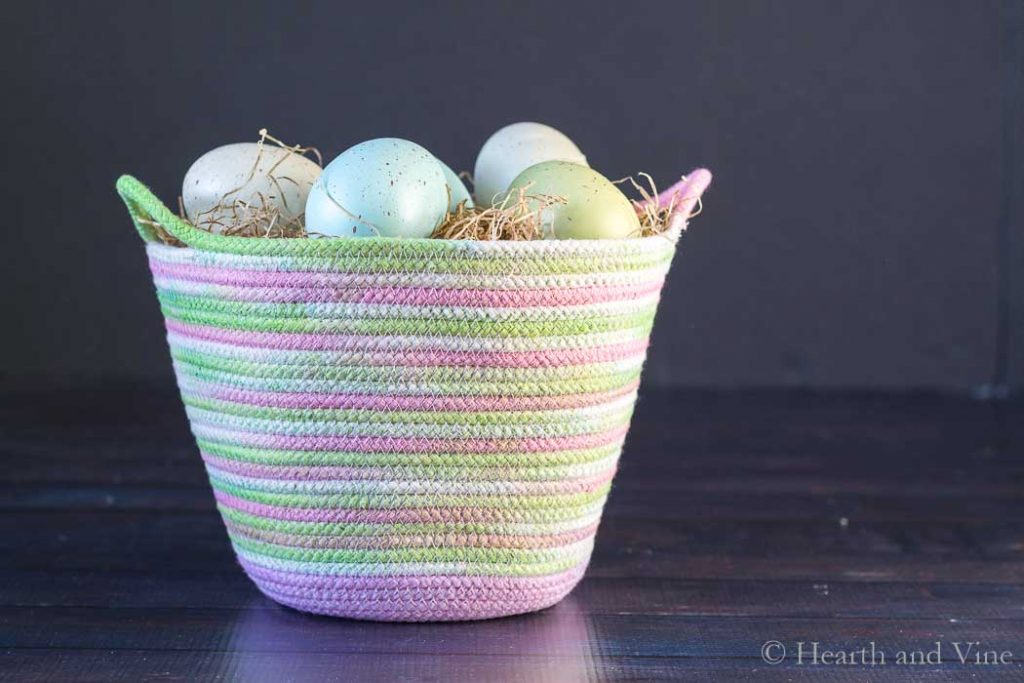 This beautiful easter basket by Patti from Hearth and Vine requires a sewing machine and some textile dye to make. She used clothesline rope to create the project and it brings colour and life to the easter table! 
Colourful Easter Basket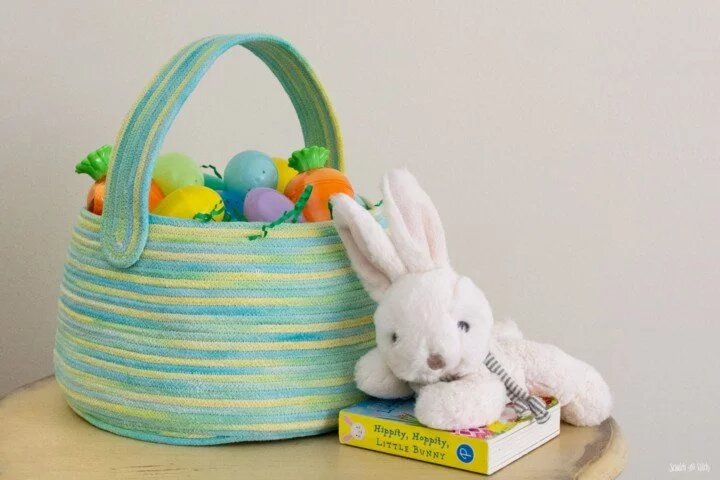 Another cute Easter basket craft is the work of Cathi from Scratch and Stitch. She used a home-dyed clothesline and a sewing machine to achieve the beautiful result shown in the photo. And once Easter is over, you can store the little ones' toys in it!
Jute Eggs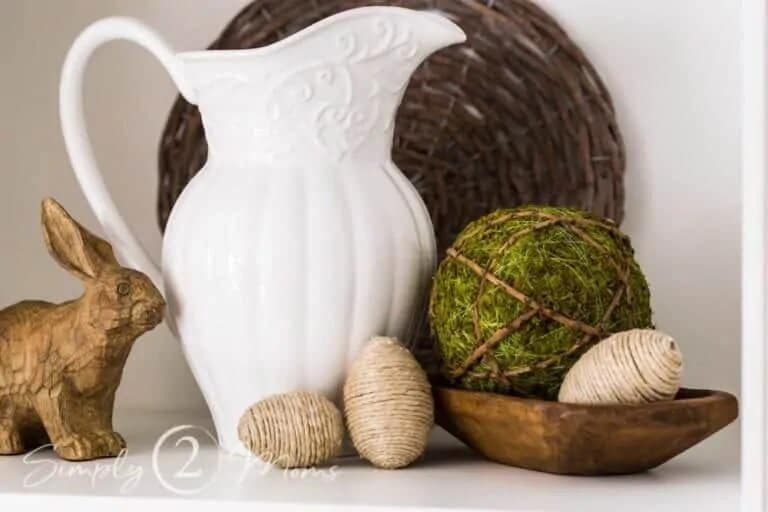 These jute eggs were created by Anne from Simply2Moms – she admitted that she was a long time fan of natural colour Easter decorations, but the jute eggs she saw in home decor stores were too expensive – so she had the idea to wrap some jute around plastic eggs, and voila! A lovely addition to your Easter baskets. 
Jute Egg Nests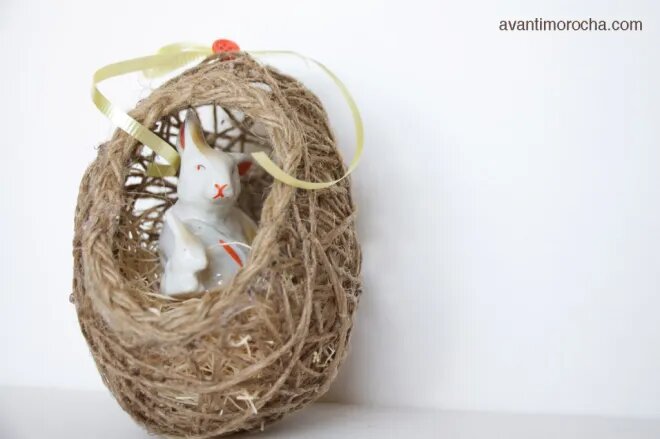 This jute egg by Avanti Morocha can make beautiful Easter decorations, and they are easier to create than you'd think! She used a water balloon to wrap the jute around and secured it with tacky glue. It's a creative and lovely creation!
Decorated Rope Eggs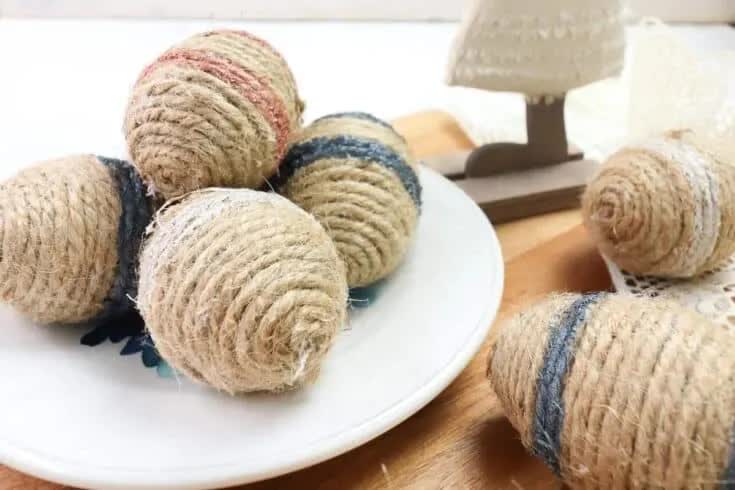 Using a little colour in the design of twine wrapped eggs can make them pop out and look even more stylish. This charming design was created by Kim from Single Girl's DIY, and she surely succeeded in making the Easter table setup look unique. 
Rope Wrapped Easter Eggs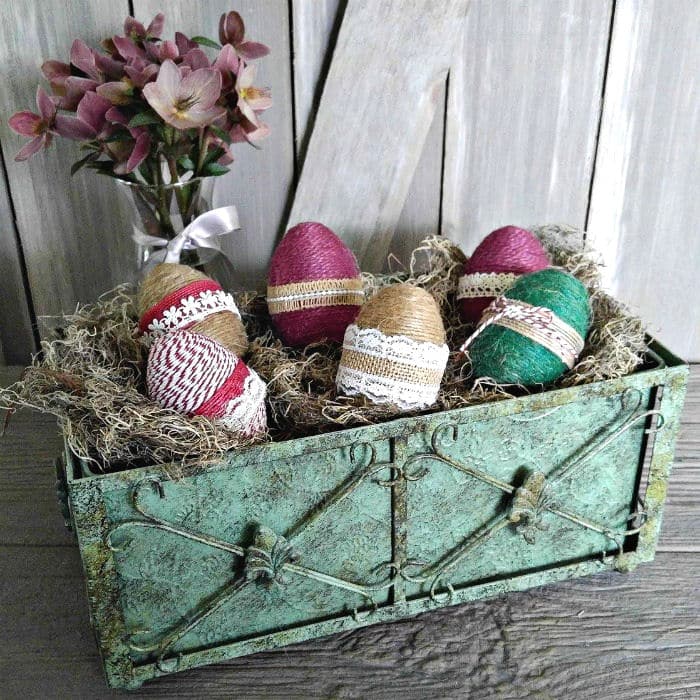 There are countless easter egg design ideas going around, but have you ever thought about wrapping your plastic eggs in rope? Well, Carol from The Gardening Cook surely did! This technique opens the door for many unconventional decoration ideas and the results are looking beautiful. 
Rope Bunny Ideas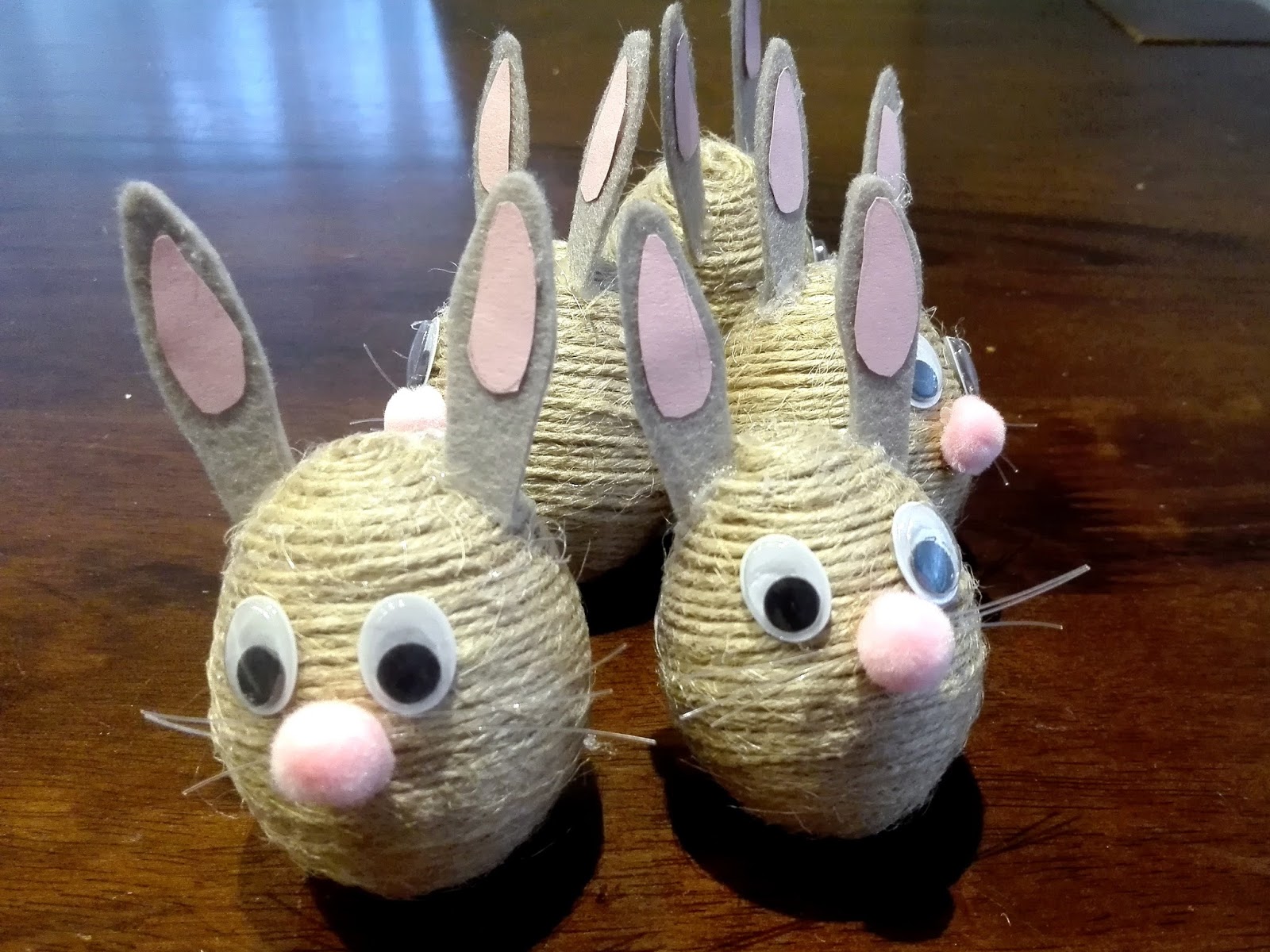 These cute easter bunny eggs were created by Hanka from DIY by Hanka and they can be an adorable gift to the little ones in your family. The eggs were wrapped with jute twine before getting adorable bunny ears and googly eyes. 
Pastel Easter Basket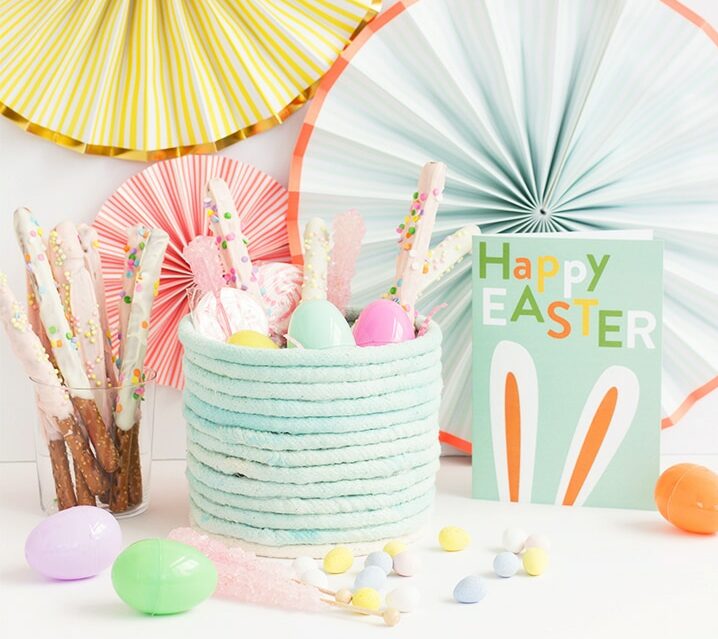 You can tell from the first sight from looking at this composition that Sara from Alice and Lois has a great style – happy, bright pastels complementing each other perfectly, bringing that Easter vibe into her home. This pastel blue no-sew rope basket fits just into that composition! 
CHRISTMAS CRAFTS
---
Xmas Tree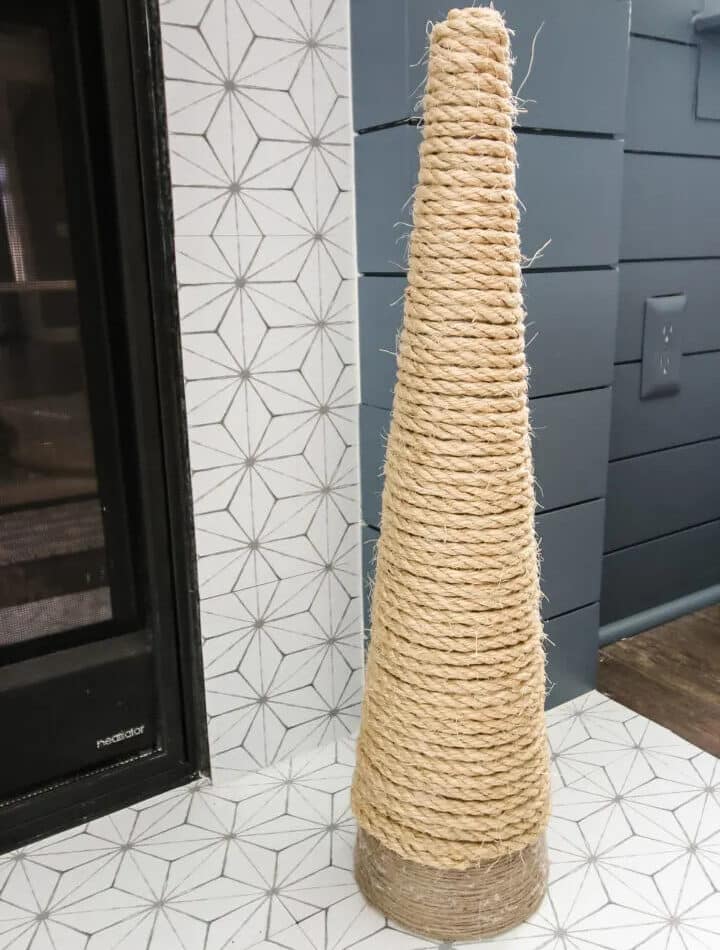 This lovely minimalistic DIY rope Christmas tree is the creation of Charleston Crafted – it's a great addition to your festive tabletop and a unique craft project. 
Tabletop Christmas Trees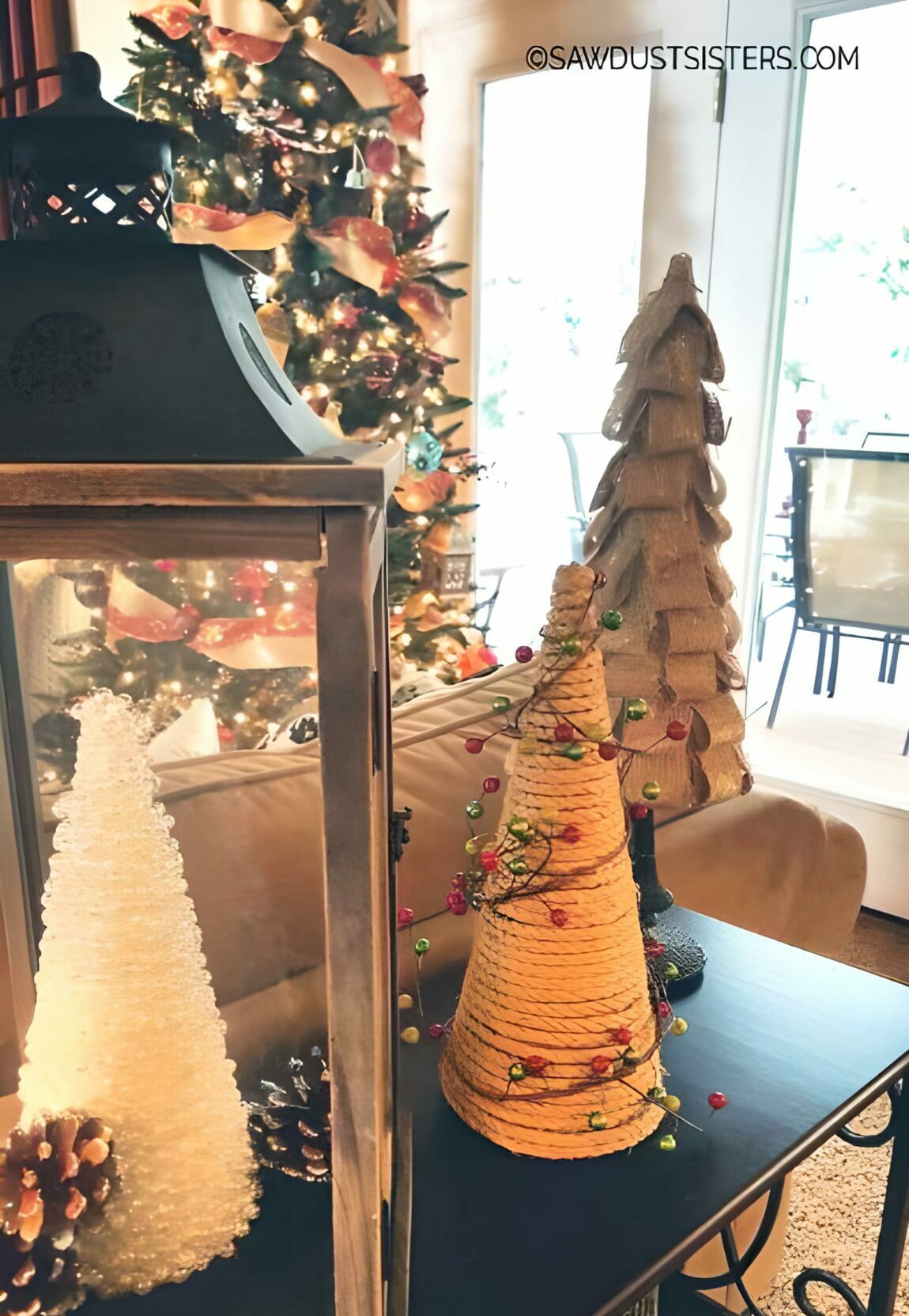 With the endless supply of decorations in stores, it's hard to come up with unique ways to decorate our homes for Christmas. Luckily, Janice from Sawdust Sisters doesn't seem to have this problem – the tabletop Christmas trees she made using sisal rope sure look stunning and original! 
Shaggy Rope Xmas Trees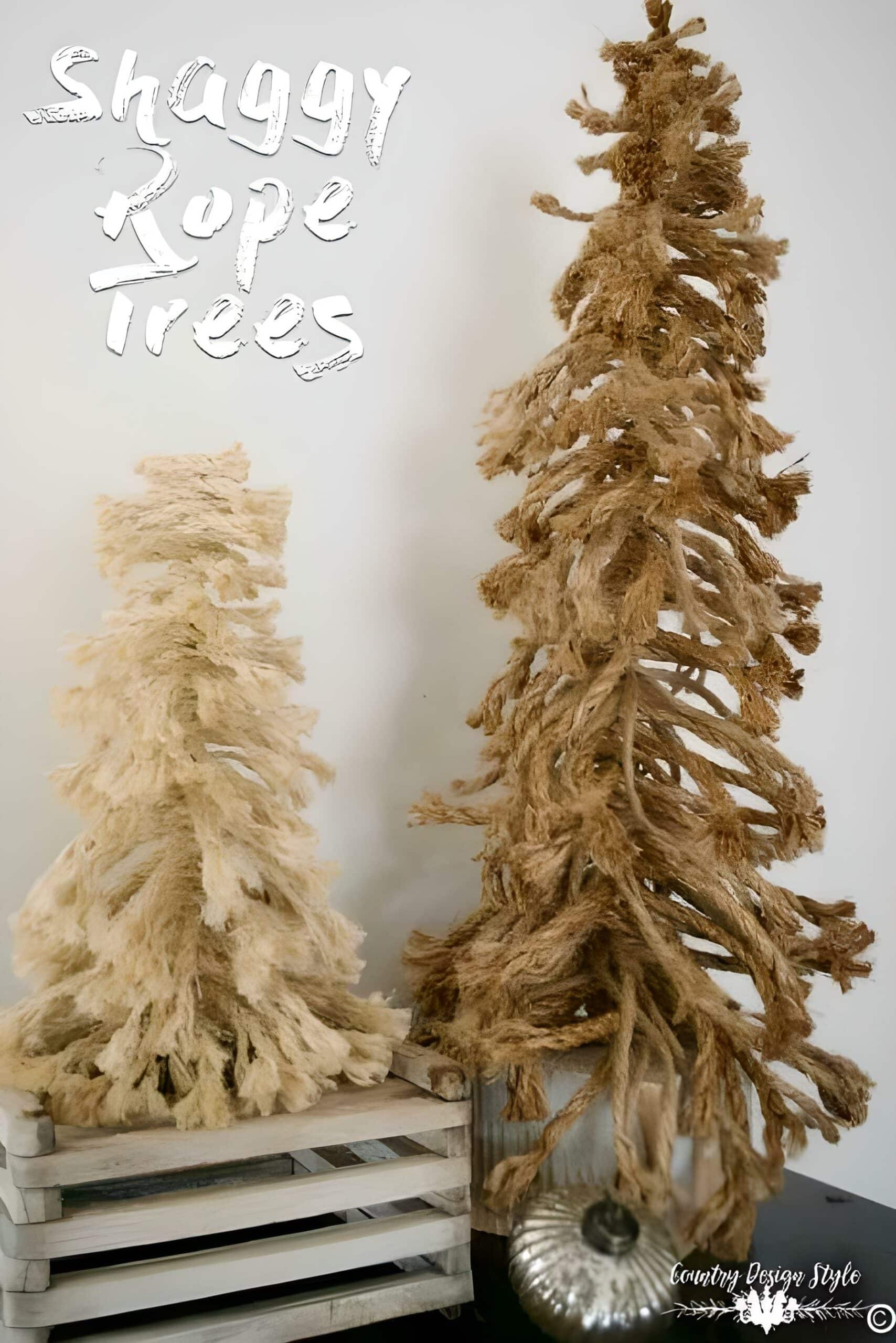 Jeanette from Country Design Style used jute and sisal rope as well in order to create these unique shaggy rope trees. It's surely something that you wouldn't expect to see on the festive table, yet you would take note of how pretty and quirky it is. 
Ornament From Scraps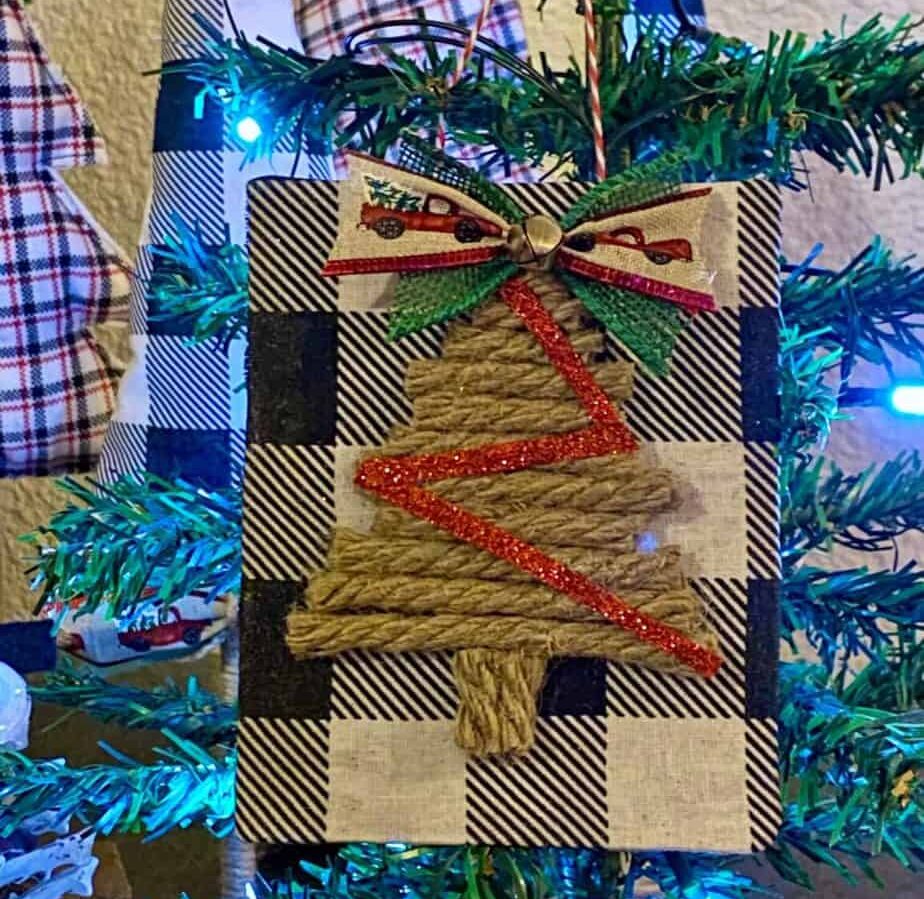 This adorable Xmas ornament was created by Amanda, blogger of Manda Panda Projects. She created this craft using various scraps, resulting in this beautiful composition. 
Christmas Coasters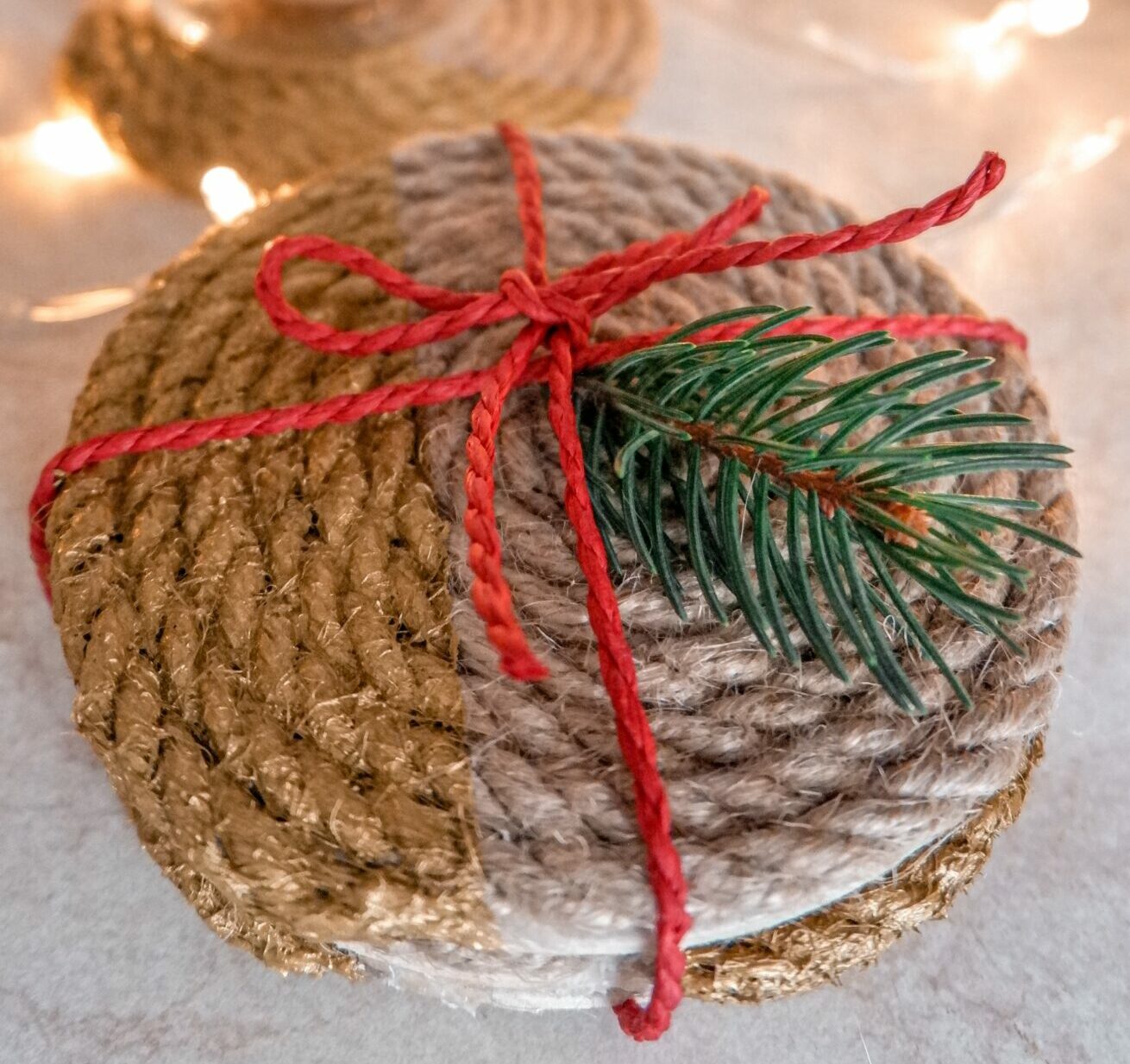 These rope coasters are shiny and festive, just as you want them for the Christmas season! They can be a perfect DIY gift idea for your loved ones, or a great addition to the Christmas dinner table setting.
Rope Christmas Ornaments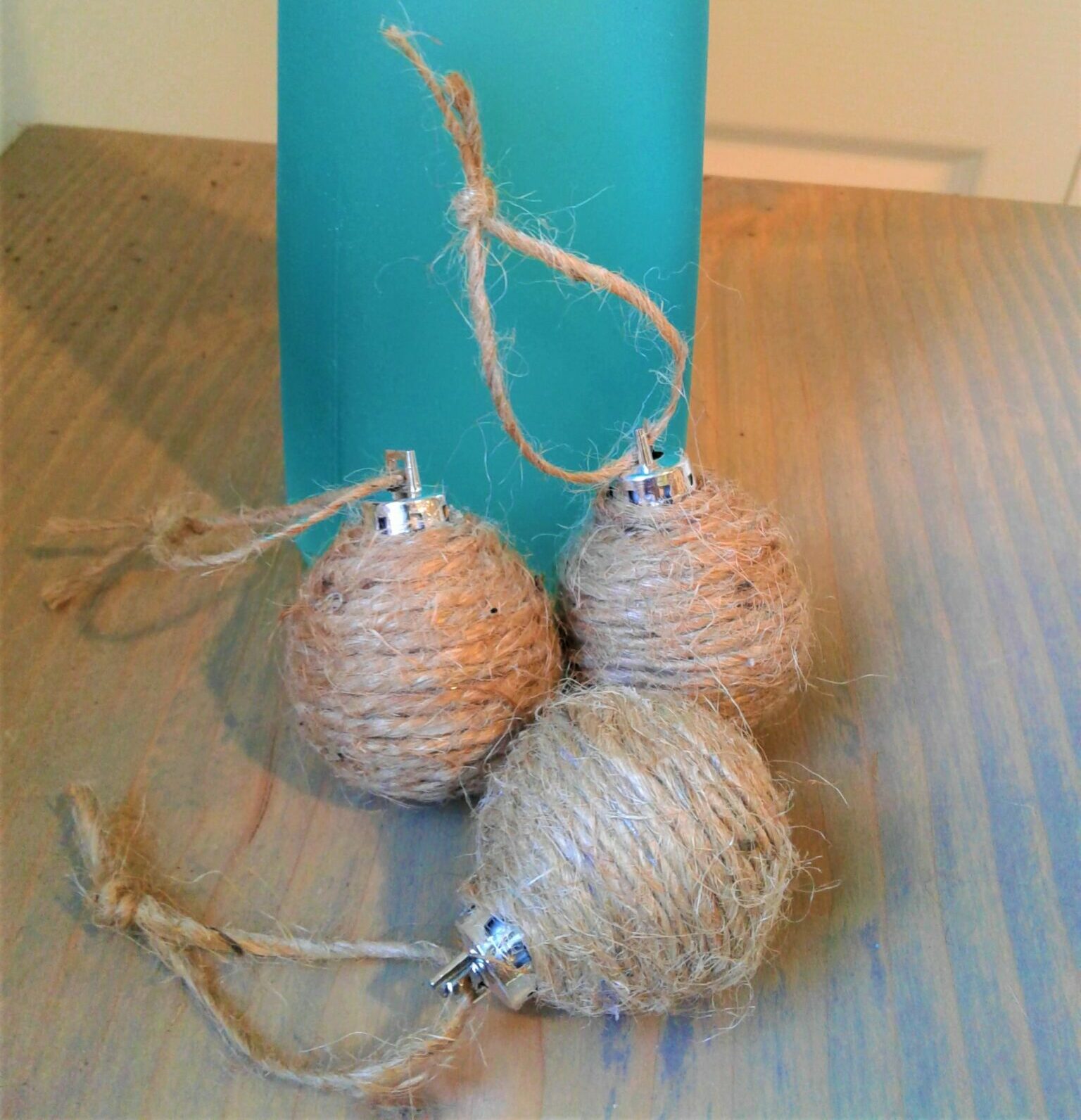 Jennifer from Crazy DIY Mom had the idea to bring a little coastal theme into their Christmas tree decor. She bought some basic ornaments and wrapped them with sisal twine to create this cute craft. 
Rope Tree Collar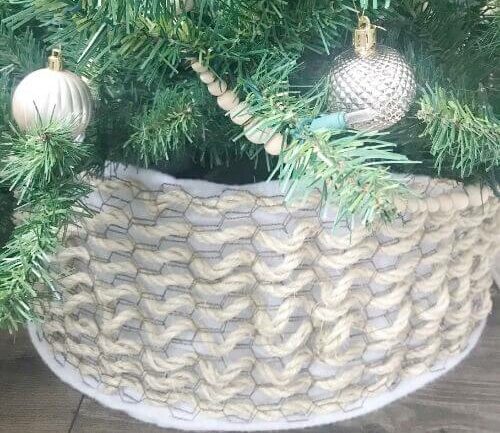 This lovely rustic rope Christmas tree collar from Dappled Skies and DIY's is a great addition to a farmhouse-style Christmas decor. They created two versions of this project, one with sisal rope, and another using cotton rope – both are worth checking out! 
Shiny Festive Wreath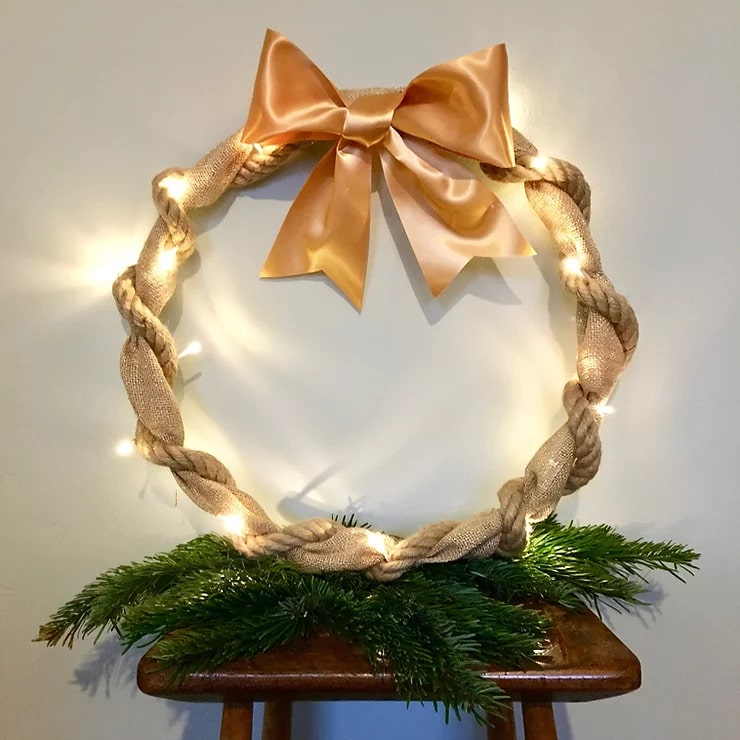 This shiny festive wreath would make even the Grinch crack a smile – the lights embedded into the rope bring that Christmas spirit right into your house! This beautiful craft was published on Dannells, showing off their unique ideas. 
Rope Christmas Wreath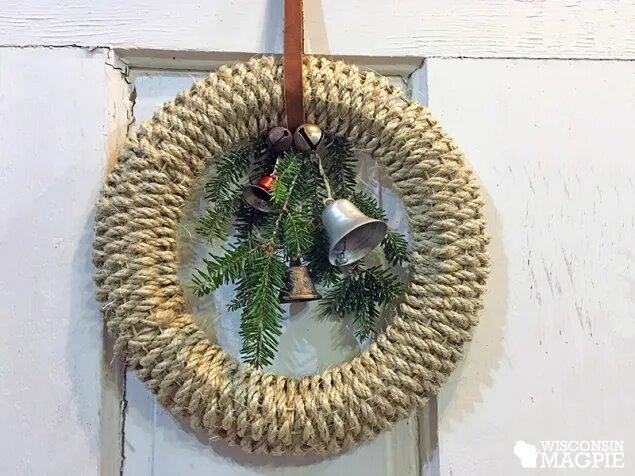 This lovely Christmas wreath is made using sisal rope, which Lisa wrapped carefully around a wire wreath frame, using a method that creates dimension and volume. She then decorated it Christmas-style – find the whole guide on her blog, Wisconsin Magpie! 
Rope Craft Ornaments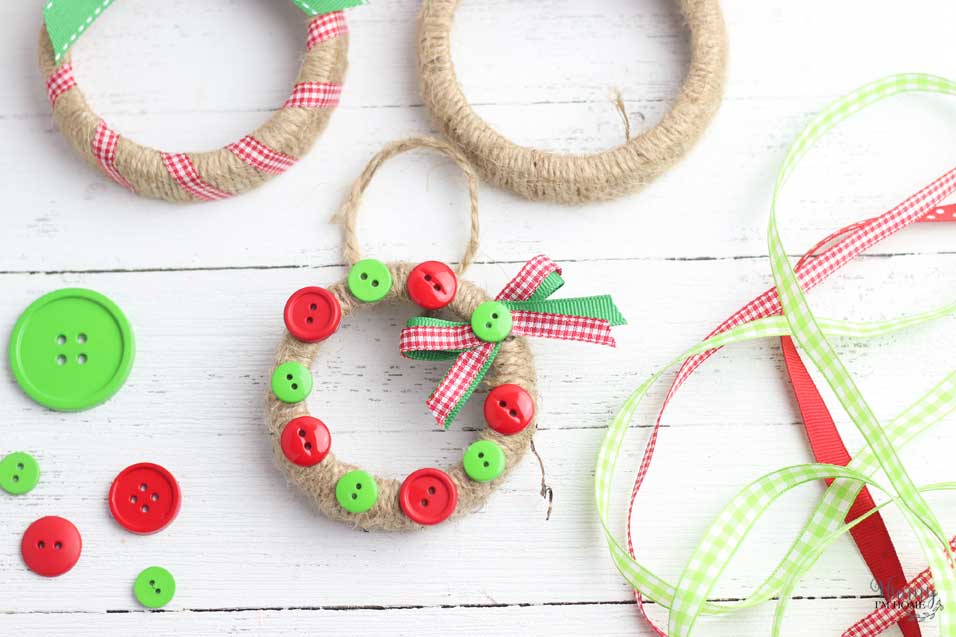 These cute and colourful wreath-shaped Christmas ornaments are created using something you probably wouldn't even think of – mason jar lids! The person behind this creative project is Emily from Hunny I'm Home, and she did a great job creating something unique! 
Braided Rope Wreath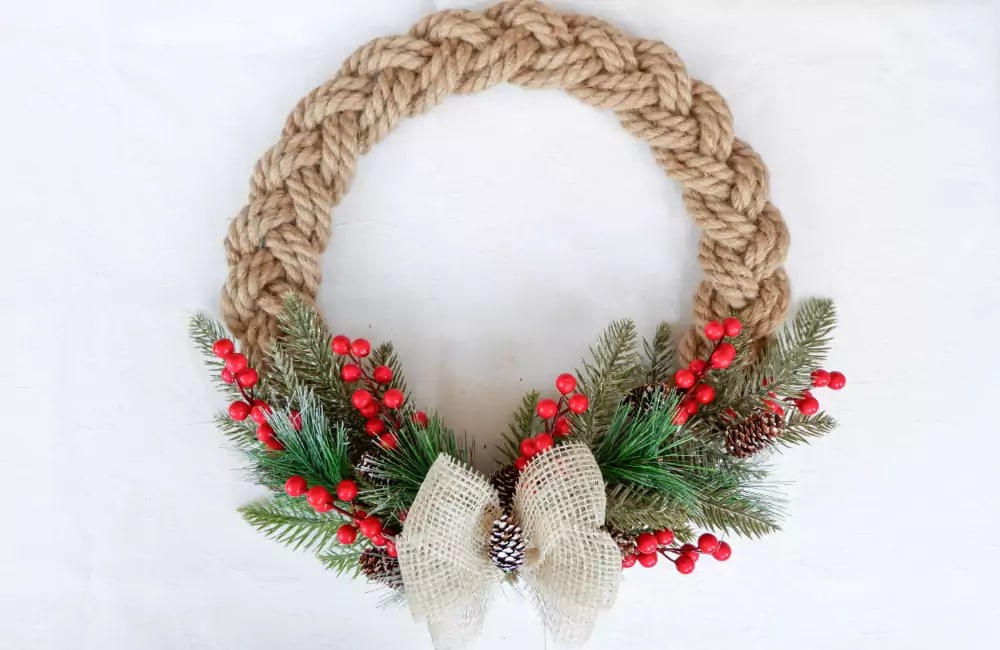 This is our take on creating an elegant Braided Rope Christmas Wreath – we used jute rope for this project and the braiding technique gave it a nice textured look. Ready for the festive season! 
BANNISTERS
---
Rope Deck Railing Ideas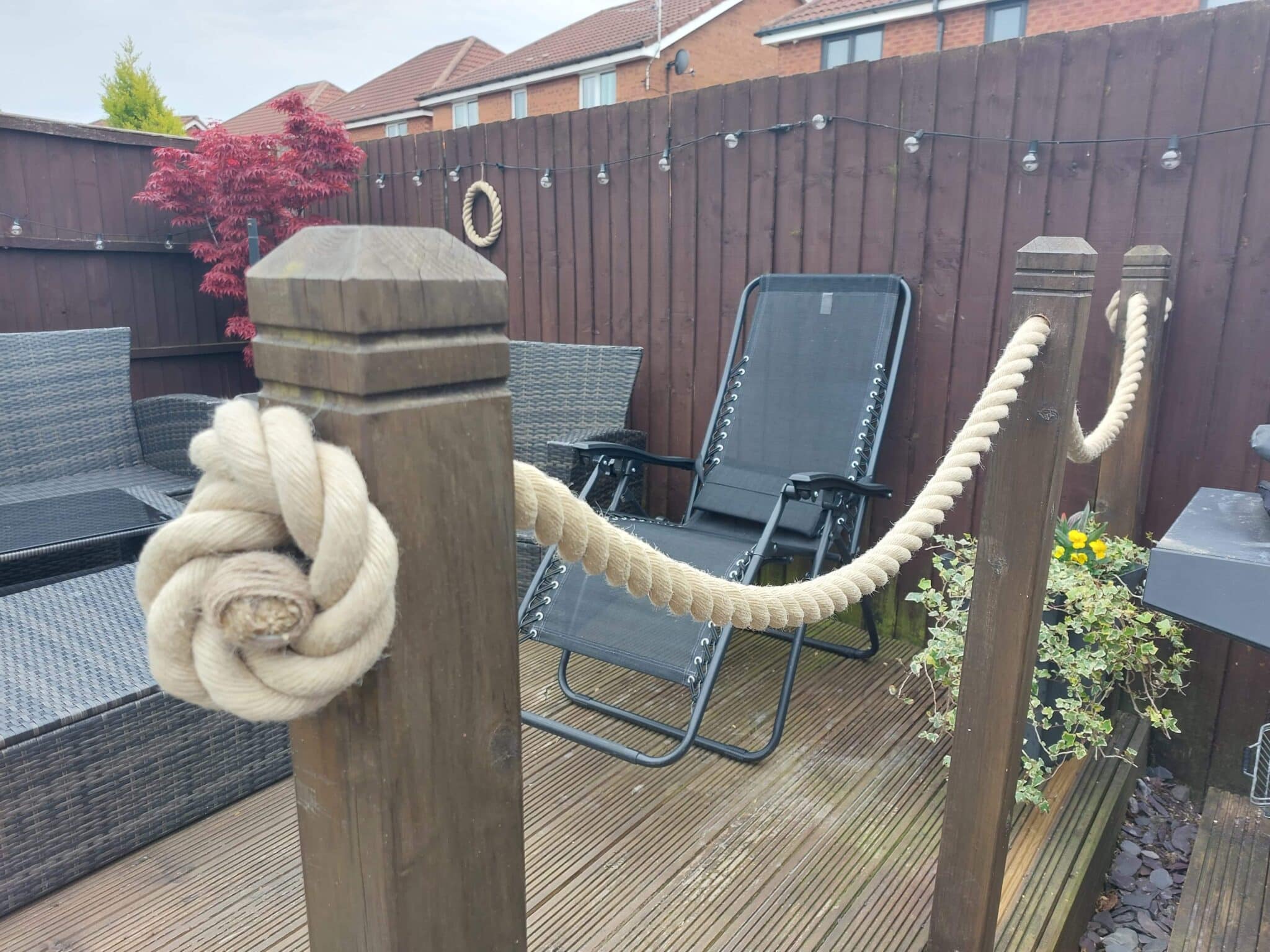 One of our customers decided to spice up their garden design by implementing some synthetic hemp rope railing ideas – it resulted in a gorgeous creation, bringing life to the garden. 
Stairway Bannister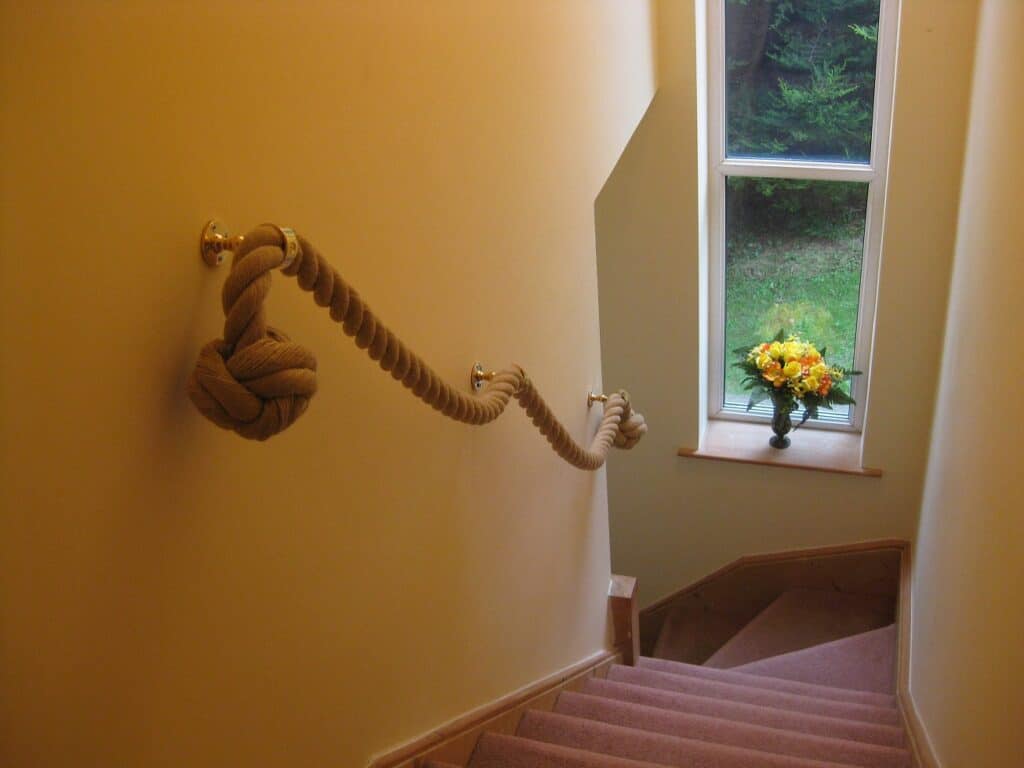 This customer needed a bannister for the steep stairs leading to their garage – so they decided to create this lovely project, with some creative use of our rope. The results look fantastic! 
Garden Bannister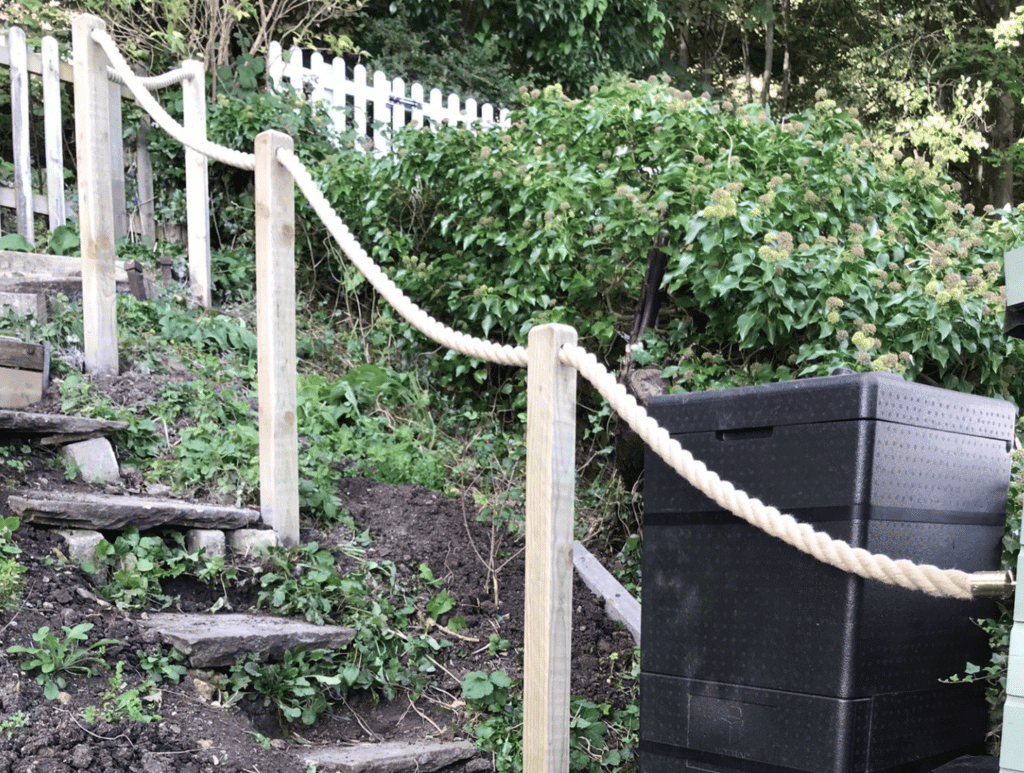 The owner of this lovely green garden used decking rope to add an accent to the stepway leading up to the gate. It has a calming, natural effect, creating a relaxing atmosphere. 
Rope Fence around Porch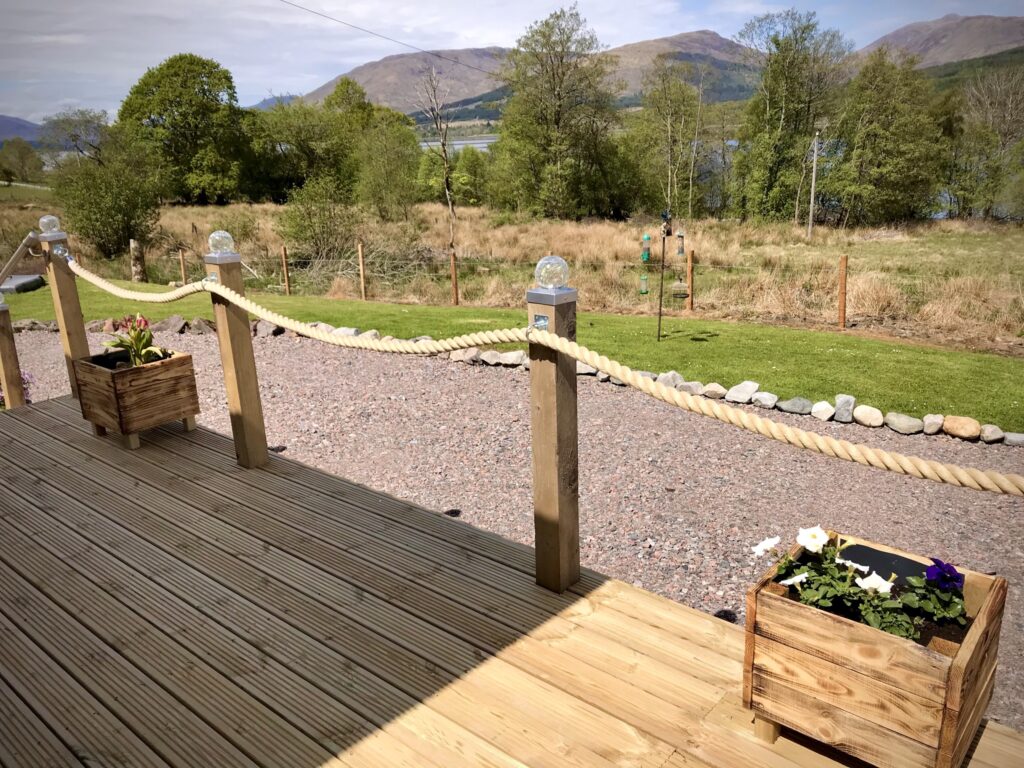 If you are looking for rope fence ideas to surround your porch, you should take a look at this beautifully arranged decking rope, with its colours matching perfectly those of the wooden flooring. This porch is looking inviting and cosy thanks to the stunning design. 
Church Bannisters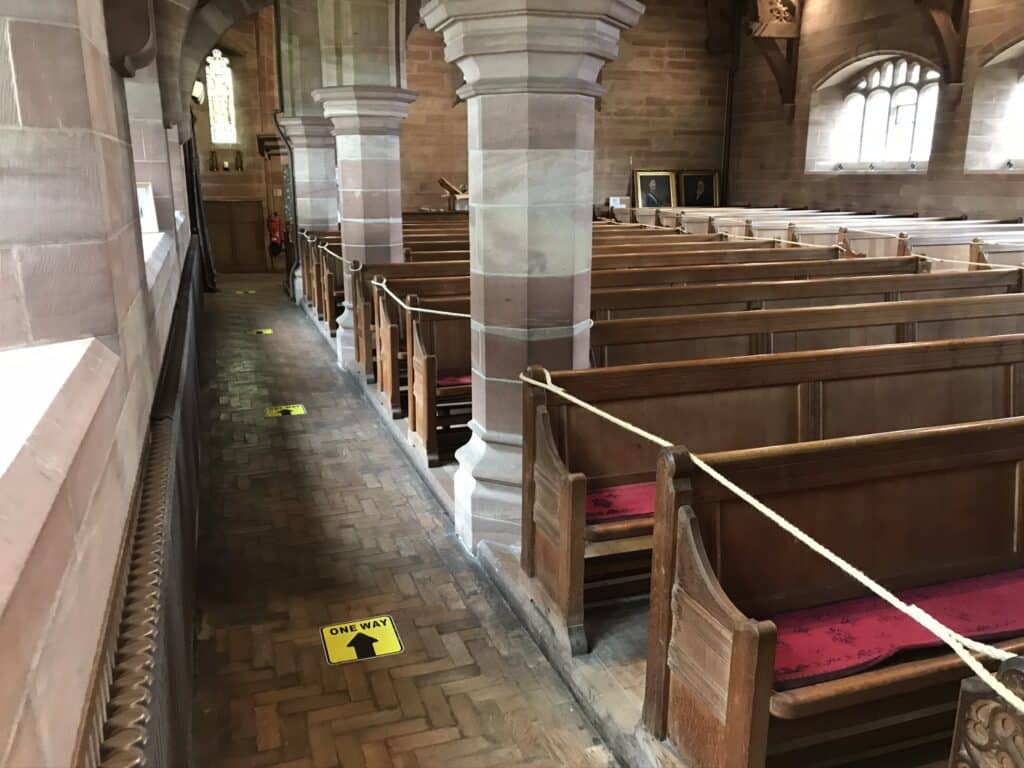 We are delighted that our customer chose our rope bannisters to decorate these church benches, as it is fitting perfectly with the style of the interior. 
BASKETS AND COASTERS
---
Rope Coil Bowls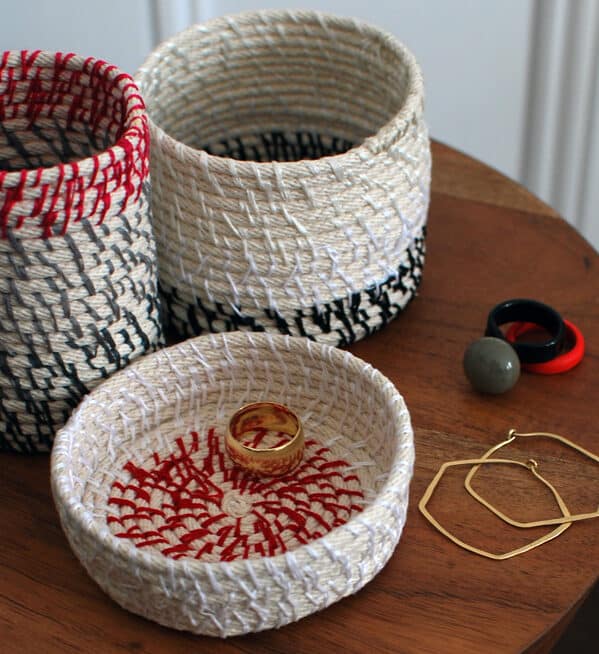 These rope coil bowls and vessels from We Are Scout are an artistic addition to your home, the creator Lisa claiming that they are quite meditative to make. You can combine different colours and shapes depending on your needs. 
Rope Basket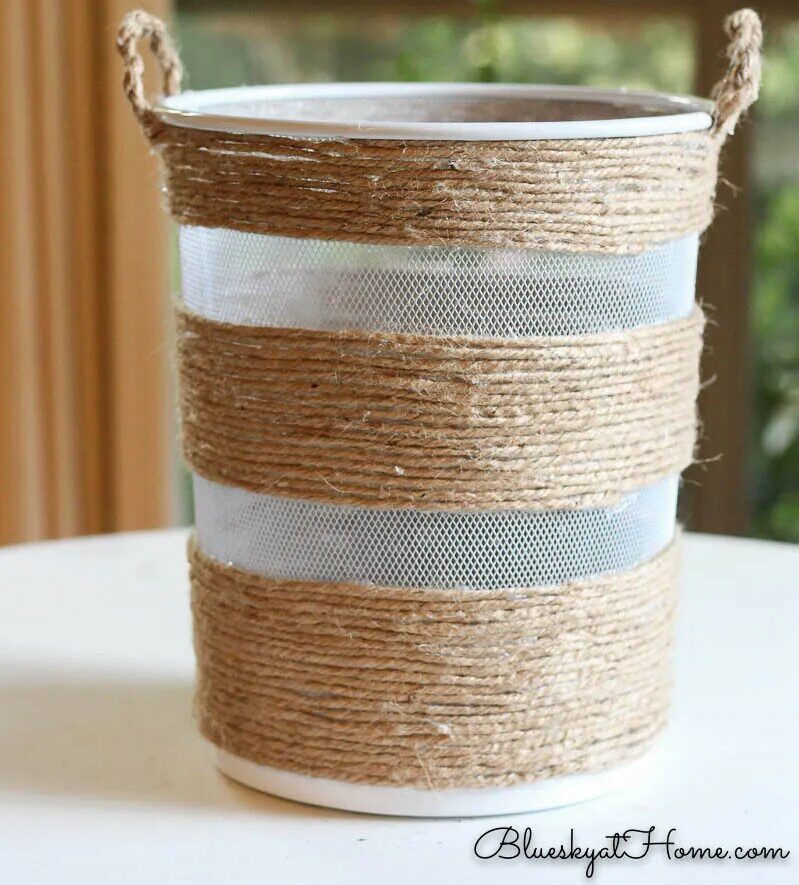 Carol from Bluesky at Home admitted being a fan of rope baskets, but she found these to be unreasonably expensive. Therefore she got crafty and created this DIY basket, which looks super stylish and cute!
Rope Basket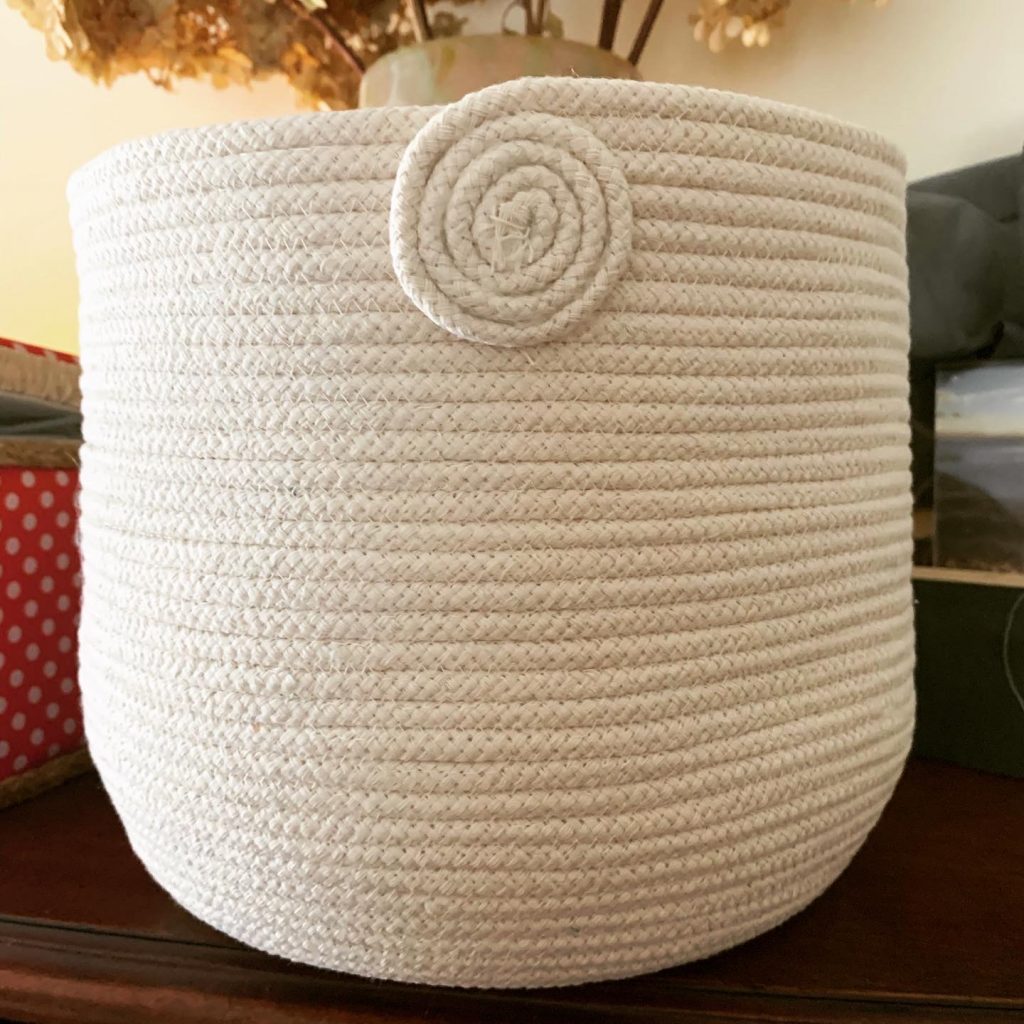 Natalie from Deerwood + Jones came up with this wonderful idea to create a coiled rope basket. She used clothesline rope, as it is a natural looking fibre and affordable, and created this lovely basket with the help of a sewing machine.
Basket With Leather Handles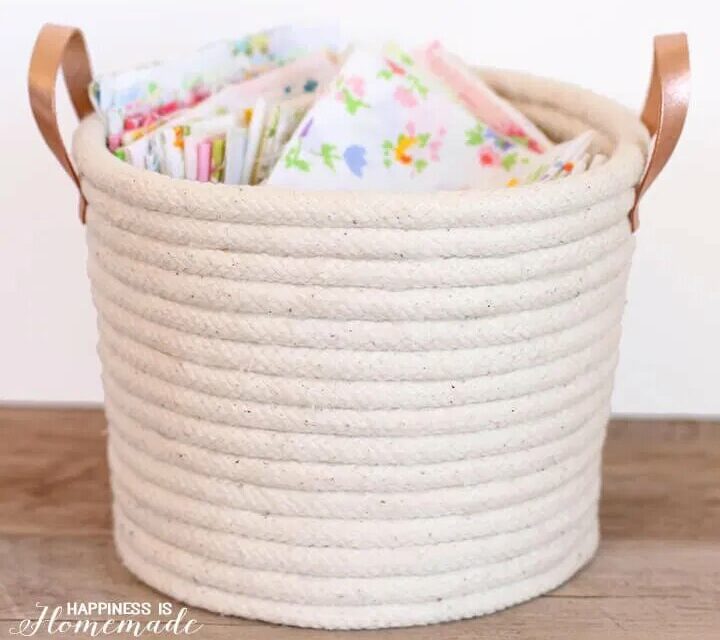 Heidi from Happiness if Homemade created this lovely no-sew basket with the help of a glue gun and some beautiful leather strips. The colours match perfectly, giving out the impression that this is a store-bought item, not something created at home. 
Rope Purse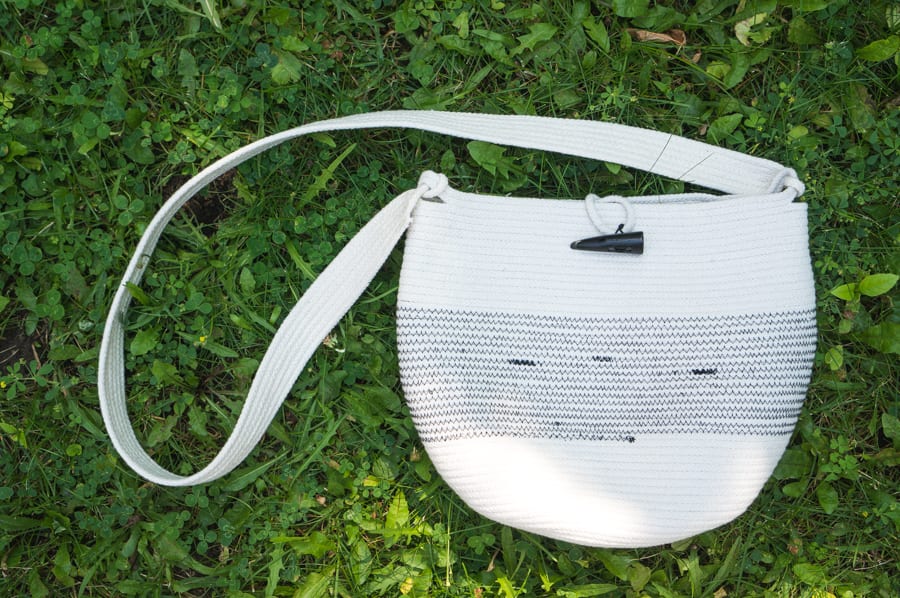 This beautiful fashion accessory was created by Heather from Closet Core Patterns. She aimed to create a purse that is suitable for both beach afternoons and formal events. She used crafting rope to make this project, which ended up looking beautiful!
Rope Basket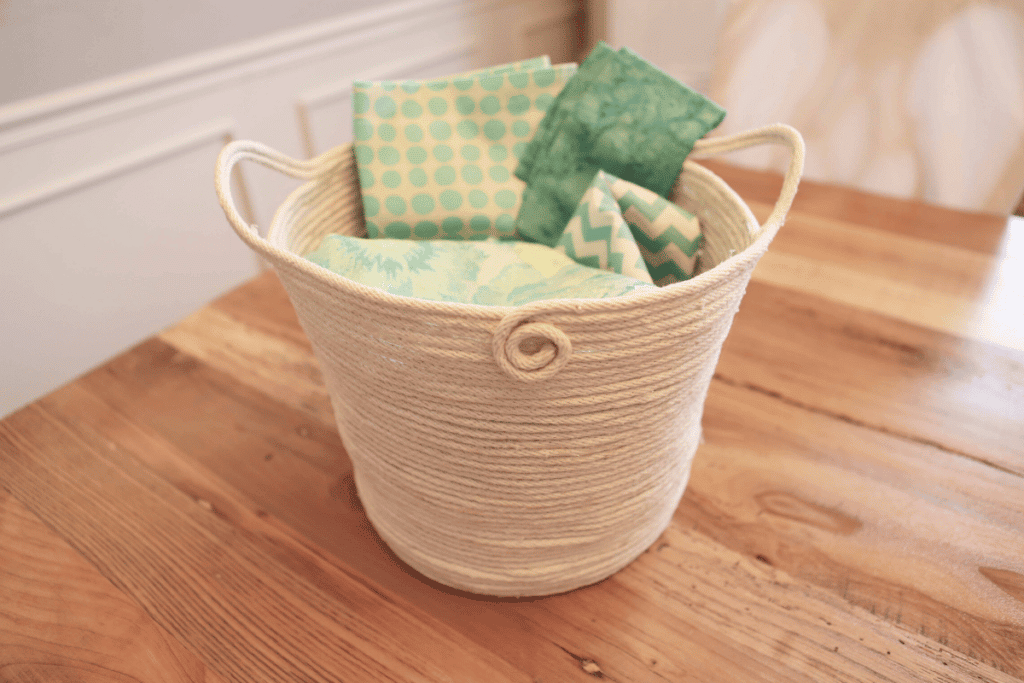 Connie from Life on Mercedes Drive used a bucket as a template to create this lovely rope basket. She didn't opt for the traditional sewing machine method, but created this project with the help of a glue gun – impressive! 
Elegant Rope Basket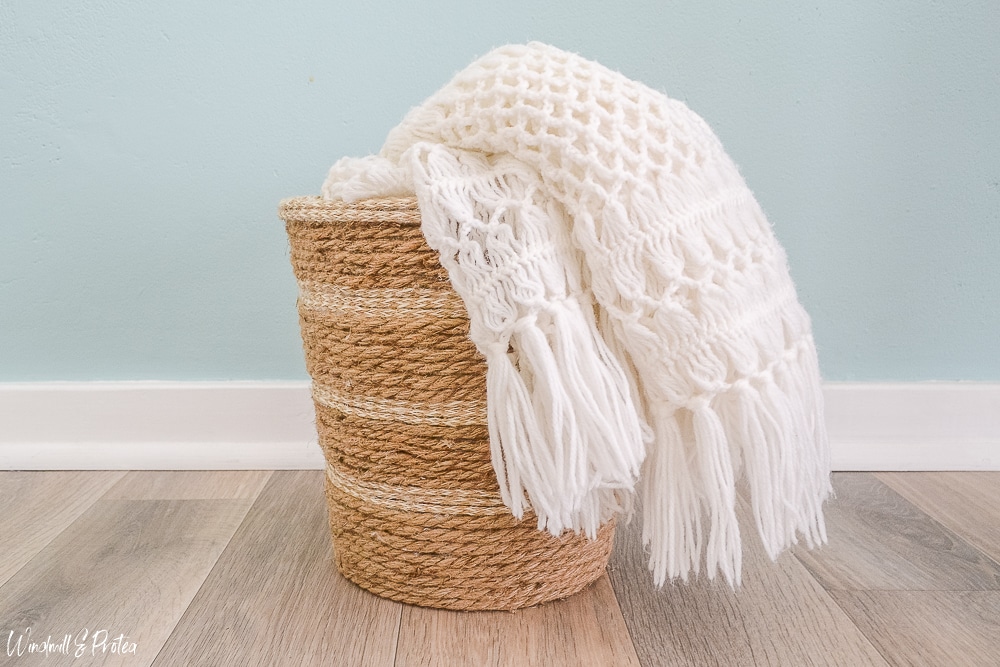 Rope baskets are beautiful, but they can come with a hefty price tag. Junette from Windmill & Protea decided that it doesn't always have to be like that – she took a dollar store wastebasket and wrapped it tightly with jute twine, creating this cute basket that can be used for storage or as a planter. 
DIY Rope Bowl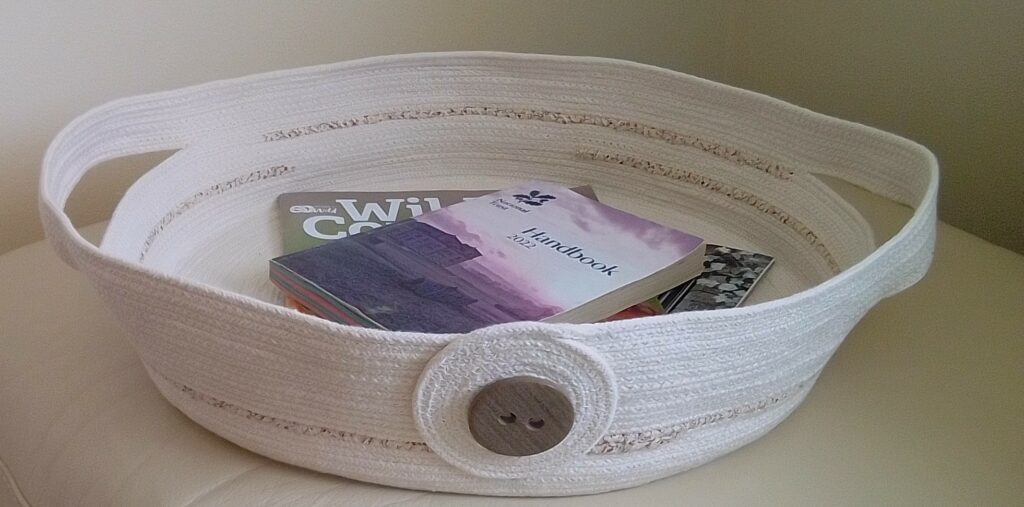 This stylish rope bowl was created by one of our customers, who decided to take creativity to another level. The finish is undoubtedly stunning!
Yellow Baskets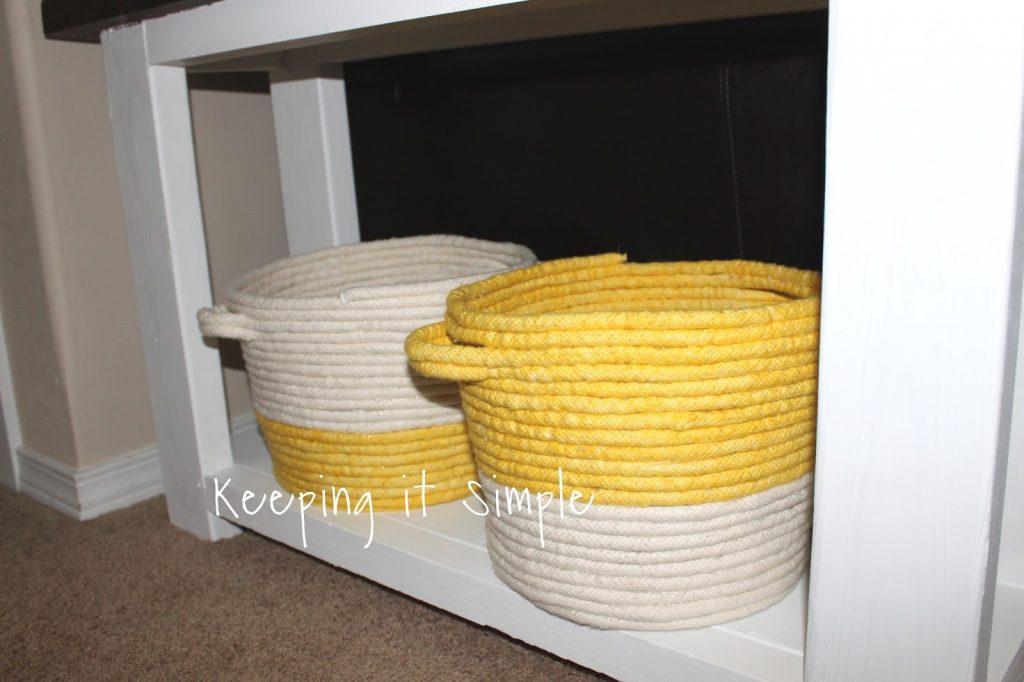 These baskets from Keeping it Simple were also created with the hot glue-technique, but Kaysi decided to take this rope basket DIY project one step further and add some brightness into the composition, by using some yellow textile dye on the rope. The results look fantastic! 
DIY Rope Basket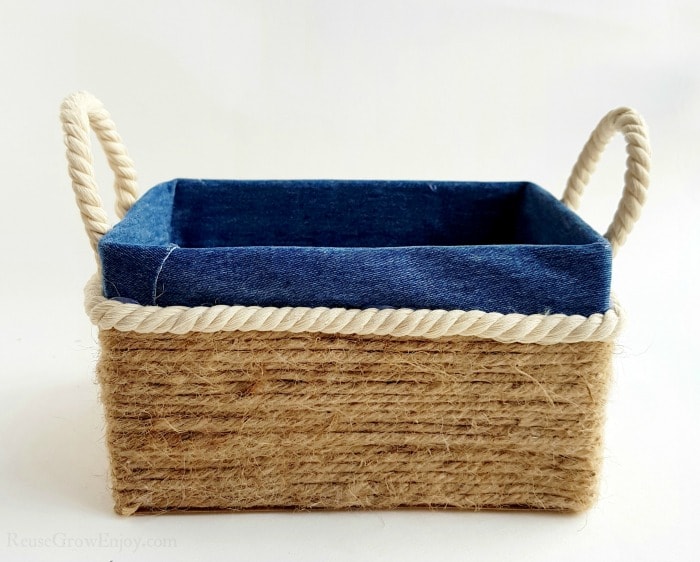 This cute basket was made out of an old cardboard box, which was completely upcycled with the help of some rope. This wonderful craft project was published on Reuse Grow Enjoy, and it presents a great idea for those looking to bring some creativity into their home.
Mini Basket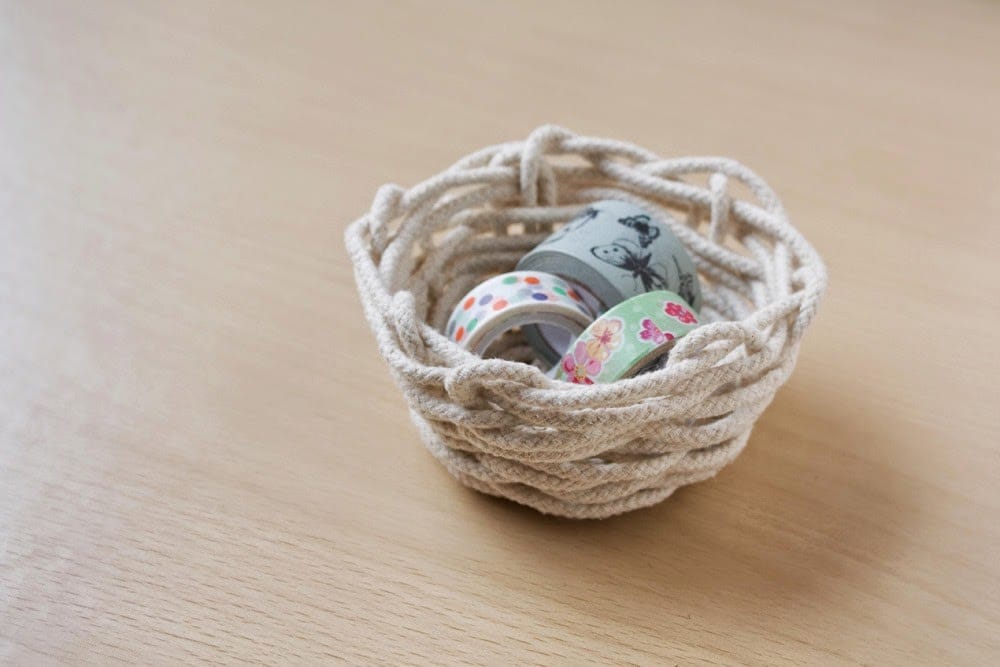 Emma from Make and Fable decided to use some natural cotton rope to create this adorable tiny DIY rope bowl. In her post, she shows the technique she used to create this project, using a macrame board.
Sewn Cotton Cord Basket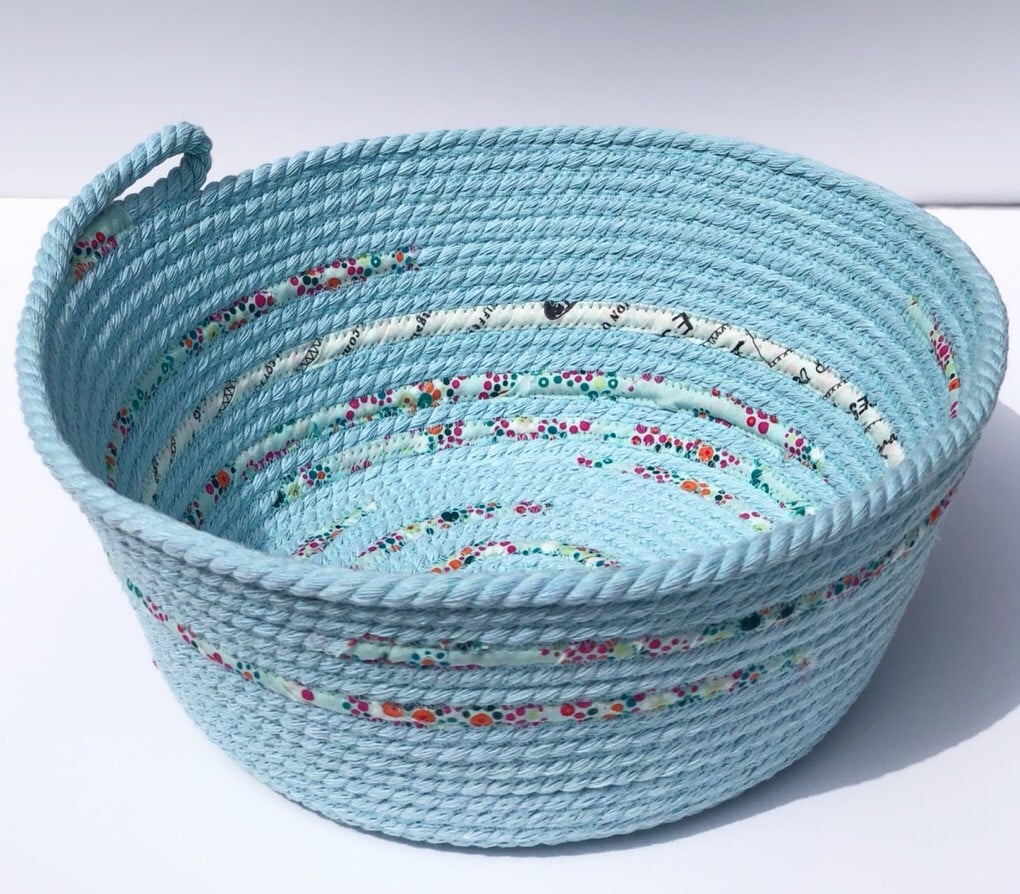 This tutorial by Mister Domestic shows off his stunning rope bowls made using cotton craft cord and a handy sewing machine. It is notable how clean and professional this project looks – who wouldn't want to display such a beautiful decoration piece? 
Rope Trivets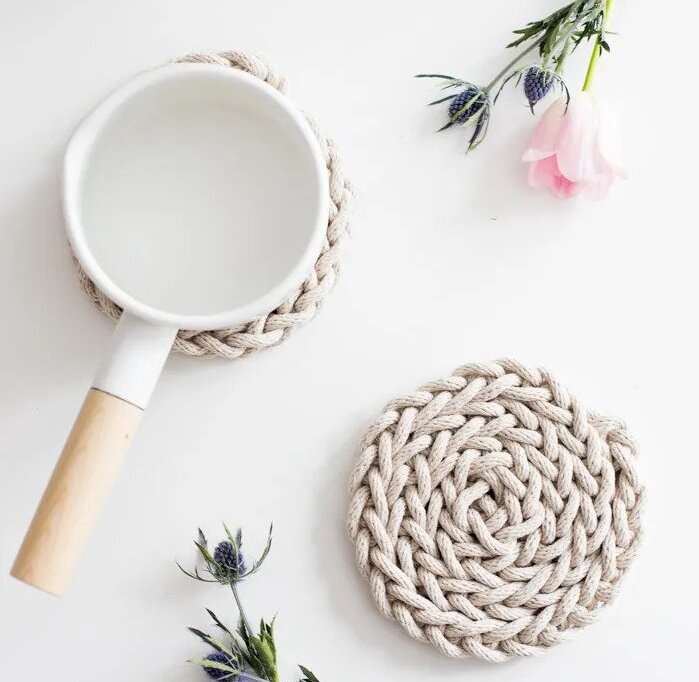 This DIY Finger Knit Rope Trivet is a beautiful and simple Mother's Day project created by Anne from Flax & Twine. She used cotton rope to create this project, resulting in a stunning finish. 
Manilla Rope Coasters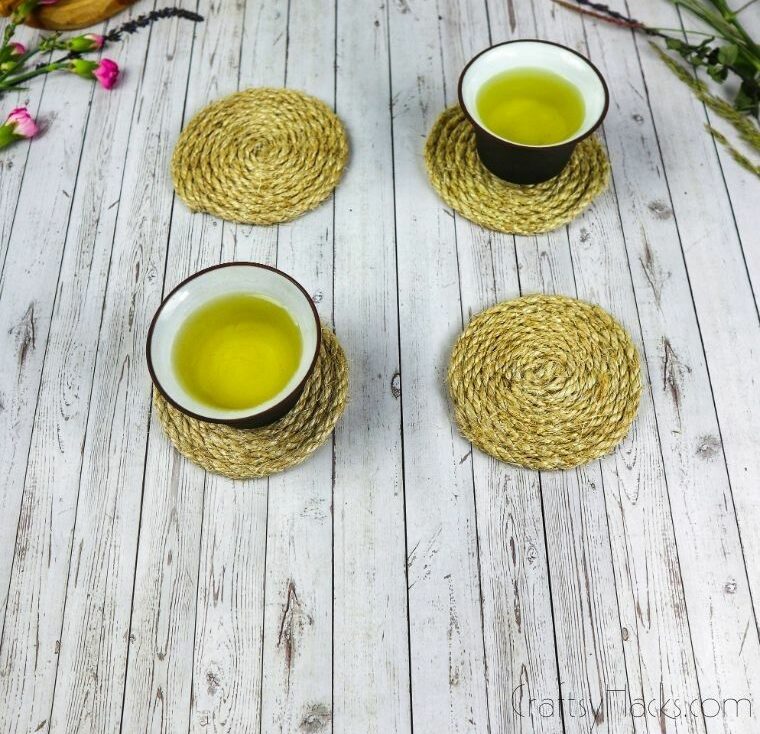 These simple but pretty rope coasters were created by Karo from Craftsy Hacks – she used thick manilla rope and a glue gun and said goodbye to cup stains on her coffee table!
Rope Coasters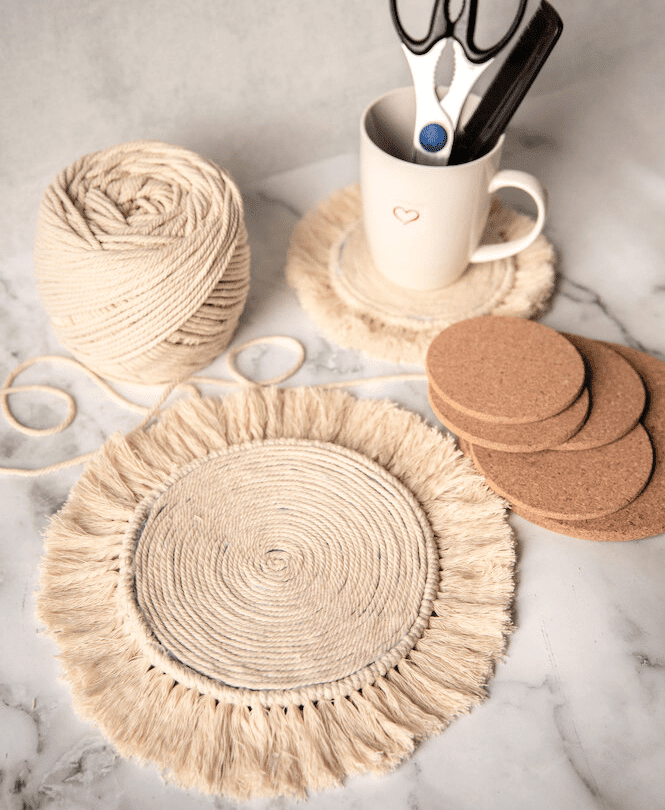 Soheila (@IsThatSoh) decided to upcycle some plain and boring coasters by making them into something much more stunning. She used macrame rope and a glue gun to create these DIY Macrame Coasters for her kitchen! 
Starfish Coasters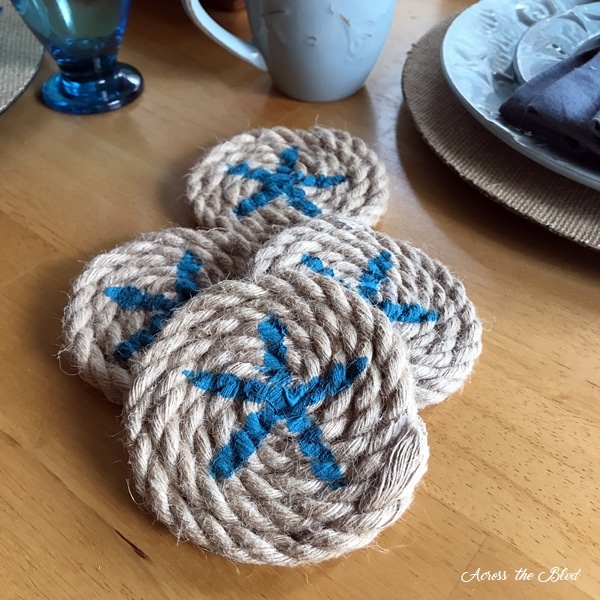 Beverly from Across the Boulevard had the idea to create a unique version of DIY Rope Coasters. She decided to add a touch of coastal vibe to them by painting a little starfish on each one. They sure turned out super cute! 
Coiled Coasters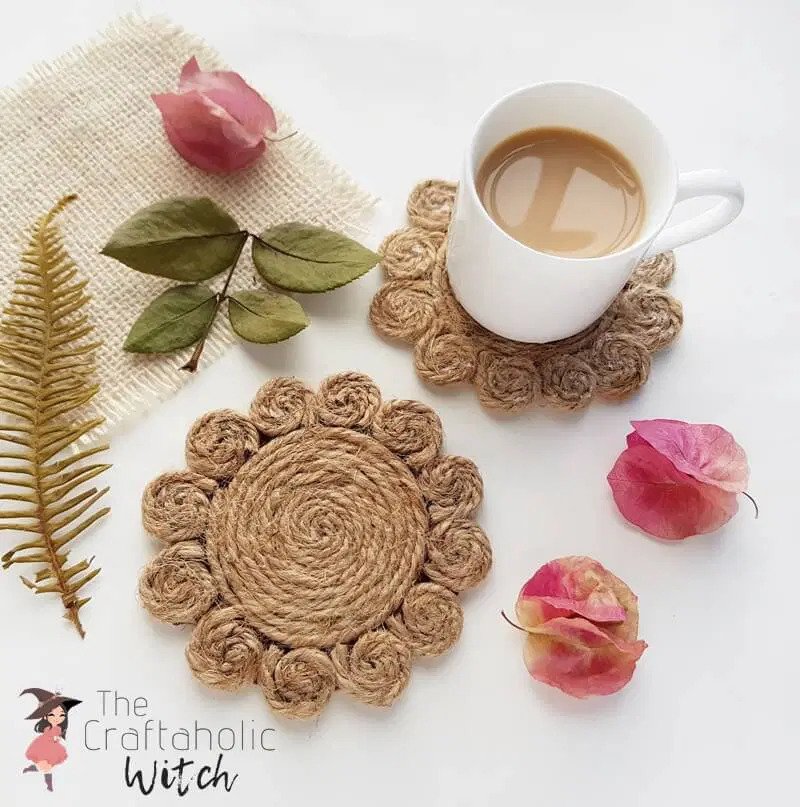 These DIY rope coasters come with a twist! Muhaimina from The Craftaholic Witch decided to add some coils to the borders of the coaster, creating a stylish floral shape. 
Crochet Rope Trivet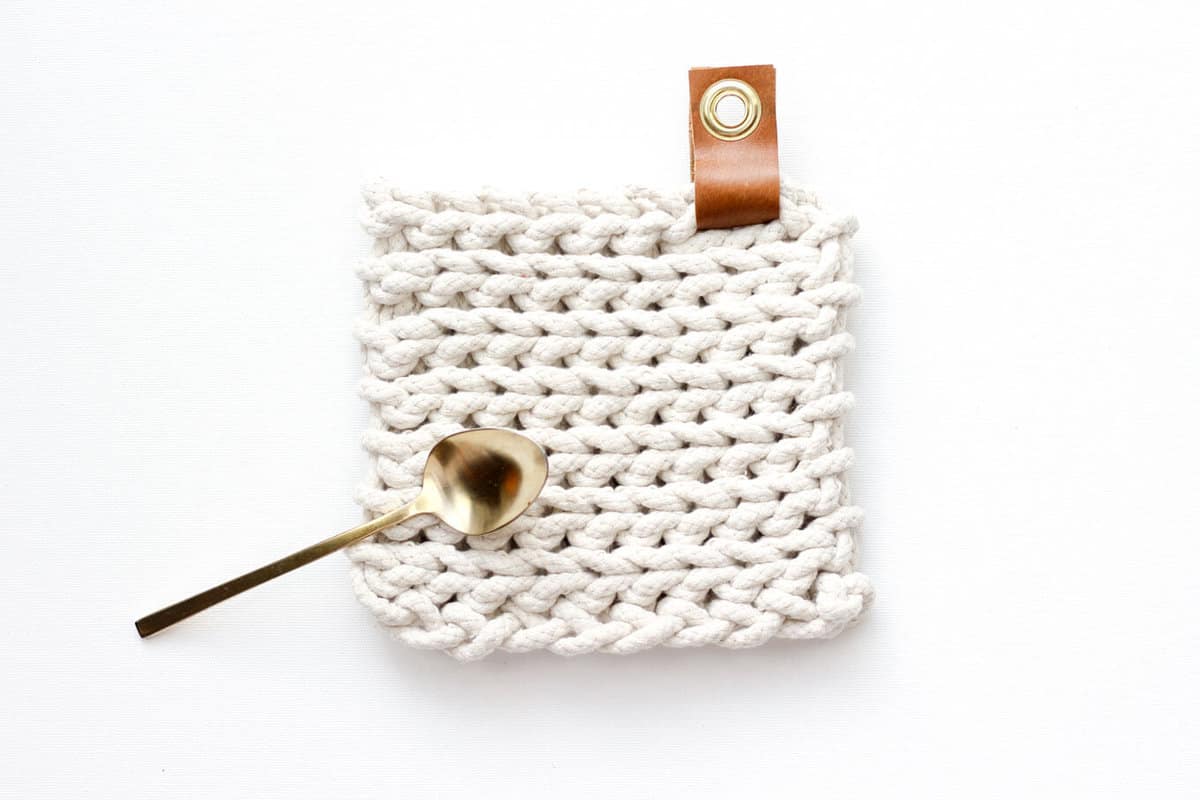 This crochet trivet was created by Jess from Make and Do Crew, using clothesline rope. She claims it's not the easiest to work with, but gives a fantastic texture to the finished craft – and by the looks of it, it surely is worth it! 
Nautical Rope Coasters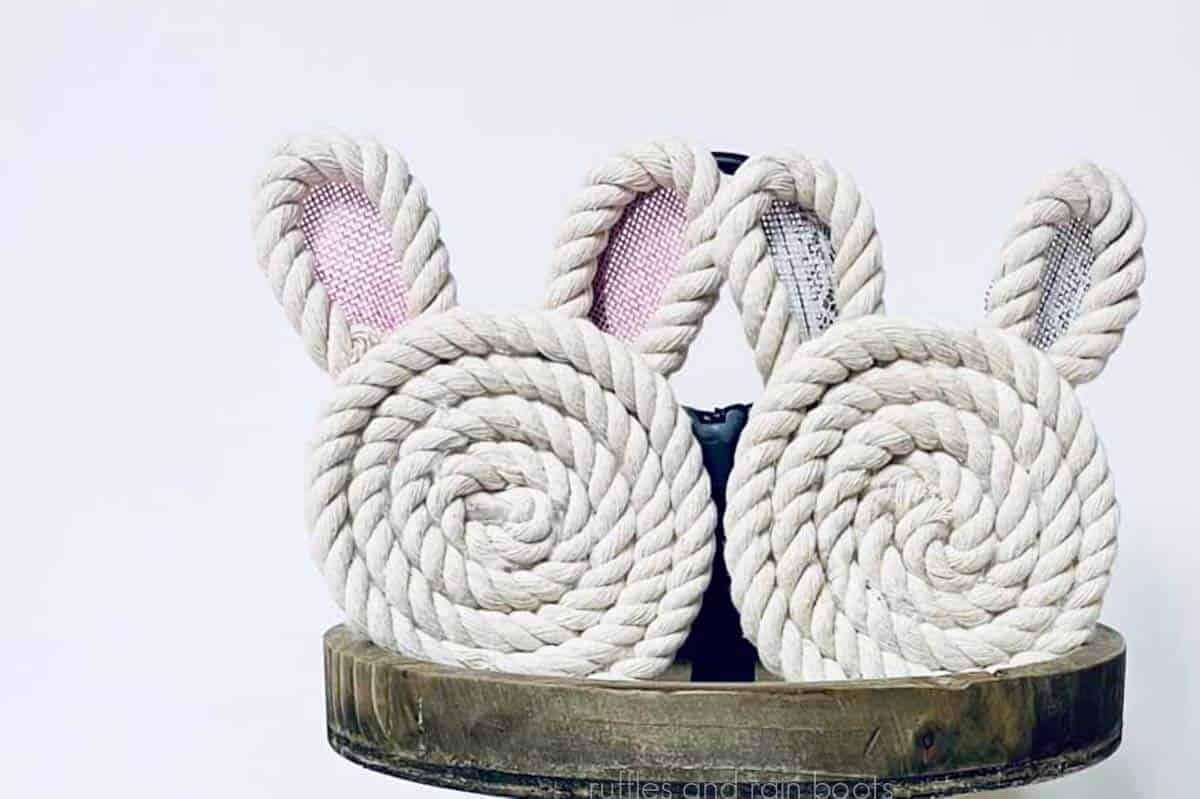 What is the best place for your Easter drinks? Obviously these sweet bunny coasters! Sarah from Ruffles & Rain Boots loves Easter and it was no question that she would come up with a clever craft to celebrate. All she needed was some nautical rope and hot glue gun to create these adorable coasters.
Heart-Shaped Coasters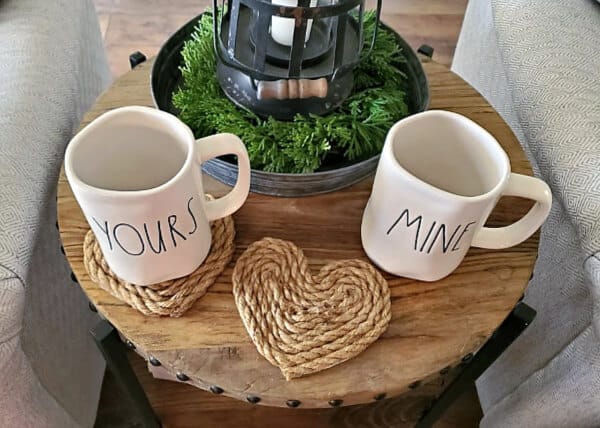 What's sweeter than handmade rope coasters? Well, heart-shaped handmade rope coasters, for sure! This lovely project was created by Cindy from DIY Beautify and she definitely did a great job.
HANGERS AND PLANTERS
---
 DIY Rope Plant Hanger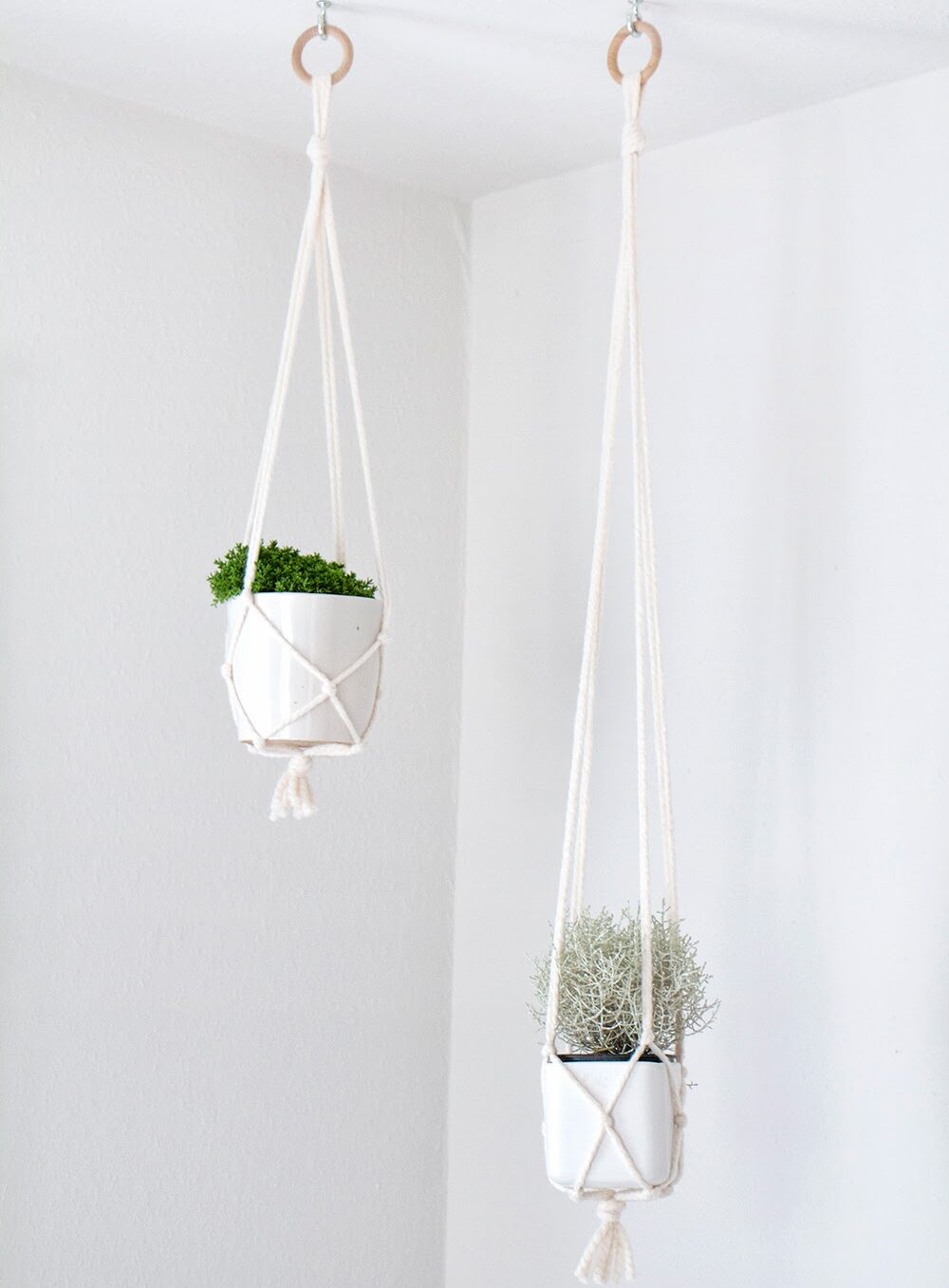 If you are looking for a simple rope plant hanger DIY project, these lovely white creations will surely be to your liking. They were created by Leanne from Chi Chi Dee Handmade – she surely has a great style! 
Succulent Pot Hanger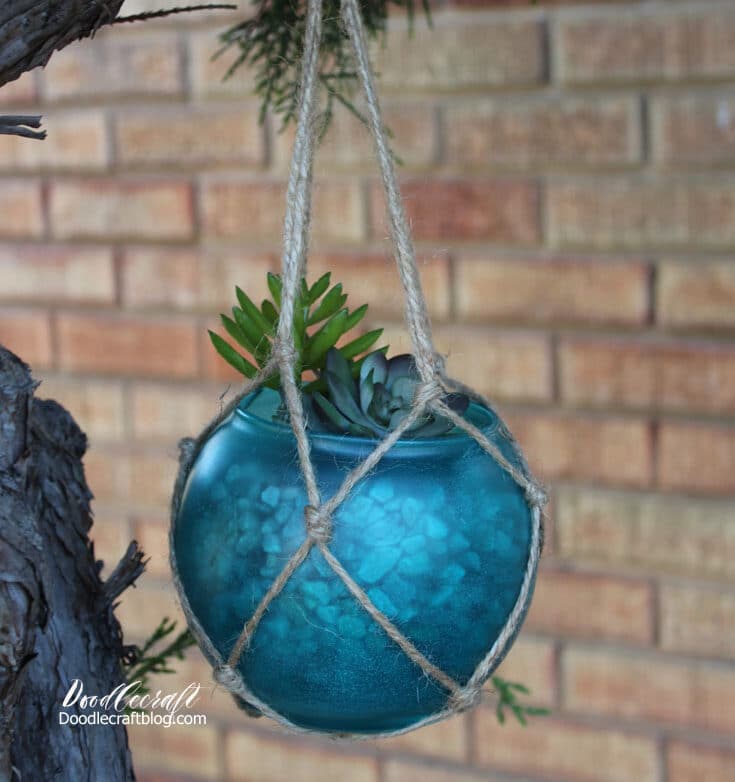 This lovely DIY hanging rope planter project was created by Natalie from Doodlecraft. She used spray paint to dye her glass bowl in order to give a special touch to the project, and jute twine to tie it up. The finish surely looks stunning! 
Rope Succulent Planter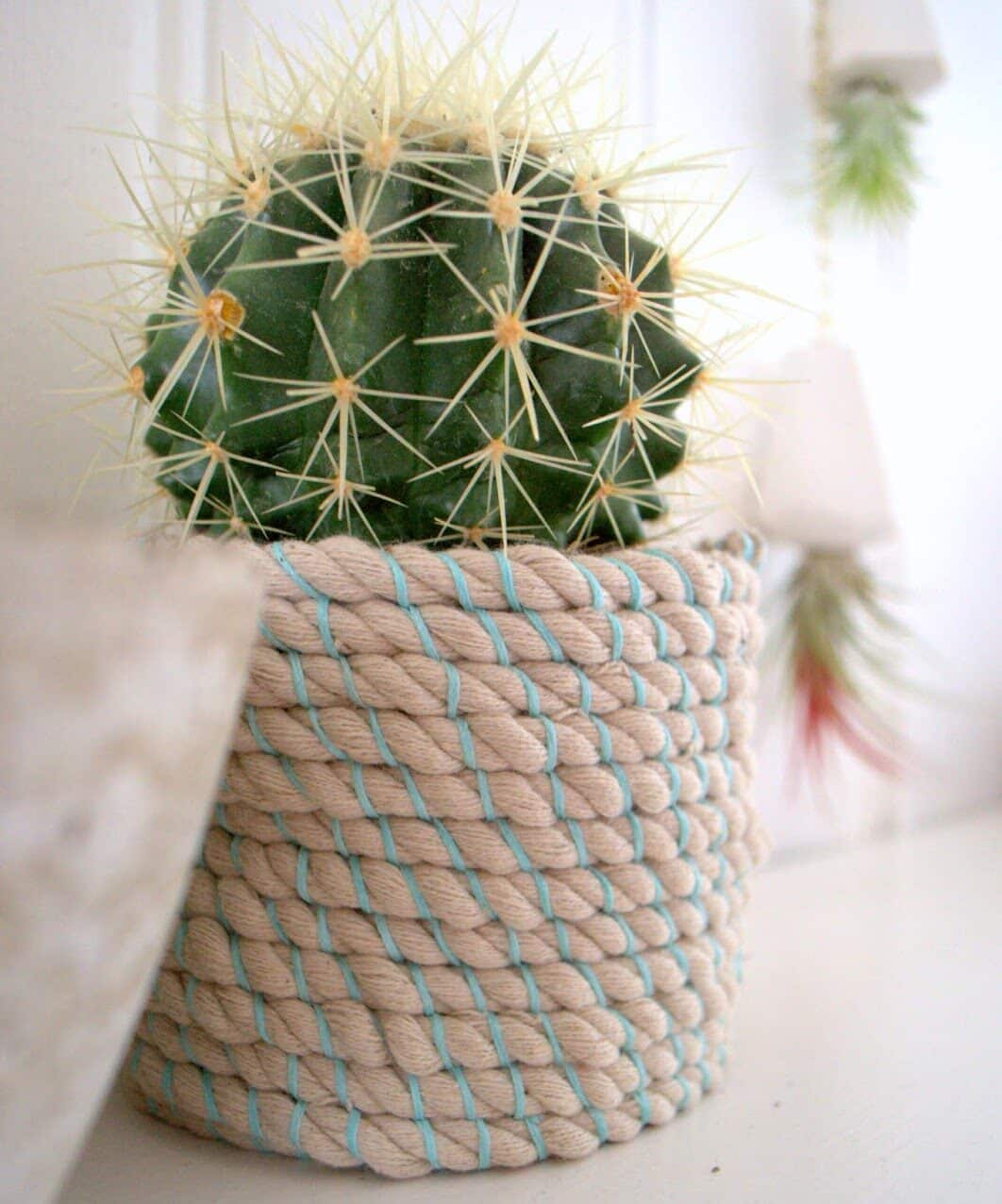 There are a number of ways to create DIY planters, but this one looks especially aesthetically pleasing – created by June from Nostalgiecat, it creates a lovely contrast between the prickiness of the succulent and the softness of the cotton rope. 
Cute Rope Planter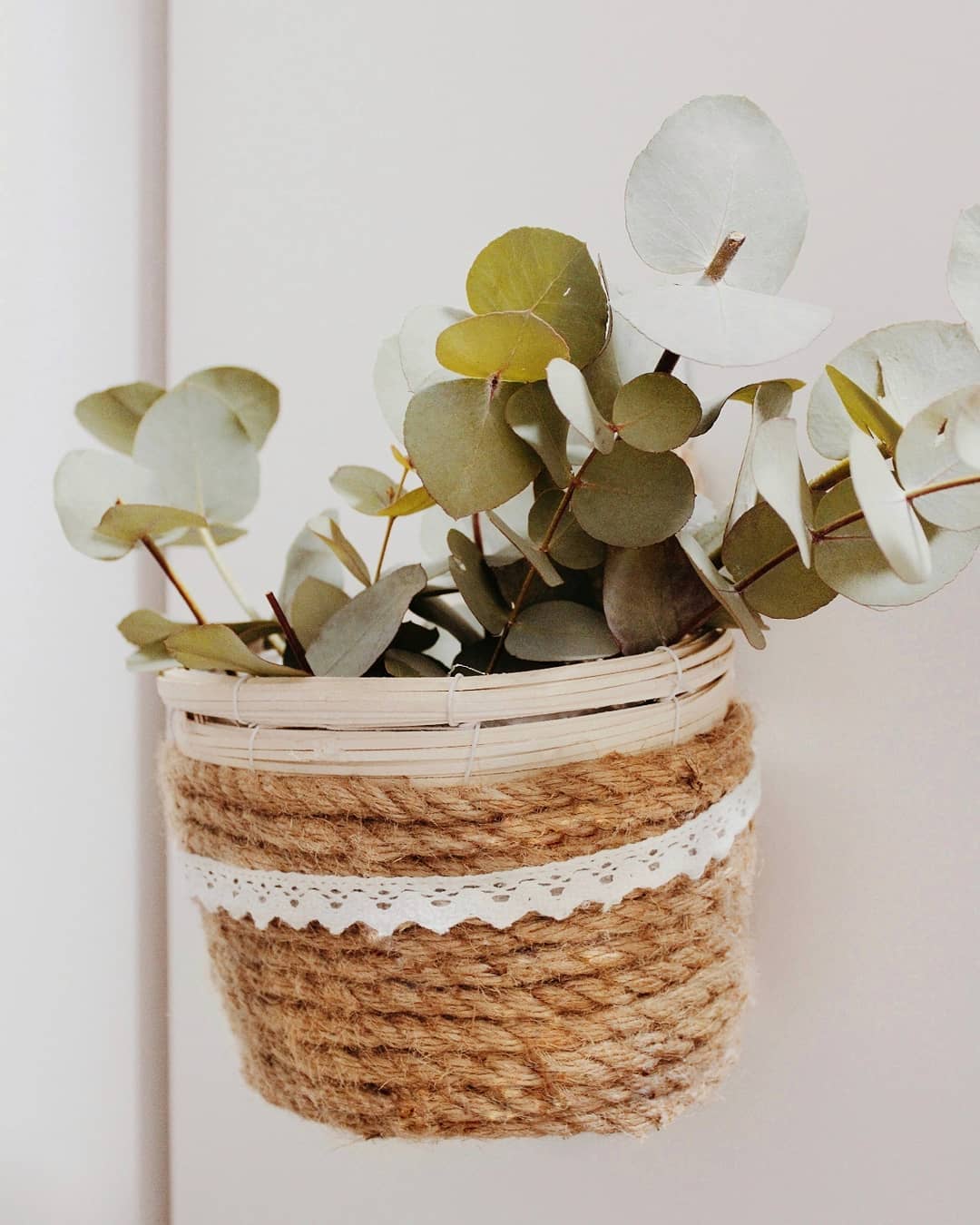 Plants can make any room more aesthetic – but what can make plants look more beautiful? The answer can be found on the page of @patriciabaradic – this stunning plant holder was created using sisal rope, and it brings aesthetic vibes into the house! 
Rope Planters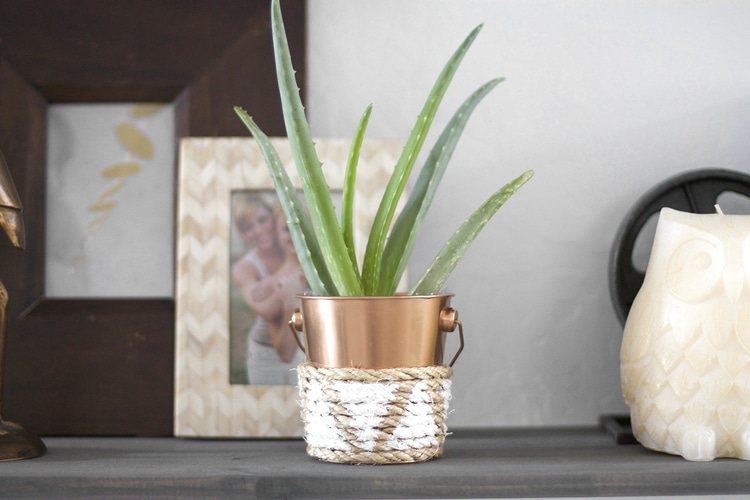 Aloe plants have so many beneficial uses that it's no surprise that Kristi Murphy wanted to give hers some special treatment. She spray-painted a small-sized bucket to copper colour and glued rope to the bottom half of it, dying shapes on it afterwards. A truly unique and stunning creation! 
Twisted Rope Wrapped Cans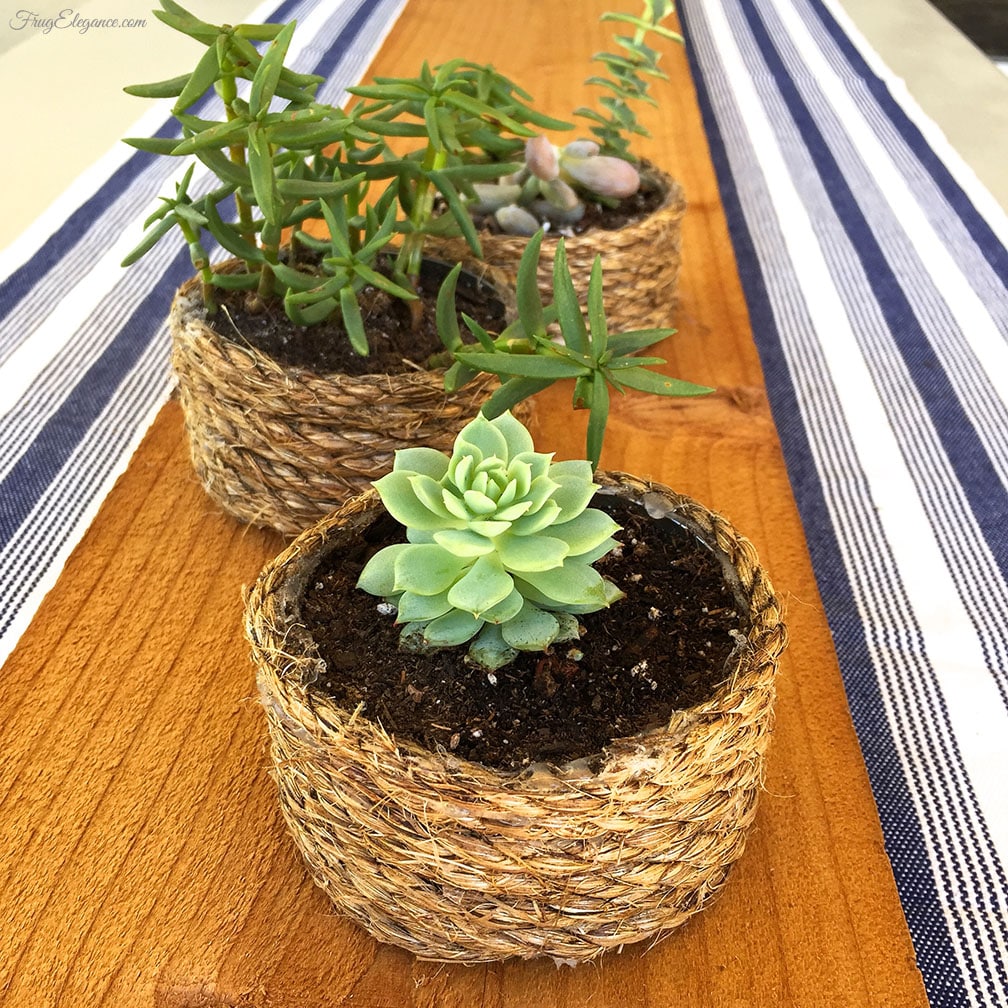 Empty cans are a cheap and sustainable way of creating some pots for your favourite plants. And, as proven by the creative girls of FrugElegance, you don't have to give up on the aesthetic side either – just by wrapping the cans with some twisted manila rope, they made the planters look gorgeous and uniform! 
Nautical Rope Wreath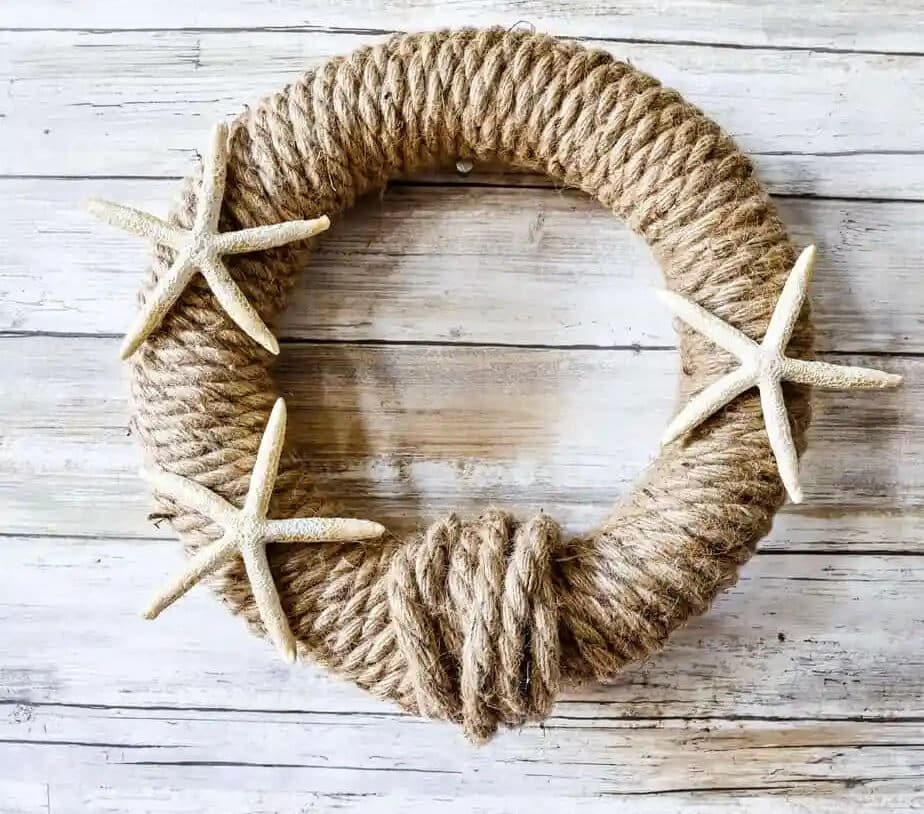 This DIY Rope Wreath will surely bring some oceanside cabin vibes into your home – it was created by Rebecca from Zucchini Sisters and it's an easy and beautiful way to use up some leftover rope.
All Year Round Rope Wreath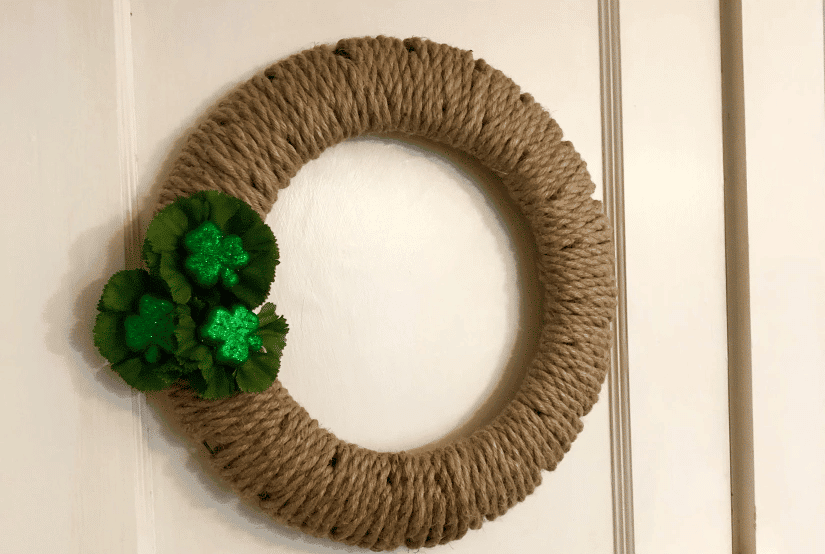 If you are a fan of rope wreath ideas but are too busy to create a new one for every season, Laura from Small Stuff, Big Family has got you covered! This super simple Nautical Rope Wreath can fit any occasion, depending on what decorations you decide to add to it. Choose clip-on pieces and change them up to your liking! 
Spring Wreath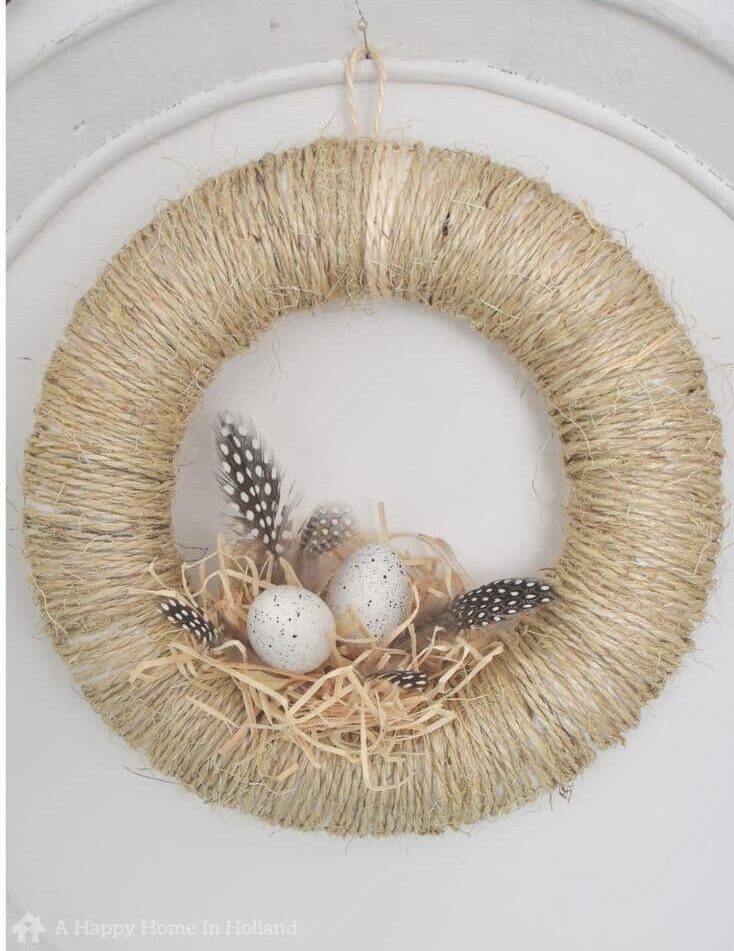 This easy and simple wreath is spiced up with a little straw nest decorated with feathers and eggs. It was published by Carrie from Ideas For Home, and it's a sweet rope craft idea for the Easter holidays! 
Minimalistic Rope Wreath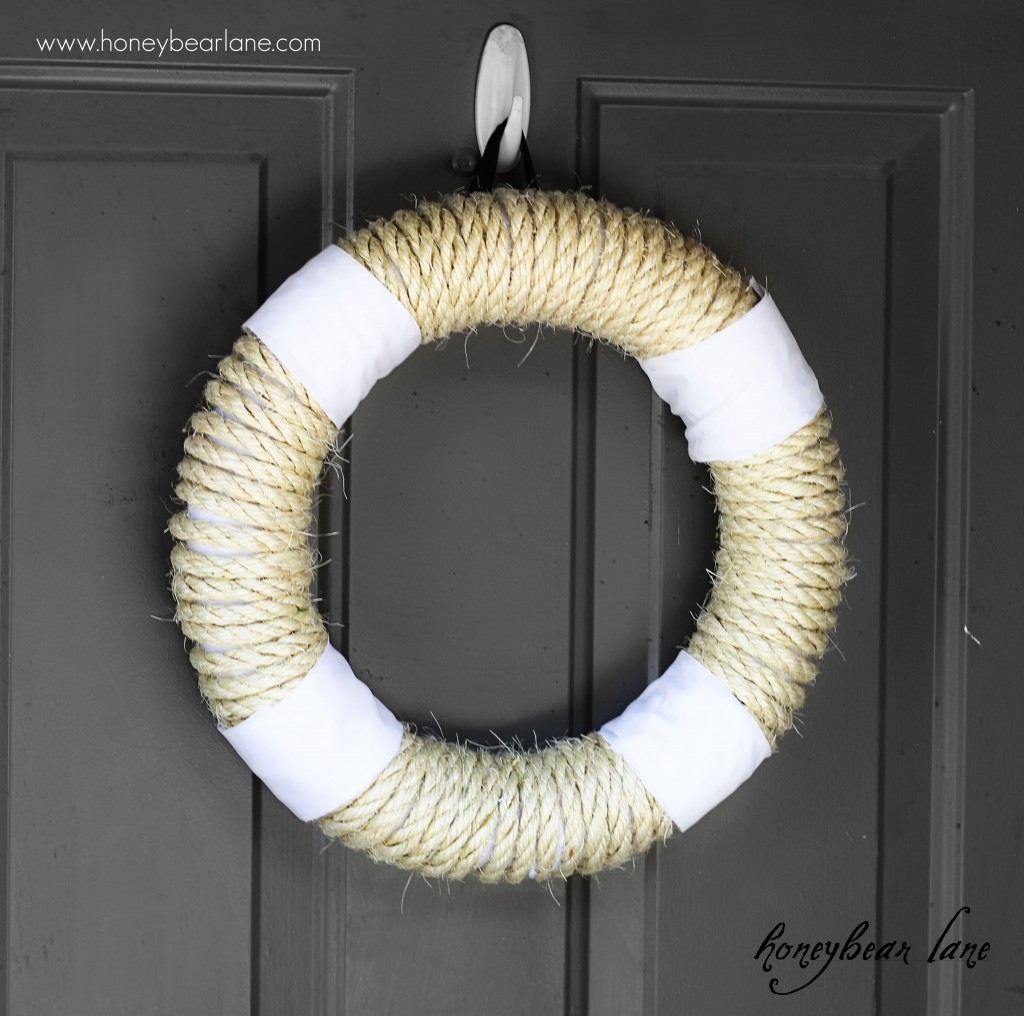 This minimalistic sisal rope wreath was created by Heidi from Honeybear Lane. It's a super easy DIY project to use up that leftover rope – and the finish is giving us a marine vibe!
Vibrant Wreath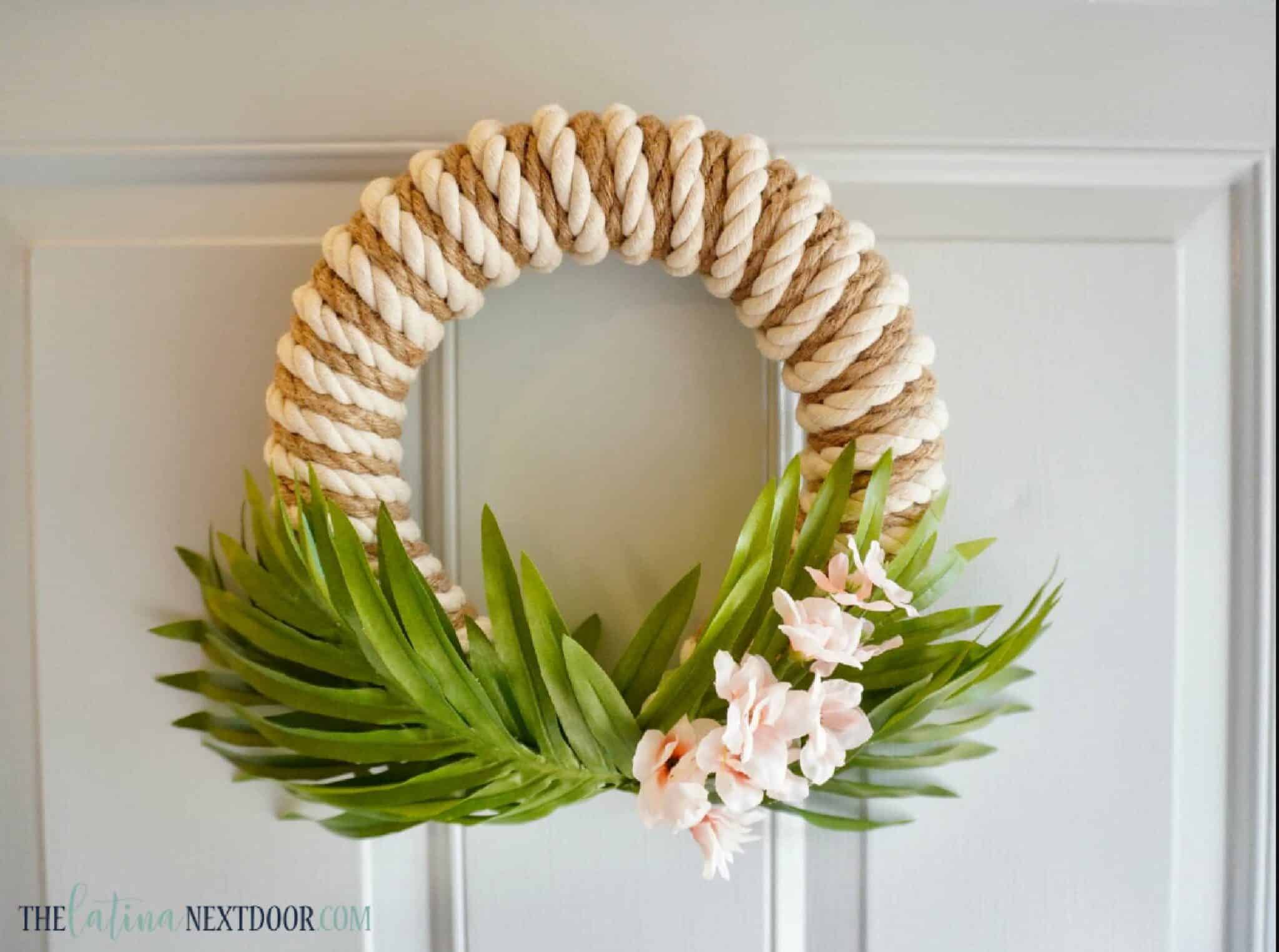 This beautiful coastal rope wreaths DIY project brings summer vibes to your door. The creator, Yami from The Latina Next Door combined regular and nautical rope for this project, resulting in a stunning finish. 
CRAFTS FOR KIDS
---
Cute Rope Snakes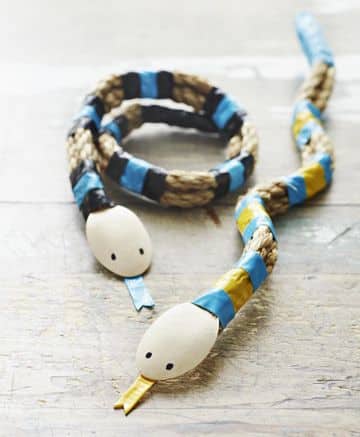 This super adorable DIY snake craft was created by Project Kid, using some sisal rope and a lot of creativity. These  cute bamboo spoon-headed snakes can be a fun crafting activity for the little ones, and it's guaranteed to bring a smile on everyone's faces. 
Rope Swing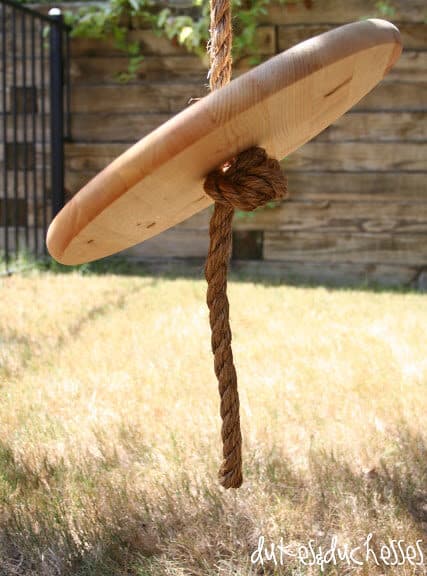 Randi from Dukes & Duchesses loves to encourage her kids to play outside as much as possible. She created this DIY rope swing in order to make the outdoor time even more enjoyable – it sure looks like lots of fun! 
Rope Swing Ideas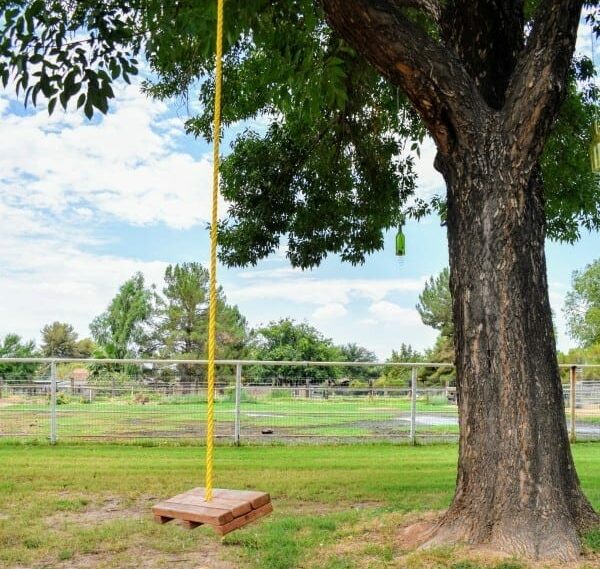 Another stunning DIY rope swing is the one created by Tiffany from TeeDiddlyDee – the yellow rope makes it bright and welcoming and her children love playing with it!
Rope Horse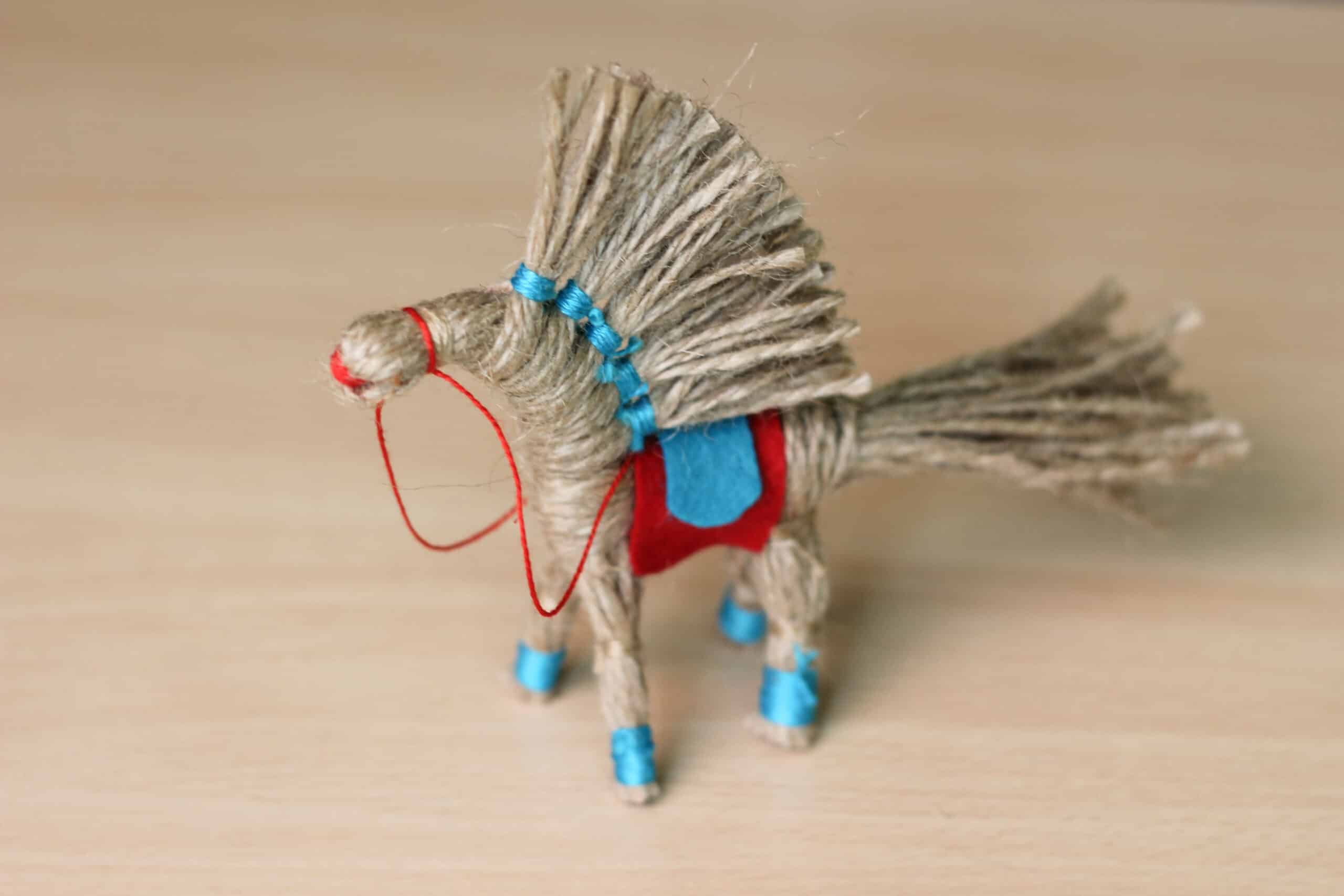 This cute rope horse truly shows off the creative vein of its creator. Published on Kids.Cloud, this is a super adorable project that can be used both for decoration or as a toy.  
Giant Bubble Wand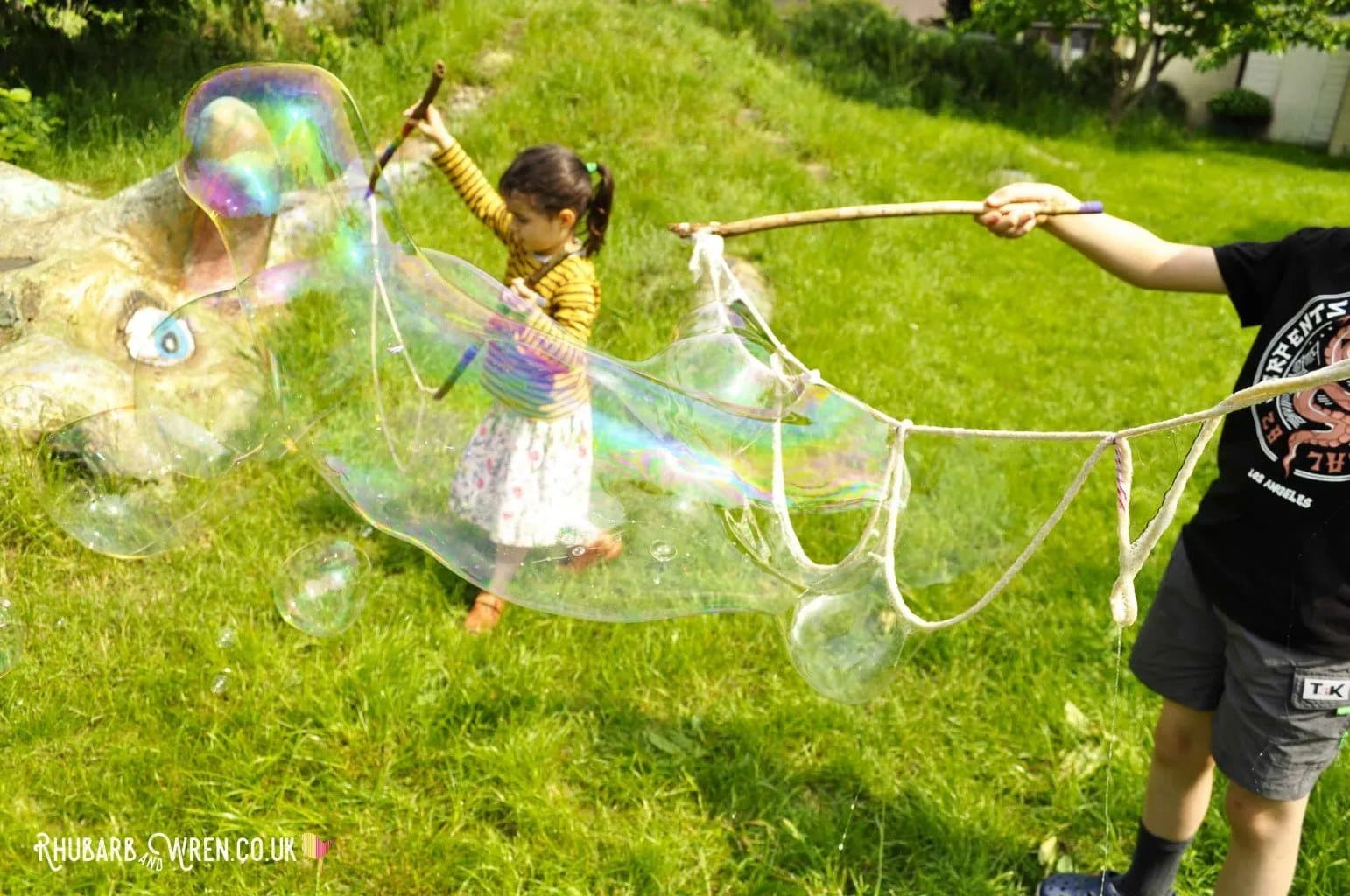 This giant bubble wand project was made by Rochelle from Rhubarb and Wren and it looks like a great way for keeping kids entertained! This easy craft can be a source of some serious fun for the little ones, so it's definitely worth giving it a try!
ROPE DECORATION IDEAS
---
Rope Candle Holders
Yvonne from StoneGable decided to bring the beach vibe into her home by creating these beautiful rope wrapped candleholders. She used jute rope to achieve a natural look, and decorated it with a starfish to achieve that beachy look. 
Rope Letter Art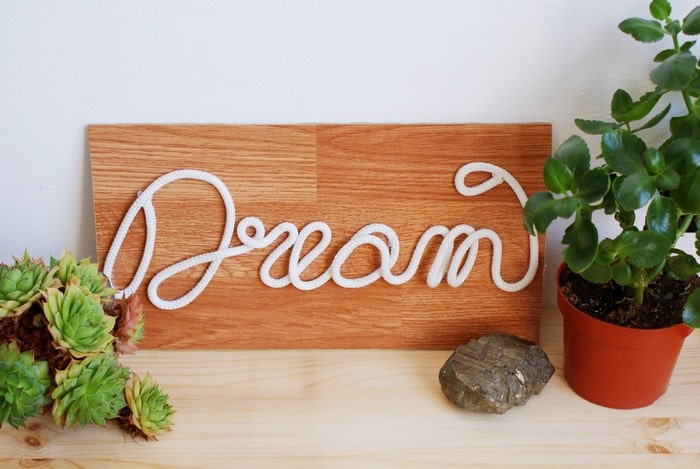 Elisa from Francine's Place Blog decided to make this wonderful wooden decoration for her room – she drew up the calligraphy with chalk, and used rope to write the word "Dream" on the board. It looks beautiful in this composition with succulents! 
Rope Beehive Decor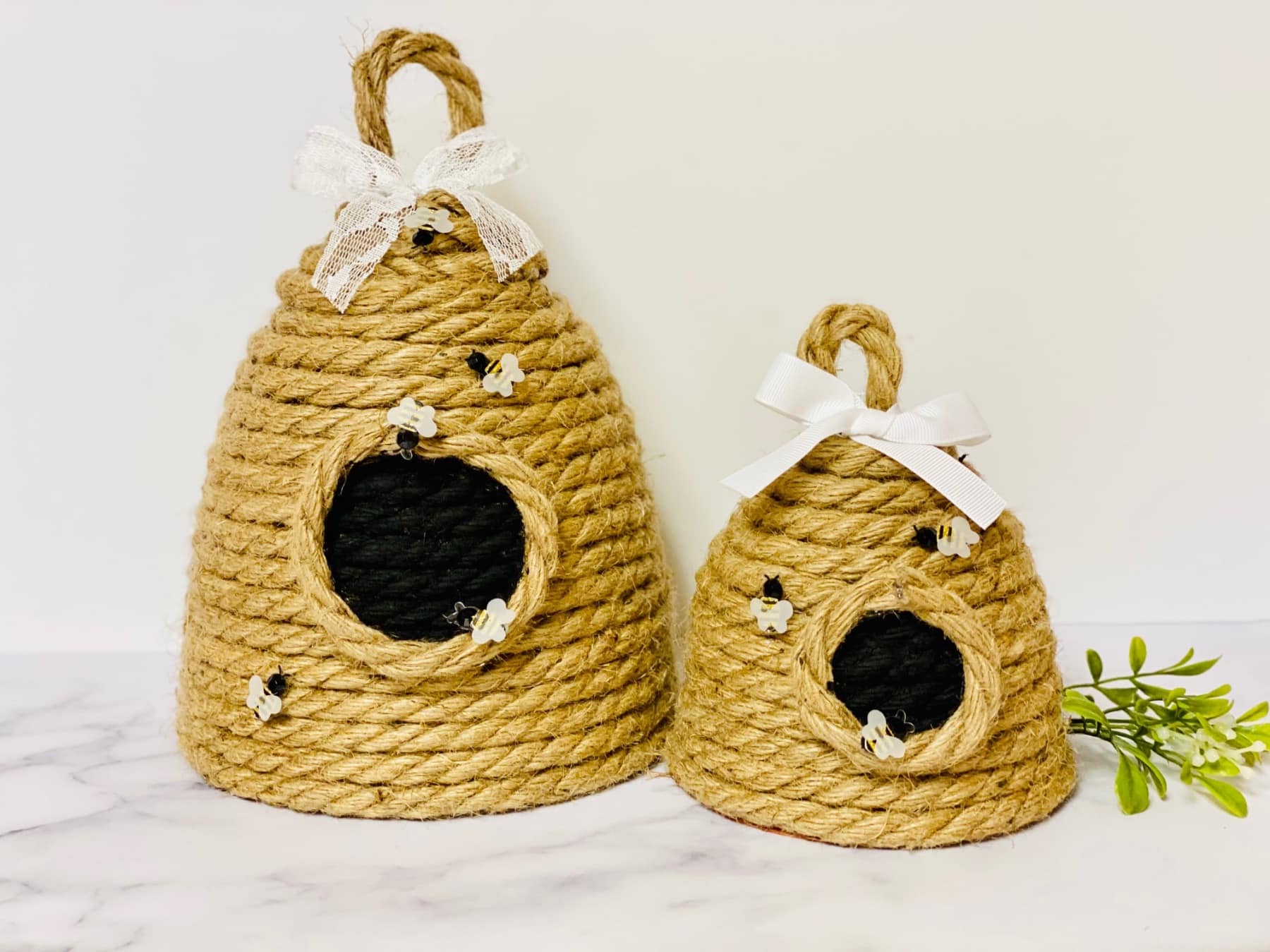 This beehive decoration is super creative and really adorable – the credit for it goes to Brittany from Pop Shop America. By wrapping flower pots of varying sizes with jute rope, she achieved a beautiful uniform look, which she then spiced up with some additional design elements. The results are undoubtedly cute! 
Rope Love Sign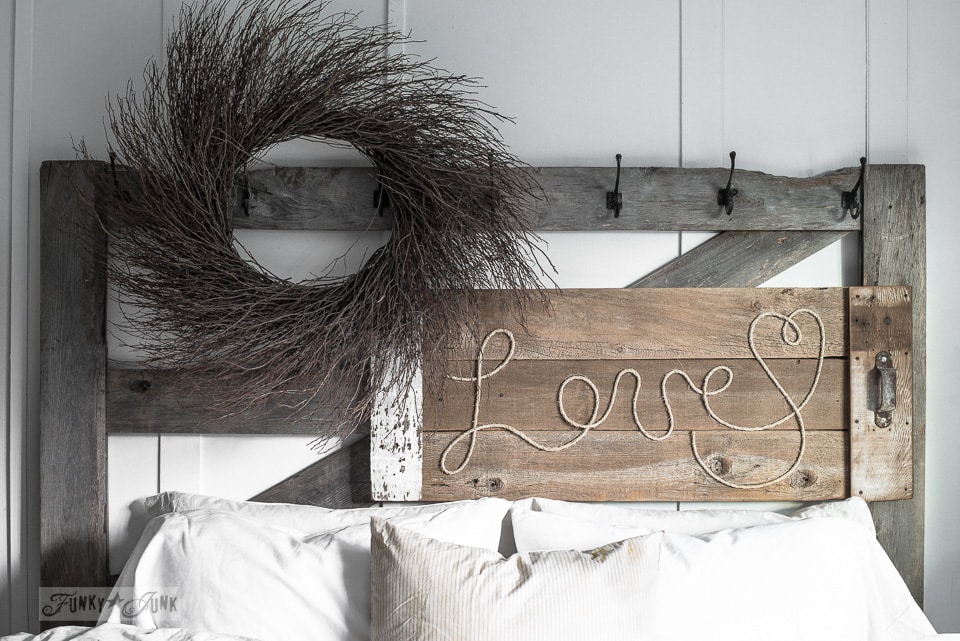 Another stunning rope calligraphy is the project created by Donna from Funky Funk for Valentine's day. The rope on the wooden board spells out the word "Love" and blends in beautifully with the rustic bed frame it's attached to. 
Rope Rainbow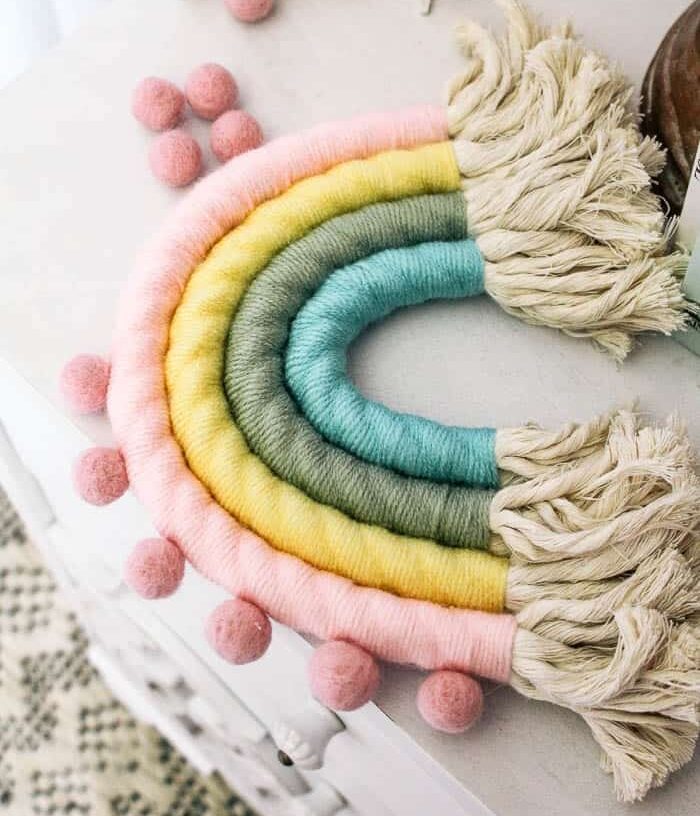 Ashley from At Home With Ashley has created this wonderful wall hanging to decorate her son's bedroom with. She used twisted cotton rope, which she covered in colourful yarn – the results are certainly stunning! 
Birthday Table Letter Decor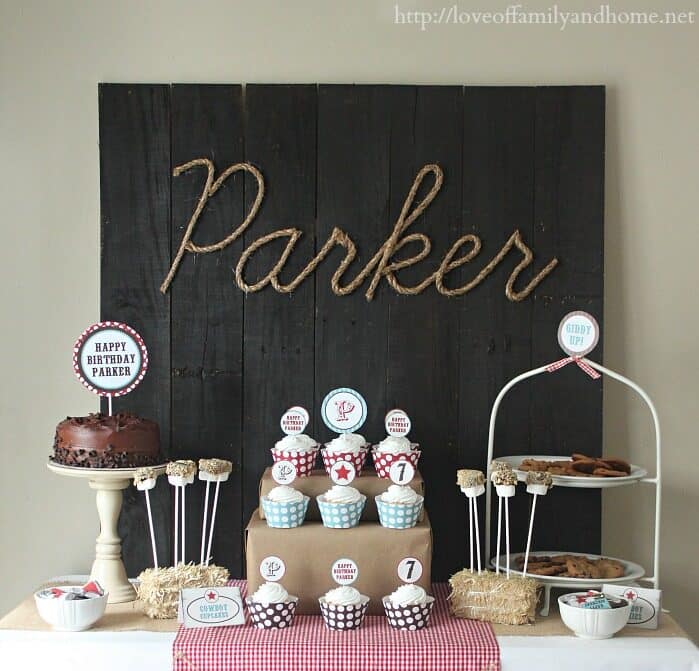 This cake table sure looks appetising – and what makes it even better is the stylish decoration above it. Tonya from Love of Family and Home created this DIY Rope Name Art for her son's 7th birthday party, which surely was a hit seeing the effort put into it!
Rope Love Letter Art
Tatanisha from Worthey Life wanted to go all out to celebrate Valentine's day and found the perfect rope craft ideas to do just that – she glued this lovely colourful rope letter art to a piece of reclaimed wood, creating this artistic 'Love' sign – it sure looks stunning! 
Cotton Rope Rainbow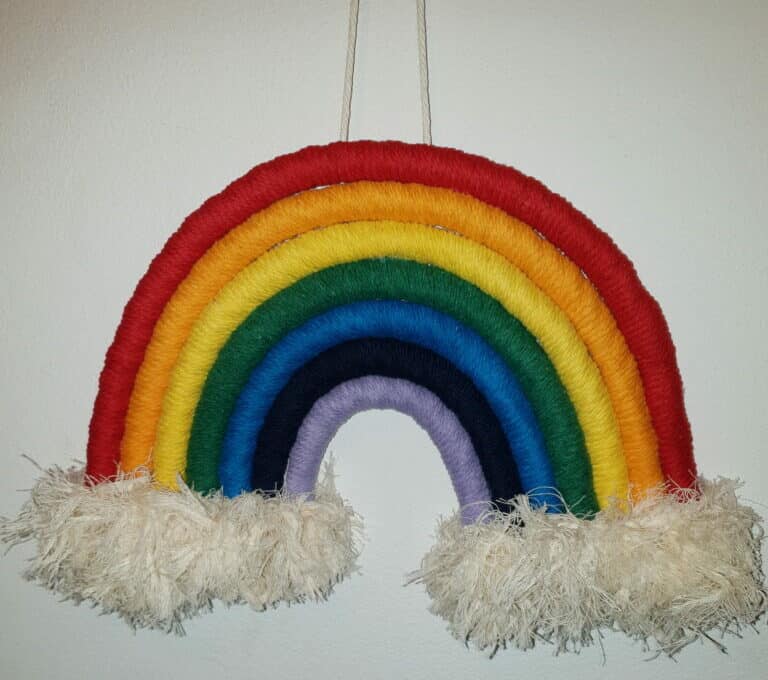 The customer who created this beautiful cotton rope rainbow surely has a creative vein, resulting in this adorable project. She loves creating macrame and different crafts  with rope, and it's not hard to see why – the results are definitely noteworthy! 
Jute Hearts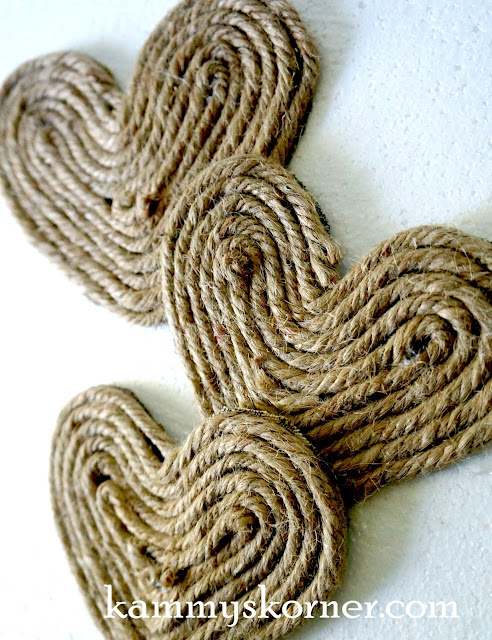 These jute hearts have many possible ways of use – and you can find the most inspiring ones in Kammy's Korner! From wall hangings to greeting cards, they can bring Valentine's vibes to any part of your home. 
Rustic Love Sign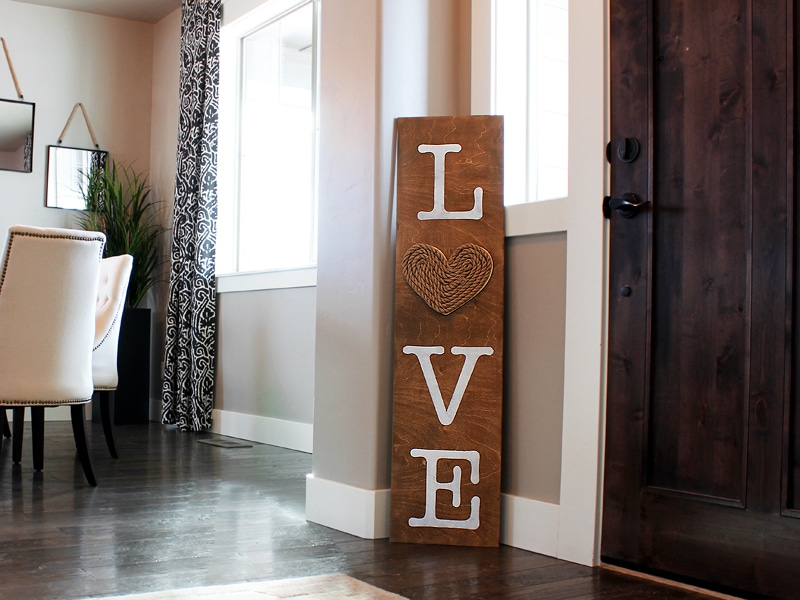 We weren't the only ones who got inspired by Kammy's Korner's craft project! Dawn from CraftCuts decided to create this stunning rustic love sign using the DIY jute heart, and the results are beautiful.
Rainbow Wall Decor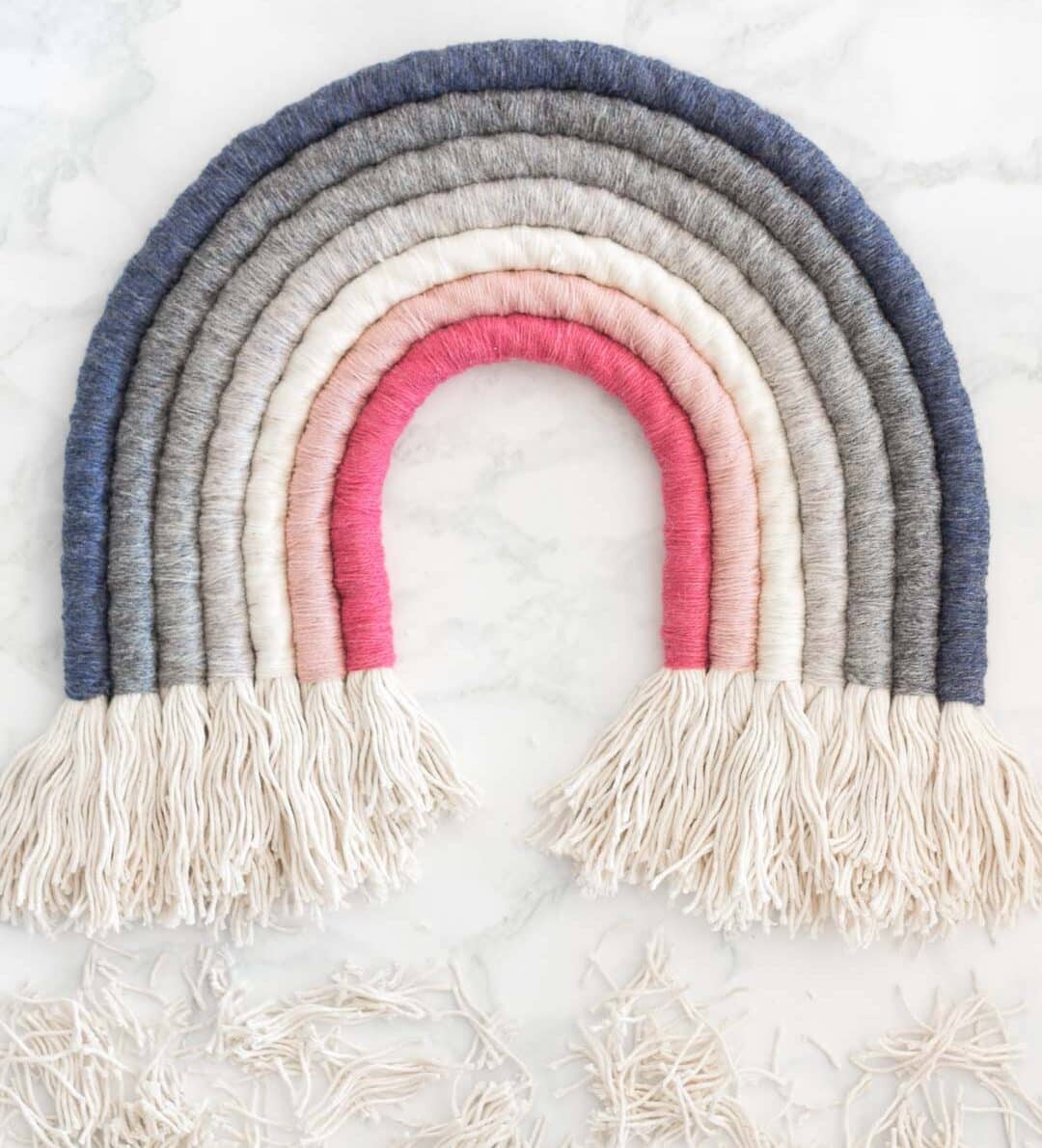 Deborah from Pure Sweet Joy sure knows how to bring the fun into the interior of her home – this cotton rope rainbow wall hanging surely does the trick. The colours match beautifully, creating a satisfying finish that you just can't take your eyes off.
Busy Bee Craft Project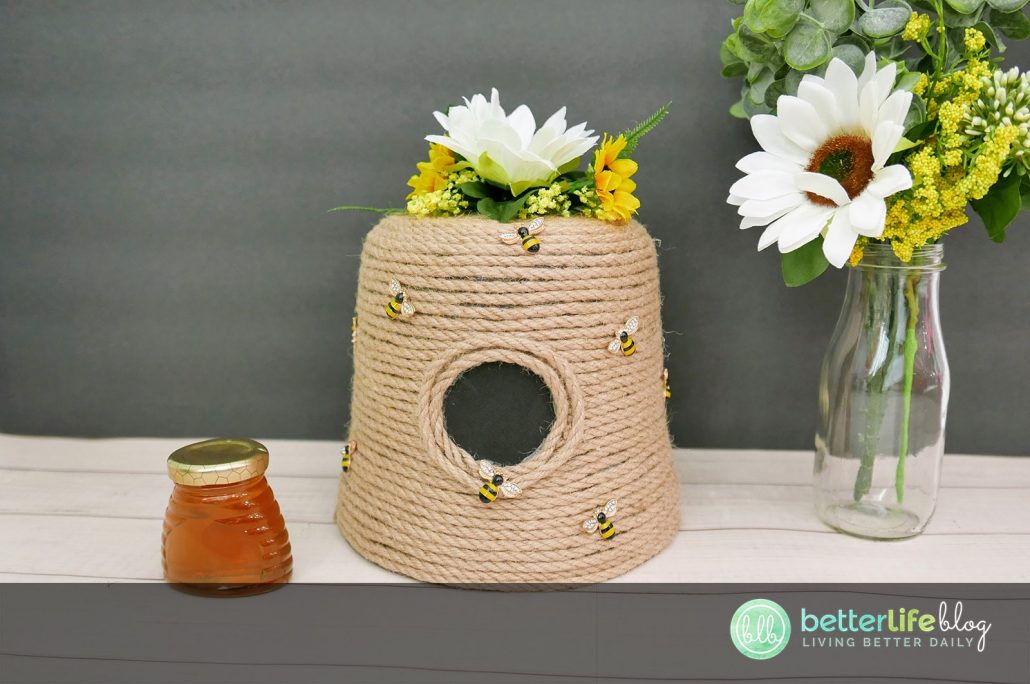 This stunning bee hive was created by Nancy from Better Life Blog, using a flower pot and jute rope. The little rhinestone bees decorating the project make it even more adorable, as well as the artificial flowers decorating its top. 
Intergalactic Rope Craft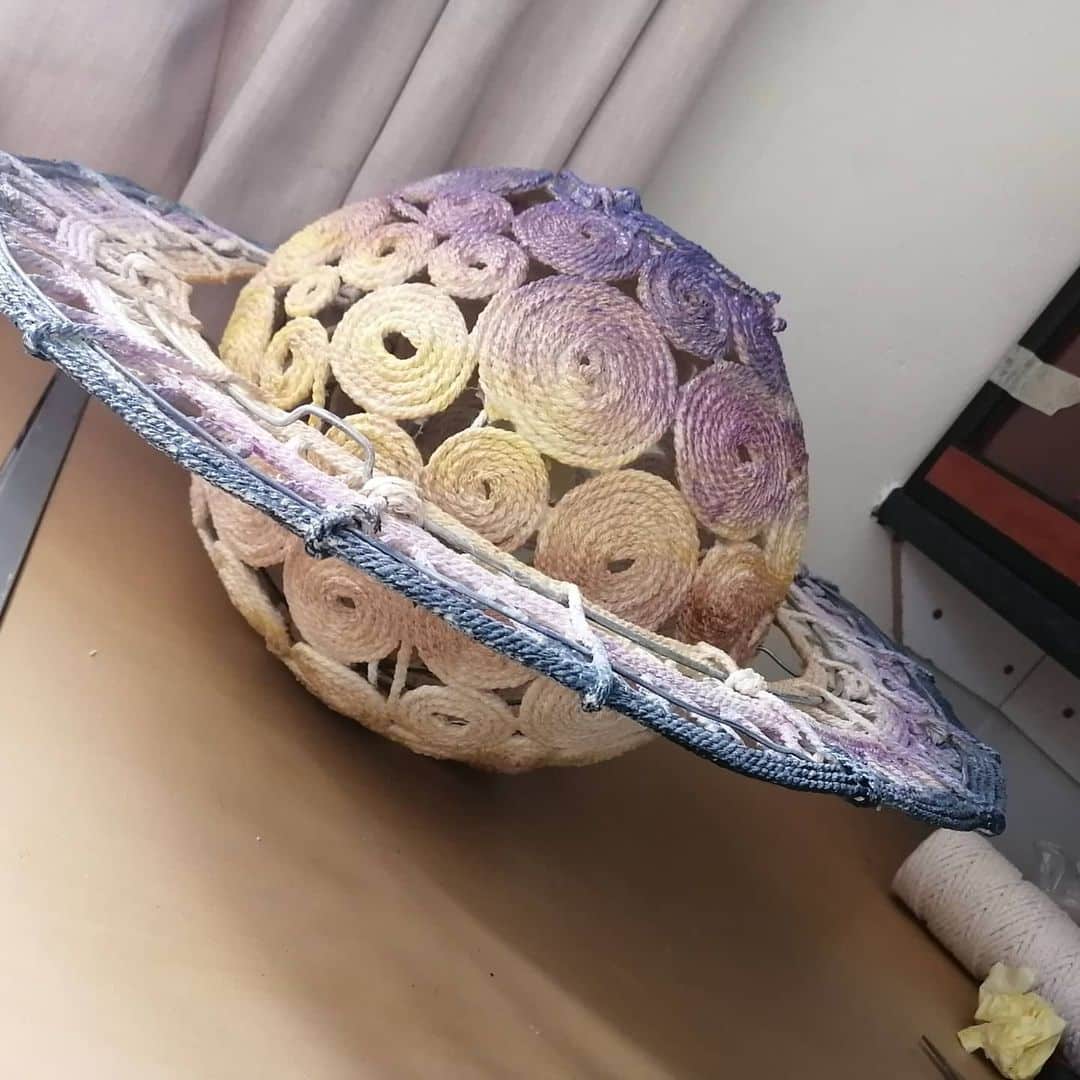 This project will make you feel like you're in outer space! This incredibly beautiful lamp shade is the creation of the talented @alyssa_bridger_art, whose other creative ideas can be seen on her Instagram page. 
Macrame Rainbow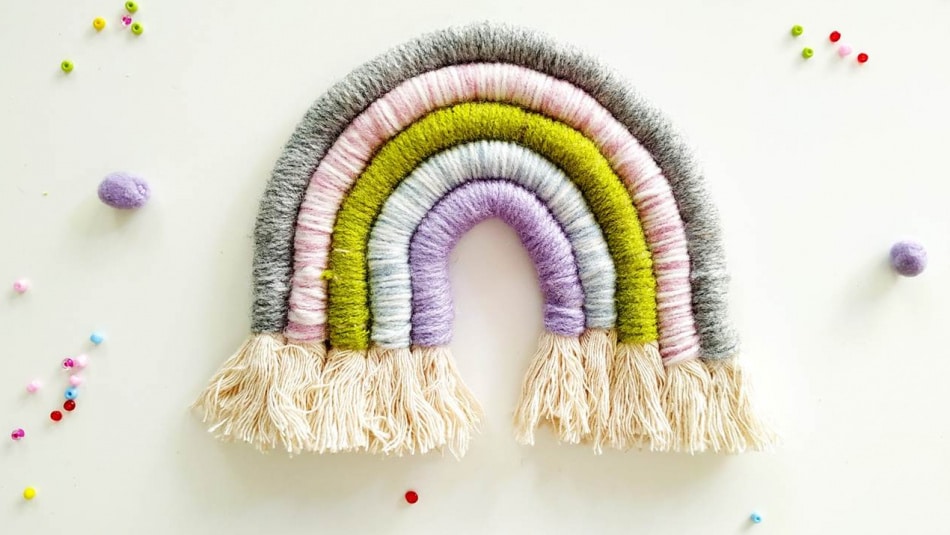 Thick cotton rope rainbows are just irresistibly cute, and each colour palette makes us feel fuzzy and happy. This wall hanging was created by Akamatra, and it's the perfect craft project if you want to have a relaxing afternoon doing macrame.