Rope Handrail for Stairs (Build Your Own)
Rope handrails made to your specific requirement. Arrives ready to install. 
Customer Images
Compare Stair & Bannister Rope
 
Synthetic Hemp
Sisal
Manila
Natural Hemp
Click for close up view
Look & Feel
 
 
 
 
Look
Natural looking
Rugged natural
Rugged natural
Natural smooth
Feel
Smooth with soft texture
Rough fibre texture
Rough fibre texture
Smooth with soft texture
Material
Synthetic plastic
100% natural Sisal
100% natural Manila
100% natural Hemp
Colour
Beige
Golden
Dark brown
Sandy
Diameter Disclaimer
Please allow +/- up to 4mm
Please allow +/- up to 6mm
Please allow +/- up to 6mm
Please allow +/- up to 6mm
Construction
 
 
 
 
Treated with
No treatment
Natural oils
Natural oils
Natural oils
Smell
None
Chemically – wears off over time
Chemically – wears off over time
Grassy – wears off over time
Construction
Twisted 3 strand
Made in
Portugal
Brazil
Philippines
Europe
Quality Certified
–
EN ISO 1181 – 2004
EN ISO 1181 – 2004
–
Lifespan
If kept indoors with moderate use the rope will last decades.
Outdoor Use

 

 

 

 
Brackets Overview
Installation
Material options
100% Brass (simple polished or chrome finish)
Are brackets pre-installed?

If you have ordered a decorative knot, your handrail will arrive with support brackets pre-installed for you (if brackets were selected).
If you have not ordered a decorative knot the support brackets will arrive with your rope but not pre-installed.

Are screws included?
No, the brackets only come with the central screw for the rope.
How are the brackets fixed to the wall?
Drill the screws into raw plugs
How are brackets fixed?

The brackets come with a central screw.

The brackets are held into place by threading a screw through the rope fibres.  They can easily be moved along the length of the rope bannister by removing the screw.
Bracket Quantity Required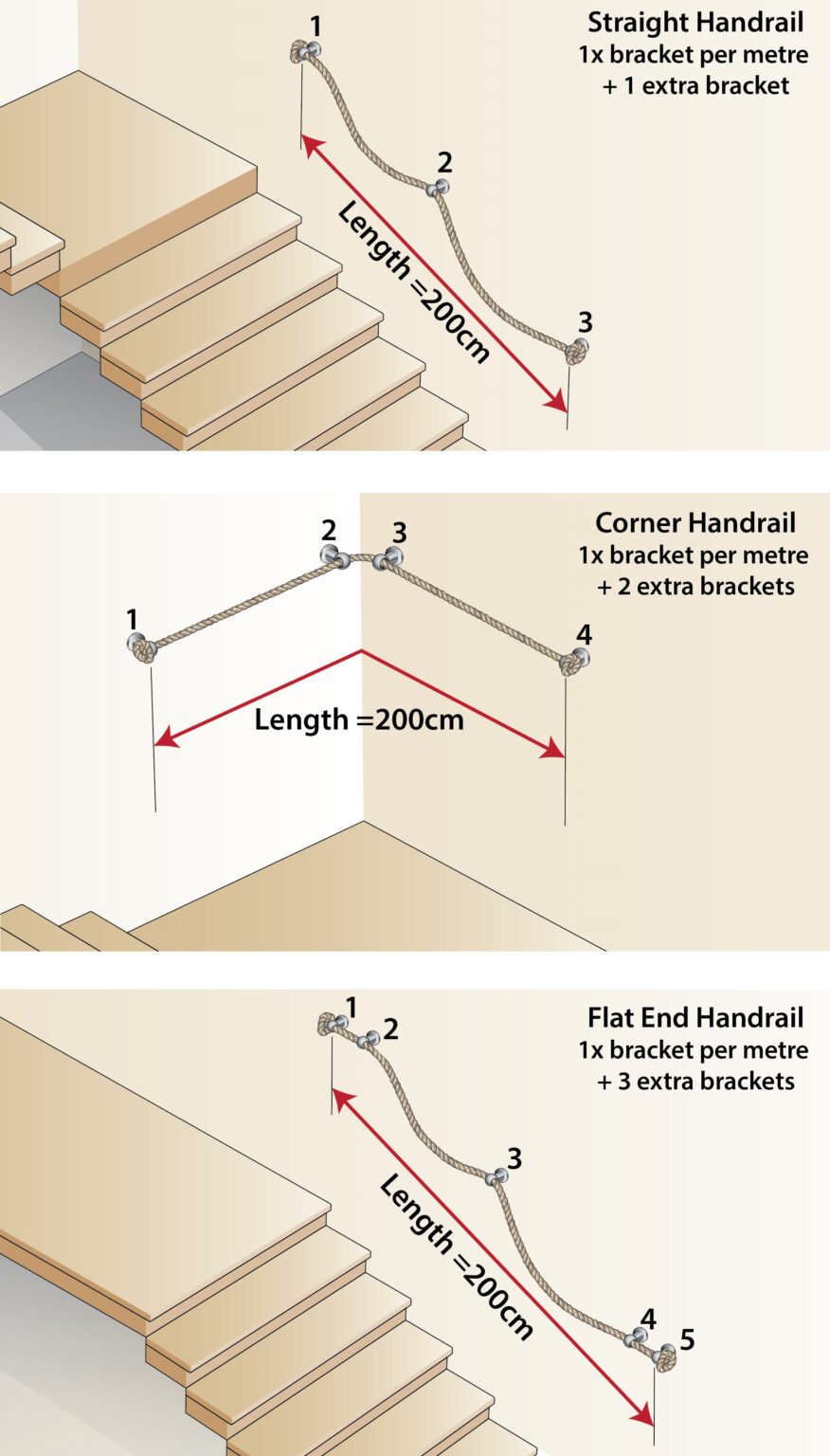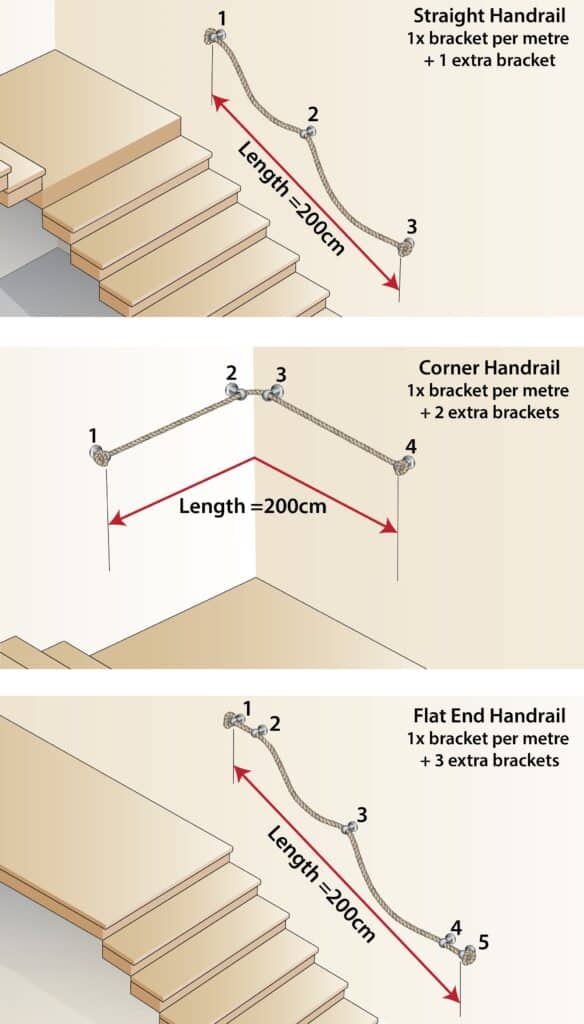 Measuring Instructions
Step 1) Tape some string along the section of the stairs where you would like fit the handrail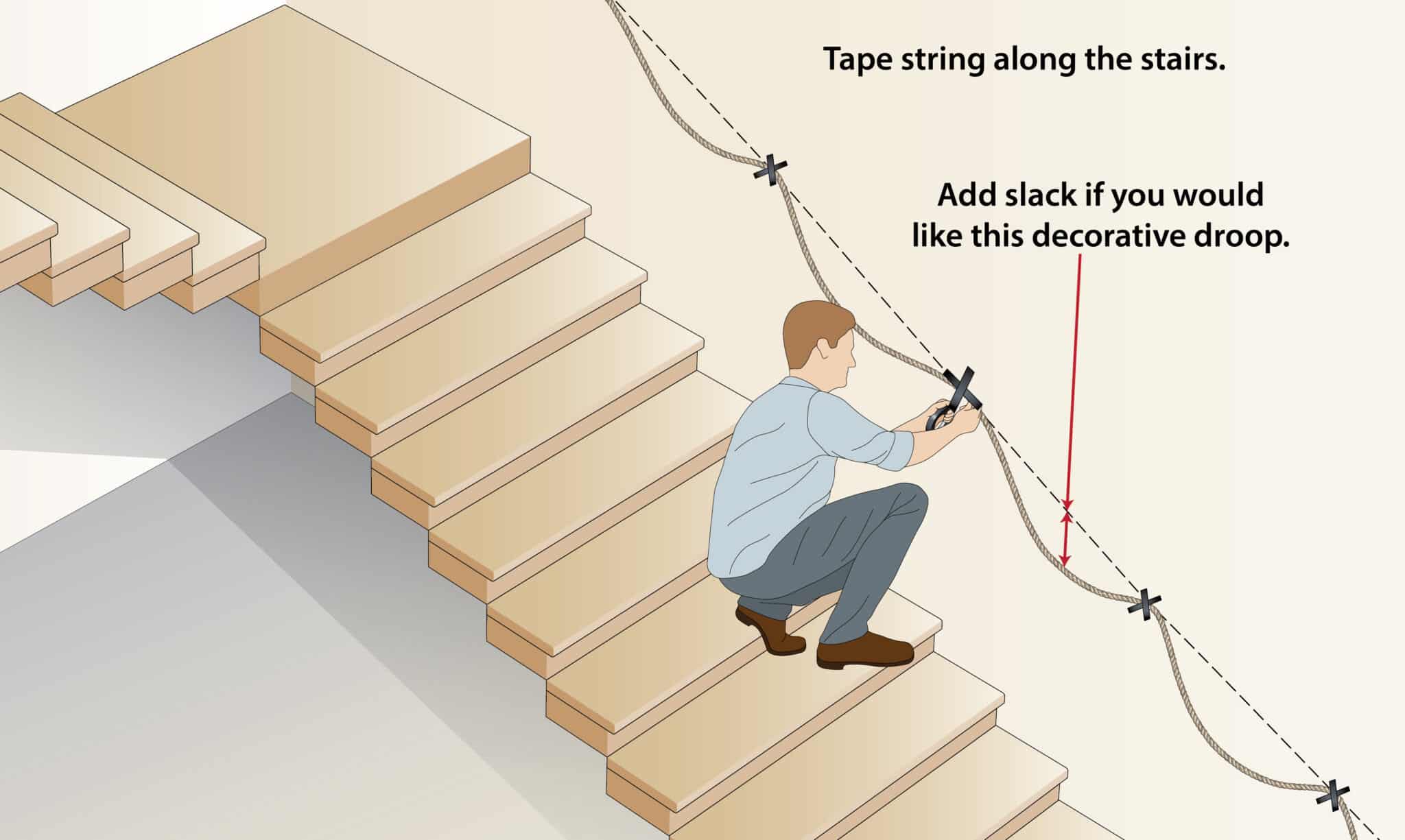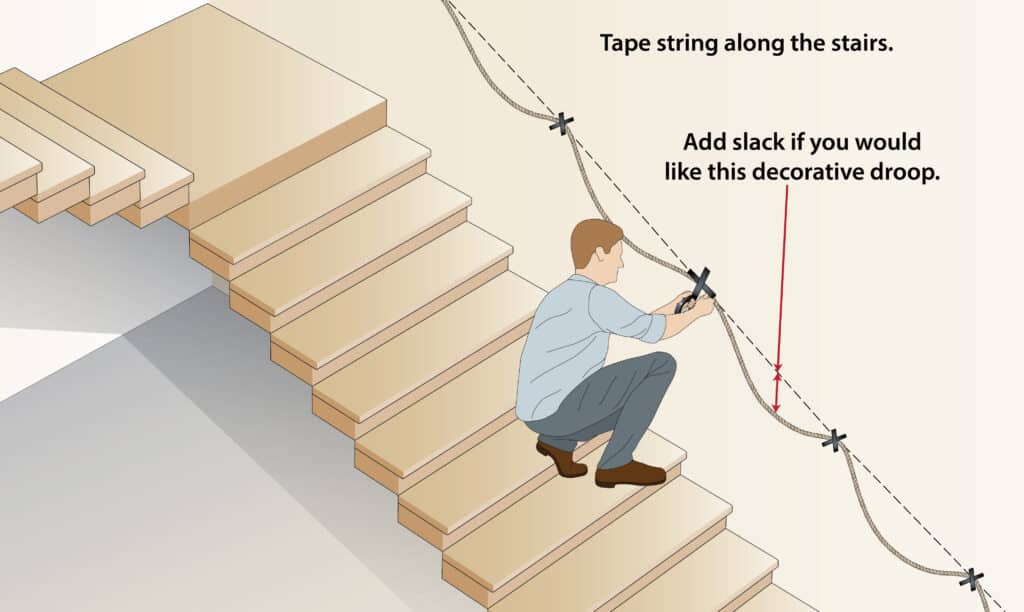 Step 2) Lay the string along the floor then use a measuring tape to record the length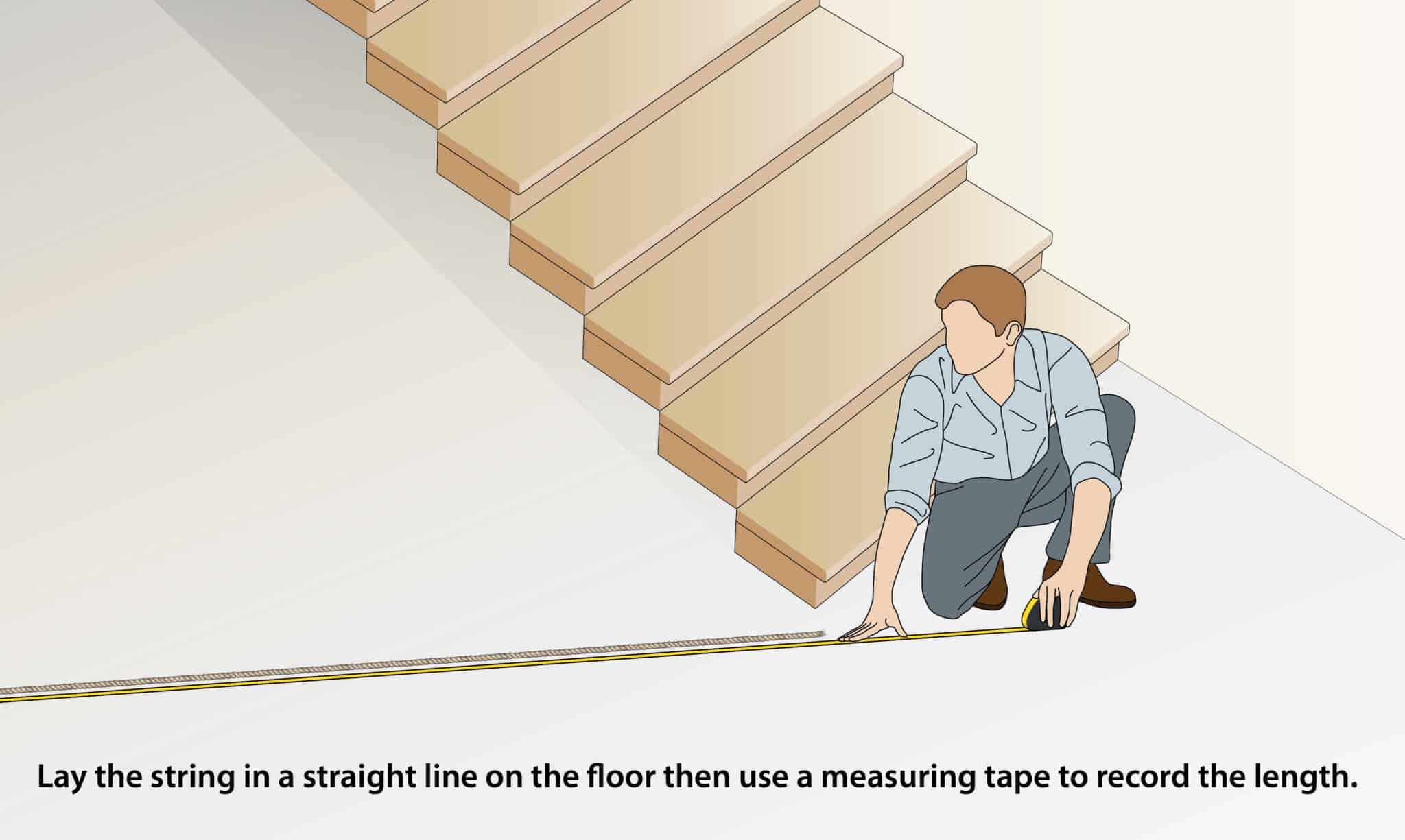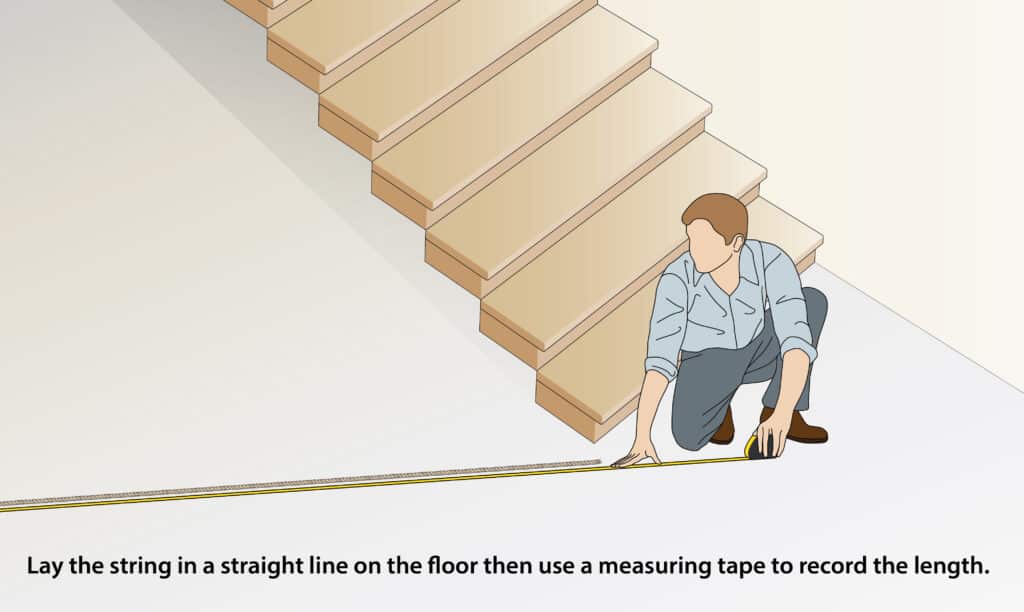 FAQ
What sizes do you have available?
The diameters available are 24mm, 28mm and 32mm. We can make the length to your specific requirements
What is the difference between natural and synthetic options?
PolyHemp is synthetic and constructed from soft textured Polypropylene fibre which has the appearance of natural fibre but is odourless.
The Flax alternative is natural, biodegradable and may have some odour that typically lasts a few weeks.  
What colours do you have?
We have natural colours such as brown and beige. Please note that colours may vary slightly from those shown on screen.
How do I add a drape?
Follow the instructions in the diagram above or simply measure the length then add 5%.  This will give you a slight drape.
Please note that a little bit of stretch will naturally occur over time.
Do stair rope bannisters comply with Building Regulations?
The current Building Regulations do not refer to rope handrails specifically.  Whilst the brackets are sturdy they may not be as strong as other types of handrails.
They will provide extra support but we would advise consulting your local Building Authority for clarification to the standards that you need.
How do I clean the material?
Use a hoover to remove dust. Wet cleaning is not advised but you can remove marks using a damp cloth and warm water and soap
Downloadable PDFs